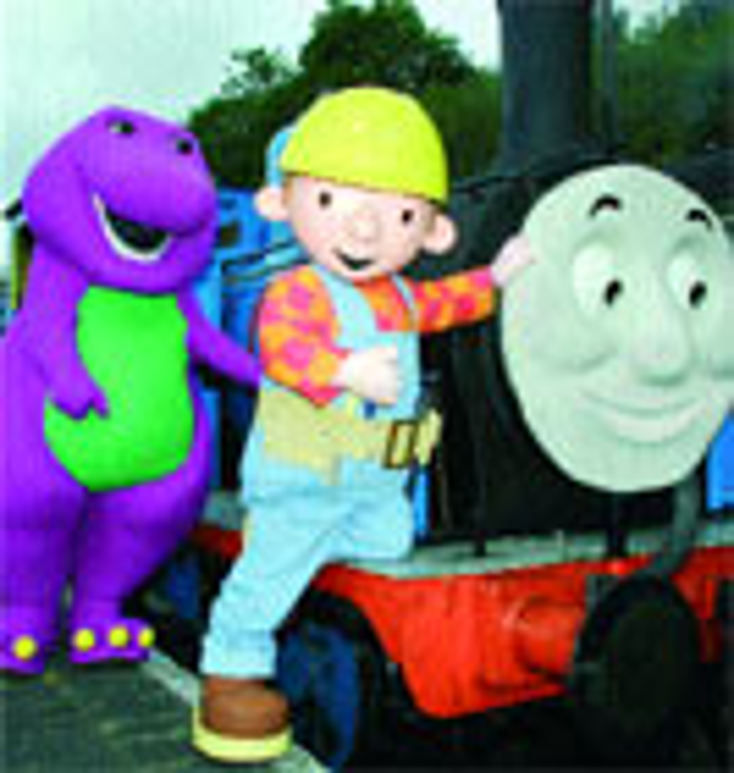 ]>By Robert Scally
Amid controversial remarks about NATPE was a wealth of new deals, discussions, and agreements. For some, the question of NATPE's relevance to the licensing world loomed large at the 2002 edition, held in January in Las Vegas. At a press conference announcing the sale of The Caroline Rhea Show to eight ABC owned-and-operated television stations, Dick Robertson, president of Warner Bros. Domestic Television Distribution, deemed NATPE "unnecessary," considering issues of timing, industry consolidation, and changes in the market.
Robertson indicated that Warner Bros. Domestic Television Distribution may skip next year's NATPE, planned for January 20-23, and might instead hold meetings in March in New York and in November in Los Angeles. In response, NATPE Chairman Jon Mandel and NATPE President Bruce Johnson defended the show in published reports and emphasized that next year's NATPE will go on in New Orleans with or without Warner Bros.Animation ActionDespite the controversy, NATPE remains a significant show for many companies selling television shows connected to licensing programs. Among the hottest new kids' shows at NATPE 2002 was Fox Kids' new live-action, 3-D CGI animation series, Galidor Defenders of the Outer Dimension, which debuted on Fox Kids in February in the Saturday morning 9:30 to 10 a.m. time slot. The series is produced by CinéGroup in Montreal and is based on characters created by noted producer Tom Lynch.
Galidor
is notable because its special effects and production values approach cinematic quality. "Technology has advanced to where we now can cost effectively make a show with amazing effects," says creator and executive producer Tom Lynch. Lego took the unprecedented step of licensing Galidor prior to the show's first airing.
Sesame Segues Into Asia
A top priority for New York-based Sesame Workshop at this year's NATPE was selling the animated PBS show, Sagwa The Chinese Siamese Cat, created by author Amy Tan, into international markets. "Sagwa is not only a great show that's entertainment for kids, but it's very true in its cultural teachings," says Martha Van Gelder, Sesame Workshop's group vice president, international licensing.
Sesame Workshop seeks to extend the Sesame English program, a joint venture with language instruction firm Berlitz, into multimedia CD-ROMs, books, home video, video-on-demand, and possibly wireless platforms. Sesame Workshop also is selling the second season of Dragon Tales, dipping into its library product for global sales.
One of Sesame Workshop's newest projects is a live-action,coming-of-age drama called Two Down Under, aimed at 'tweens ages 9 to 13. Sesame Workshop is partnering with U.S. broadcaster Noggin, UK broadcaster CBBC, and Australian broadcaster ABC-TV to produce the program. Sesame Workshop holds the show's global distribution rights and was preselling the series at NATPE.
On the domestic licensing front, Sesame Workshop is looking at expanding its relationship with Procter & Gamble in Cincinnati for its new Bibsters product, according to Elizabeth Kalodner, senior vice president and general manager for global consumer products at Sesame Workshop. She says Sesame Workshop also plans to continue its exclusive Sesame Street relationship with Kmart and is looking into relationships in other retail channels such as specialty stores.
Nelvana News
Toronto-based Nelvana and Kodansha, Japan's largest publisher, revealed a three-year agreement in which Nelvana will have first look at all Kodansha projects for possible co-production or acquisition of distribution rights for non-Asian countries. Nelvana also will co-produce at least one Kodansha property during the agreement. The partnership gives Nelvana the distribution rights to Kodansha's series of interstitials, Naughty Monty, in English-speaking nations.
Nelvana and New York-based MTV inked an agreement to co-produce two new television series aimed at young adults: animated comedy Clone High and Varsity Blues, a live-action dramedy based on the Paramount/MTV feature film of the same name. MTV and Peace Arch Entertainment also will work with Nelvana on a new live-action comedy with the working title of The Sausage Factory, which debuted on Canada's Comedy Network in November.
On the young kids' front, Nelvana has acquired the rights to produce a series of shows based on "The Berenstain Bears" book series that will air on PBS this fall. It also acquired worldwide licensing and merchandising rights for "The Berenstain Bears," as well as a deal with Columbia TriStar Home Entertainment, Culver City, CA, to distribute videos based on the property in 2003.
Also on Nelvana's plate is Jerolemon Street Players, an urban-themed show that mixes stylized animation with photo realistic backgrounds. Says Sid Kaufman, executive vice president, worldwide licensing and merchandising at Nelvana, "Our goal is to have a balanced portfolio while not competing with ourselves."
Subscribe and receive the latest news from the industry.
Join 62,000+ members. Yes, it's completely free.
You May Also Like
Loading..