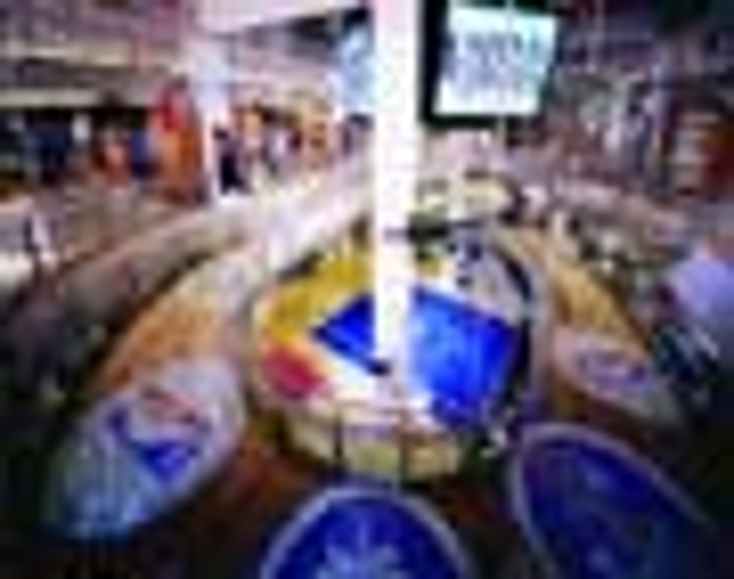 ]>By Robert Scally
Rising consumer interest and TV and retail partnerships are key.
NASCAR is the only major league sport that can draw more spectators than the Super Bowl at just one regular season event. In fact, NASCAR auto racing is the nation's fastest growing spectator sport-last year 13 million people attended NASCAR races-the second highest rated televised sport behind the National Football League, and a huge licensed goods money maker.Thanks to television broadcasting partnerships developed in the last few years with Fox, FX, NBC, and TNT, NASCAR events are regularly available to virtually every television viewer in the nation. While all other major televised sports experienced a decline in television ratings from 2000 to 2001, NASCAR raced ahead. The Winston Cup and Busch Series U.S. television ratings rose by 38 percent and 29 percent, respectively, according to Nielsen Media Research.The profile of the "typical" NASCAR fan also has changed-the sport is no longer the purview of
rural, southern males. "We now have 75 million people who consider themselves NASCAR fans," says Don Rothwell, managing director of new business development and retail programs, Charlotte, NC-based NASCAR.
The NASCAR audience is 60 percent male and 40 percent female, with 58 percent between ages 18 and 44. More than a third of NASCAR fans are under the age of 34. Although 38 percent of NASCAR's audience resides in southern states, the sport's popularity penetrates into all regions. The Midwest is home to 24 percent of NASCAR fans, with 20 percent of fans in the North-east and 19 percent residing in the West.NASCAR fans are affluent. A full 42 percent of NASCAR fans earn more than $50,000 per year compared with just 42 percent of the general U.S. population. Twenty percent of NASCAR fans are pulling in $75,000 or more per year.The sport's growing marketing muscle has translated into increased sales of its licensed goods. In the last six years, sales accelerated to more than $1 billion, an increase of nearly 100 percent since 1995. And NASCAR's licensed products have won rave reviews from retailers. "We've witnessed outstanding sales on NASCAR licensed product as a result of our June 2001 promotion and have been impressed by the support from NASCAR and its affiliates," says Wal-Mart Marketing Manager Danette Thompson in a company statement. "We have a successful relationship with Wal-Mart on both the housewares side and the apparel side and even in die-cast," says Deirdre Scott, managing director of licensing, NASCAR.NASCAR will repeat its June Father's Day NASCAR Fan Days promotion with Wal-Mart in 2002. During last year's promotion, Wal-Mart greeters handed out NASCAR Fan Days booklets, which guided customers to NASCAR-related products located in Wal-Mart's stores. "They want people to stay in their stores longer," Rothwell says. "We were trying to encourage people to go to different sections of the store and buy our partner's products." As for another of its partners, Kmart, Rothwell says NASCAR is sticking by the embattled retailer. Rothwell says the two are repeating their Team Up and Win promotion this year. Explains Scott, "Kmart has been a great partner with us, and it's carried a lot of our sport's branded and licensed products."
Subscribe and receive the latest news from the industry.
Join 62,000+ members. Yes, it's completely free.
You May Also Like
Loading..