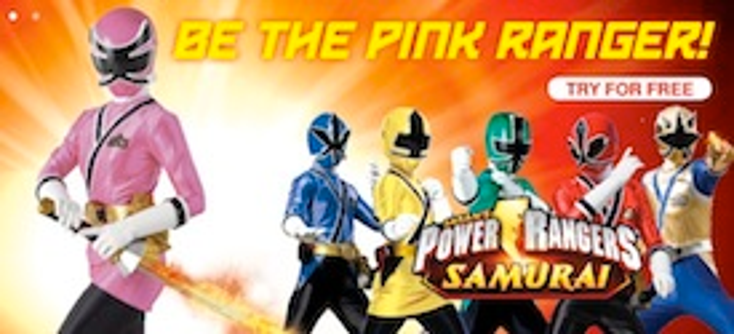 License! Global
reports live from Mipcom in Cannes with news from Sesame Workshop, Aardman and others. In addition, MipJunior released its top 30 most requested children's programs.
Executives and celebrities attended Monday's Mipcom opening night party, organized in partnership with The International Drama Festival in Tokyo, KOCCA and Saban Brands. Pictured at right are MarVista's Vanessa Goglio (left) and Fernando Szew, Saban Brands' Kirk Bloomgarden and Elie Dekel, with Tracy Dekel and the Power Rangers.
Meanwhile at the show, Sesame Workshop highlighted three of its latest series for international broadcast, according to Scott Chambers, senior vice president of international. They are:
"Super Grover 2.0," (13 x 6), re-imagined with a new look and new adventures, emphasizing STEM (science, technology, engineering and math) and encourages children to be more active in these areas.

"Good Night Elmo," (52 x 5), primarily for international markets, including Australia, U.K., Germany, Netherlands and Spain, and features Elmo and his father in various bedtime stories.

"Count TV," (26 x 5), new and refreshed opening and closing featuring the Count von Count character. Last month, Sesame launched a Count TV iPhone app.
In addition, Aardman Rights previewed a new preschool program, called "Ploo," (52 x 10) targeting boys and girls, ages 3 to 5. At the MipJunior screening it ranked No. 16 among the top rated new programs.
Chorion has confirmed a second season commission from Nickelodeon for its Olivia preschool brand, based
on the books by Ian Falconer. The new season will be delivered to Nick in the U.S. next month. Season 1 has now launched in 130 countries and the first wave of Olivia consumer products, including toys from Spin Master, launched this fall in the U.S. Three new Simon & Schuster book titles are due to launch later this season, including "Olivia Claus," which is tied to the release of the new DVD title, "Merry Christmas, Olivia." An international consumer products rollout is scheduled for 2011.
At right, Tony Lisanti, global editorial director of
License! Global
with June Lee, senior manager of international marketing for ROI Visual, and Holly Stein, vice president of licensing acquisitions at Mattel. Lee accepted the Licensing Challenge award for ROI Visual's "Robocar Poli." The competition, co-sponsored by
License! Global
and Advanstar Global Licensing Group, is a pitching session designed to showcase the kids' TV property with the greatest licensing potential.
MipJunior, which concluded on Sunday, released its top 30 most requested programs from its weekend screenings. They are:
Mia and Me (Rainbow/Telescreen, Italy/Netherlands)

The New Adventures of Peter Pan (DQ Entertainment, Ireland)

Le Petit Prince (PGS Entertainment, France)

Gon (Rainbow/Daewon Media, Italy/South Korea)

Bugged (Millimages/Timoon Animation, France)

 Fish Hooks (Disney, U.S.)

Black Dawn (Animation Collective, U.S.)

1001 Nights (Big Bad Boo Studios, Canada)

Rekkit Rabbit (Zodiak Rights, France)

Lassie & Friends (DQ Entertainment, Ireland)

Canimals (BRB International, Spain)

 Justin Time (Guru Studio, Canada)

Maya the Bee (Studio 100, Germany)

Crazy Cavemen (Evergreen Entertainment, U.K.)

Ploo (Aardman Rights, U.K.)

Crazy About Sports (Futurikon, France)

Almost Extinct (CCI Entertainment, Canada)

Eyes Monster (Pixtrend, South Korea)

Mofy (Sony Creative Products, Japan)

5 Speed 5 (Timoon Animation, France)

Elle (Cookie Jar Entertainment, Canada)

Almost Naked Animals (9 Story Entertainment, Canada)

Boy and the Dinosaur (Foothill Entertainment, U.S.)

Zou (Cyber Group Studios, France)

G.I. Joe Renegades (Hasbro Studios, U.K.)

Transformers Prime (Hasbro Studios, U.K.)

Decidedly Debra (Cookie Jar Entertainment, Canada)

Davincibles (Moonscoop, France)

Wallace & Gromit's World of Invention (Aardman Rights, U.K.)
Subscribe and receive the latest news from the industry.
Join 62,000+ members. Yes, it's completely free.
You May Also Like
Loading..