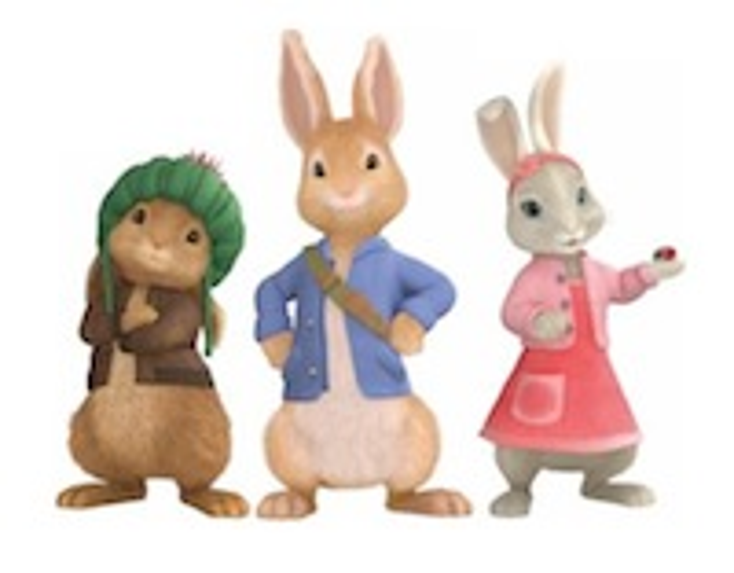 Just as in year's past, MIPCOM 2012 was a flurry of activity. We're rounded up for you the top news in deals made and new licensable properties introduced.
CBeebies to Air 'Peter Rabbit'
CBeebies was announced as the U.K. broadcast partner for "Peter Rabbit" (52x11) the new CGI-animated series from Penguin, Silvergate Media and Nickelodeon U.S. (also show's lead broadcaster).
The series will preview with a special one-off Christmas episode in December with the series launching fully in spring 2013.
The animation's broadcast later this year coincides with the 110th anniversary of the first publication The Tale of Peter Rabbit by Frederick Warne, now an imprint of Penguin Children's Books.
Penguin will be supporting the animation in 2013 with a full publishing program with other licensed merchandise to follow.
Power Rangers Top Charts, Launches New Series
Saban Brands celebrated top ratings for the latest seasons of Power Rangers and debuted the newest franchise installment, "Power Rangers Megaforce"
which will premiere next year in conjunction with the brand's 20th anniversary.
"Power Rangers Samurai" and "Power Rangers Super Samurai" both topped the ratings charts in France, Germany, the U.K., Australia and Spain, creating strong build-up for the next series, "Power Rangers Megaforce."
Saban Brands and its international TV distribution partner MarVista Entertainment, debuted 40 episodes of the new series last weekend at MIPJunior.
Hulu and Viacom have expanded their content partnership to bring Nickelodeon programming to the Hulu Plus service.
The expanded agreement will also bring Tr3s content to the Hulu Latino service.
Nickelodeon joins a raft of Viacom programming available on the Hulu Plus platform where subscribers can view a selection of current shows 21 days after they air and more than 1,500 episodes of archive programming from BET, Comedy Central, MTV, Spike, TV Land and VH1.
The partnership also makes current full episodes and clips of "The Daily Show with Jon Stewart" and "The Colbert Report" available on the free, ad-supported Hulu.com. 
Monstrou, Sweatbox Debut 'Nightbreeds'
Singapore animation studio Monstrou and Spanish production company Sweatbox debuted their new series "Nightbreeds" (26x23), the first co-production between the region's animation companies.
"Nightbreeds" follows the unlikely coalition between a human boy and a vampire girl in their quest to defeat a rival clan as they search for the only mirror that allows a vampire to see its reflection.
The series is scheduled to air on the Catalan TV network Televisió de Catalunya at the end of 2014.
Studio 100 Brings Classics to Canada
Studio 100 Media, a subsidiary of the Belgium-based Studio 100, inked a distribution agreement with Montreal-based DVD distributor Imavision for the French-Canadian rights to the company's new re-mastered classics.
The agreement gives Imavision exclusive home video rights and non-exclusive, on-demand rights for the newly re-mastered 3-D series "Maya the Bee" (78x 11), "Vicky the Viking" (78x11) and "Heidi" (39x22) for a period of five years once the series are available.
The three newly re-mastered series will be delivered in the latter part of 2012, 2013 and 2014.
DQE Teams with Foothill for New Series
DQ Entertainment and Foothill Europe joined forces to develop, co-produce and distribute the animated buddy comedy, "Raz & Benny," which they debuted at MIPCOM.
The CGI series is the tale of two mice whose ambitions are bigger than their brains.
The two companies will work together to develop, finance, produce and distribute the series, as well as manage ancillary rights such as merchandising.
Planet Nemo Partners for Preschool Show
Planet Nemo announced that is has joined forces with several major broadcasters to produce the new preschool series, "What's the Big Idea?" (52x5), which is based on the children's book of the same name.
The 3D, CGI-animated series is produced by Planet Nemo in association with CBeebies, global preschool channel JimJam and France Television. The series will be co-produced with Senal Columbia and Argentina's Paka Paka.
"What's the Big Idea?" has also been pre-sold to Australia (ABC), Canada (TVA), Finland (YLE), Sweden (SVT) and Malta (PBS Malta) and will launch in spring 2013.
SLR Gives 'The Skinner Boys' the Go-Ahead
SLR Productions greenlit the animated series "The Skinner Boys" (26x30) for production with broadcaster partners Nine Network Australia and SRTL, along with production partners Telegael, Top Draw Animation and Home Plate Entertainment. ZDF Enterprises will distribute the series internationally, which will be completed by 2014. 
Based on an original Australian creation by artist Steve Lyons, the series follows three young teens and their cousin who become the Guardians of the Lost Secrets, a collection of unique artifacts that possess incredible powers, when their grandfather dies.
'City of Friends' Heads to Russia
Sky Vision inked a new deal with Russian broadcaster Carousel TV for the preschool show "City of Friends." Carousel acquired two 26x10 seasons and two 30-minute specials of the show from Norwegian children's entertainment producer CreaCon Group. The series will launch on Carousel later this year and will be aired daily.
Nerd Corps Debuts First Preschool Series
Nerd Corps Entertainment has begun production on its first preschool series, "Kate and Mim-Mim." FremantleMedia Enterprises will have exclusive worldwide distribution and licensing rights (excluding Canada) for the series, which will hit airwaves in 2014.
"Kate and Mim-Mim" is a comedy for children ages 3 to 6 centered on the friendship between feisty 5-year-old Kate and her plush toy bunny, Mim-Mim. CBeebies has already ordered the first season for broadcast in the U.K.
FME's 'Grojband' Goes Global
FremantleMedia Enterprises signed a series of international TV deals for the kid's comedy series "Grojband" (52x11) about a wannabe rock band.
New buyers include Lagadère in France, Switchover Media in Italy, ABC in Australia and Cartoon Network in Latin America. Earlier this year, Cartoon Network USA became the U.S. broadcast partner for the series.
"Grojband" is geared toward kids ages 6 to 11 and follows Corey and his three best friends as they struggle to gain international stardom with their garage band.
"Grojband" is developed by Fresh TV, in association with Teletoon Canada. FME manages the worldwide (excluding Canada) TV distribution, home entertainment and brand licensing rights for the series.
Subscribe and receive the latest news from the industry.
Join 62,000+ members. Yes, it's completely free.
You May Also Like
Loading..