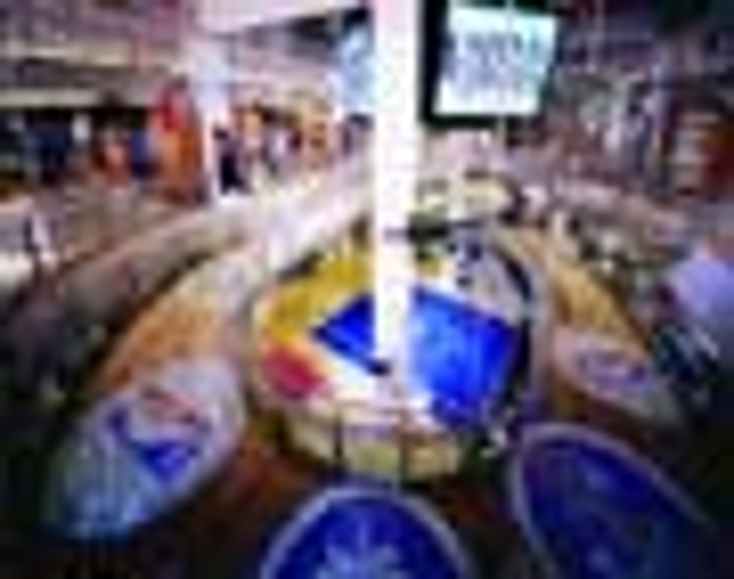 ]>Marketing guru Paco Underhill reveals the do's and don'ts of retail merchandising.
Paco Underhill, best-selling author of "Why We Buy: The Science of Shopping," founded and directs Envirosell, Inc., a behavioral market research and consulting company that acts as a testing agency for Fortune 500 banks, stores, restaurant chains, and consumer product companies around the world. Here, he offers some tips on the art of retail marketing and merchandising.
License!:
How has the general complexion of the retail marketplace in 2002 changed recently?
Paco Underhill:
In any First World economy, 75 percent of consumer spending is discretionary. Imagine a market filled with things people don't actually need bought with dollars people don't really have to spend. You'll picture a perfect breeding ground for brutal competition. And one of the issues driving lots of the change in retail recently is that we have gone from a marketing war to a marketing bar brawl. Now, everyone is punching out everyone
else.Before, we were talking about far more stately strategies: Coke against Pepsi, Burger King against McDonald's. Then, the marketing road map was defined by the direct competition. Now, in contrast, I am convinced I should tell my auto client dealers that if they are Ford, they should ignore Chrysler and worry about what, for example, the Courtisan Carpets dealer is doing.
L!:
What about snaring the impulse purchase?
Underhill:
Impulse shopping in a supermarket, for example, falls into two separate issues. One is "something that should have been on my list but wasn't because I forgot to write it down," such as paper towels. The second occurs when I spy Salsa Flavored Catsup and decide I have to try it. Impulse issues boil down to: How do I get the product in people's faces? How do I tantalize them quickly? And how do I get from interest to closure?Most impulse purchases happen at the back of the supermarket, where the customer is in the first two-thirds of his or her buying cycle. As a licensee, the best way to answer marketing questions is to start with the retailer's plan-o-gram and ask, "What does everything else look like?" Today, as customers move from their local supermarket through Target to Toys "R" Us, they travel in environments where all the merchandise shrieks at them. One radical change, therefore, is the urgent importance of the packaging.This is particularly true for supermarkets because corporate war in such retailers is uneven. Aisle partner relationships [generally standardized] from chain to chain generate different packaging needs. If I am selling to Kroger and I am selling to Albertson's, maybe I'm thinking about a slightly different package for each.
L!:
Is that cost feasible?
Underhill:
Absolutely. At Wharton and Harvard, in the modern day marketing program, they talk about brands and the Internet. Almost nobody teaches printing. In 2002, printing presses are incredibly advanced and unbelievably underutilized. More, the concept of customizing product for a specific account is a real point of leverage. You can buy batteries at Sam's and Wal-Mart, but you will never find them in the same form. It's amazing what you can extract from cardboard and a printing press.
L!:
Let's suppose a retailer's vendor ships the perfectly packaged product. How does the retailer generate multiple sales?
Underhill:
You recognize that people aren't shopping for products; they are shopping for solutions. One retail solution is putting things together. In apparel, you show customers the top with the bottom or the dress with the handbag. Another strategy is to look for gifting solutions. One out of five shoppers is searching for a gift, an icon of their relationship to another person. Unfortunately, when it isn't Christmas, most retailers do a bad job selling to someone else through their customer. They lose out on this important way creative merchandising can build ticket.Let your customers know that you gift wrap. Let your customers know it's a popular gift. A classic way of doing this at Toys "R" Us is a sign: "Our Best-Selling Doll" or "Our Best Gift for a 12-Year-Old." Then, you surround that doll with logical add-ons: the wardrobe, the house, and the book.Cutting down on skus but offering a better presentation makes the customer think there are more products in your space. This kind of thoughtful buying and creative merchandising is helping independent retailers build a better franchise with grandma and grandpa, generate much larger tickets, and enjoy return business from satisfied solution seekers.
L!:
How do retailers get the kids to twist their parents' arms at the cash register?
Underhill:
Toy store managers need to buy a skateboard, sit on it, and roll through their stores. That's one easy way to see everything from the vantage point of a 4- or 5-year-old.
L!:
How do teens and 'tweens buy?
Underhill:
These customers are the most vulnerable to advertising. They are insecure and focused on becoming who they want to be. "Eens" are susceptible to images. They often are conformist. And they control vast amounts of cash because they spend [not only] for themselves but also for their parents.I'm waiting for the Toro Lawn Mower commercial on MTV. When dad goes to buy a new lawn mower, son goes with him. When mom goes to buy a new computer, she takes son, too. Or when mom and daughter go shopping, daughter tells mom which styles are "it"-and not just for herself, but for mom, too. This age group has big curiosity, a phenomenal ability to process, and a vast knowledge of specific subjects.
L!:
Will these "eens" soon be brand loyal customers?
Underhill:
The older we grow and the more comfortable we become, the less interest we have in classic 20th century branding. Look in the closet of any woman over 30. You probably will find something she bought at Target and something she bought at Neiman's hanging next to each other.
L!:
Does this mean brands must constantly re-invent their image?
Underhill:
With kids, "cool" (by definition) has a finite lifespan. "It" will never be just about getting the product right. Take Abercrombie & Fitch. They had "it" for almost two years, and then they lost "it." Attention simply shifted. Suddenly "it" was American Eagle, but the actual merchandise was very similar. For "eens," brands that do not morph currently seem to have an approximate two-year lifespan. The exception is a Nike, but even Nike struggled.Barnes & Noble is a brilliant example of successful re-invention. Moving from the mall, Barnes & Noble knew that selling is more than the simple exchange of goods and money. Ergo, it has seduced the consumer into a commitment to browsing.
L!:
How would you design a best-selling book cover?
Underhill:
There is no irony in the fact that the jacket of my hardcover book was red and white. Like a Marlboro box or a milk carton, it was conspicuous at 14 feet, and it looked great up close. Boy, I had a hard time explaining that concept to the book designer.
L!:
So what are the most important things retailers need to know this minute?
Underhill:
First: total understanding of the physical point of-sale-environment is key to giving your packager the right marching orders. Second: I never hire anyone who comes to an interview wearing uncomfortable shoes. Why? Because, in retail today, winning means thinking on your feet.
Subscribe and receive the latest news from the industry.
Join 62,000+ members. Yes, it's completely free.
You May Also Like
Loading..