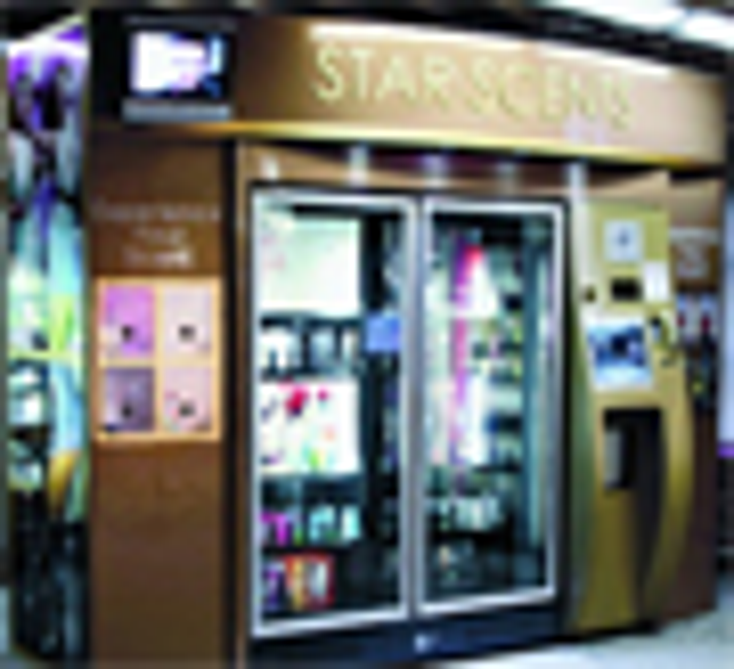 Coty and "robotic" retail pioneer ZoomSystems team up to revolutionize the fragrance industry with the launch of an automated concept that aims to attract younger consumers.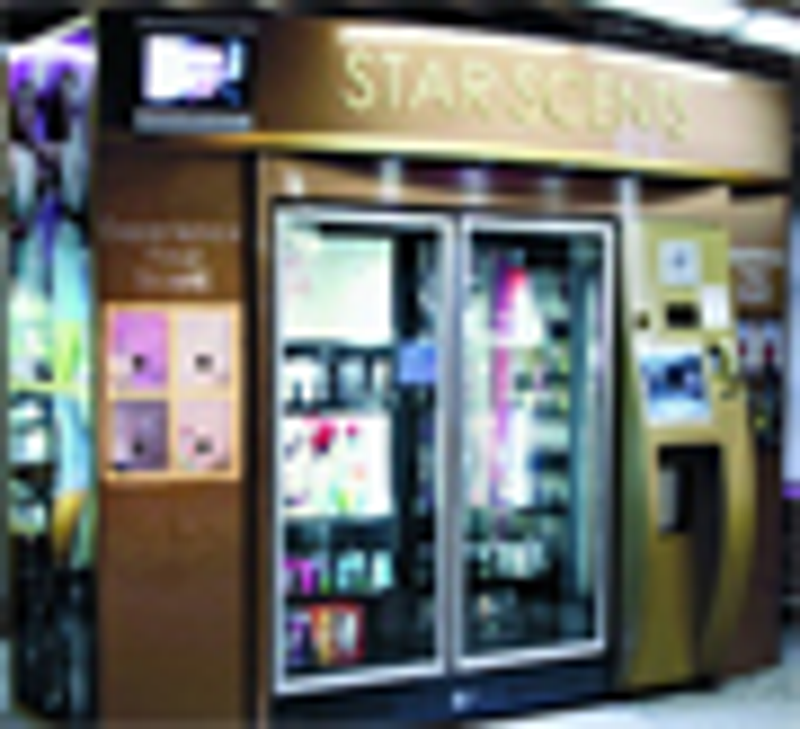 Coty and ZoomSystems recently made their mark on the fragrance retail industry with the introduction of a concept called "Star Scents." The new shopping concept, which includes a 30-square-foot automated retail-store format, offers a star-studded fragrance collection inspired by celebrity icons such as Jennifer Lopez, Jon Bon Jovi, and David Beckham. This time, it's not the celebrity fragrance collection that's drawing a buzz at retail (NPD Group reports that celebrities and designers have made a major impact on the fragrance market, generating more than $200 million of growth between 2003 and 2005), but the innovative "robotic" store format these fragrances are being offered in.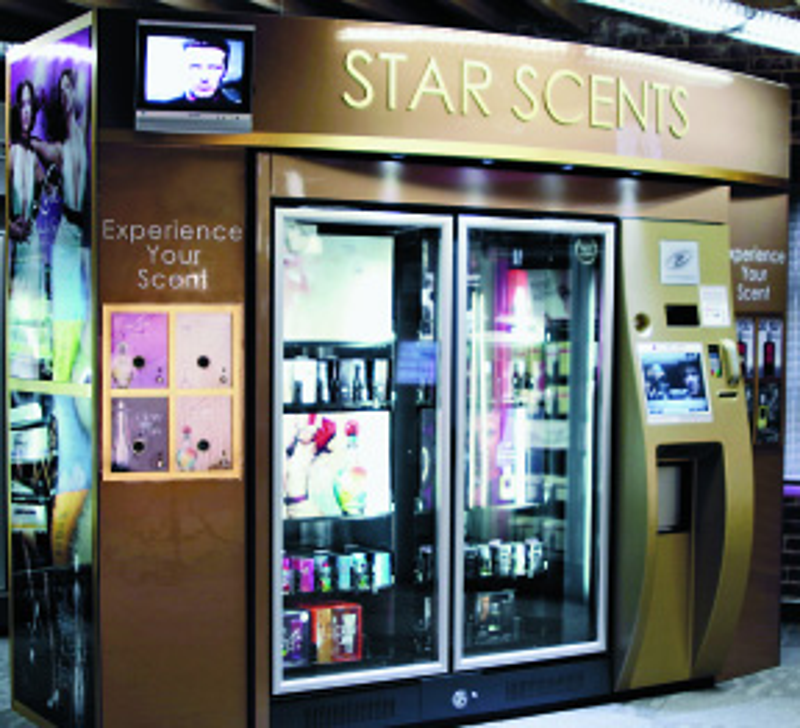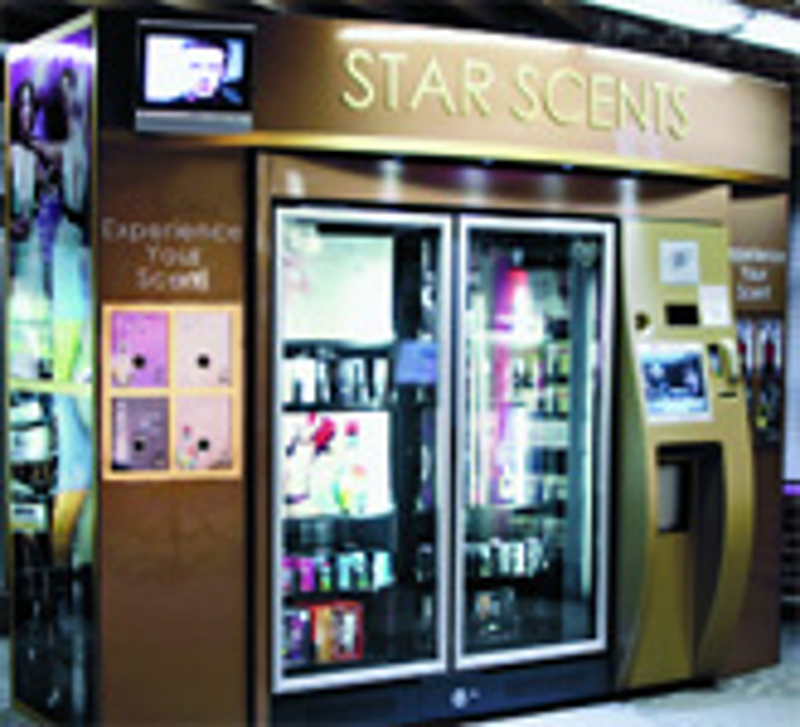 The Star Scents program, which is designed to attract younger consumers who typically shop at beauty specialty shops, features smaller sizes at lower price points to essentially serve as sampling devices. The goal: To ultimately drive the purchasers to full-size product in department stores. "By offering smaller sizes at accessible price points, we hope to drive repeat purchases in department stores," says Dennis Keogh, senior vice president, U.S. Marketing, Coty Prestige. The affordable suggested retails range from $32 to $34 compared with the $60 and beyond that most fragrances command.
"We
recognize the Zoom program as an excellent way to reach out to the younger consumer who is not inclined to shop in department stores," adds Keogh. The scents are offered in 1-ounce sizes, which are travel-friendly and limited in distribution. Six celebrity fragrances are currently being offered in the portfolio. These include Live, Live Luxe, Glow, and Glow After Dark by Jennifer Lopez; Instinct by David Beckham; and RSVP by Kenneth Cole, which stars Jon Bon Jovi in its advertisements/promotions. Additional brand partners include Elizabeth Arden, Proactiv, Rosetta Stone, Strivectin, Sony, and Apple.
The automated retail concept debuted this past fall at high-traffic malls, airports, and lifestyle grocery centers in major metropolitan locations such as Las Vegas, Atlanta, Dallas, Miami, New York, Chicago, and San Jose, Calif. After an initial six-month testing period, further expansion may follow. "For Coty Prestige, we see this as a win/win, and are anxious to roll out the program to additional locations at the conclusion of this test," says Keogh.
"We look to expand this concept on a national basis pending launch success," adds Kalon Gutierrez, director, brand partnerships, ZoomSystems. "International expansion opportunities are available and will be discussed after proving a successful test."
The new star-studded concept utilizes the latest in fragrance sampling technology, via custom-built atomizers, whereby dry fragrance microparticles are released into the air with the simple touch of a button, leaving behind no liquid residue. Every atomized sample is tracked by a proprietary electronic system, through which conversion rates can be measured with unprecedented accuracy.
To support the launch, glossy in-store signage appeared both in-case and on all aesthetic panels. It included visually appealing images from the glossy and glamorous advertising campaigns of the fragrances. Local advertising, specifically handouts and tent displays in malls, also supported the launch. "The program also relies upon mall foot traffic and word-of-mouth," says Keogh.
A beauty advisor program also debuted in the fall. The stores are currently being staffed in designated intervals by trained beauty advisors. "The purpose is to engage the consumer and increase his or her familiarity with our channel," says Gutierrez.
Subscribe and receive the latest news from the industry.
Join 62,000+ members. Yes, it's completely free.
You May Also Like
Loading..