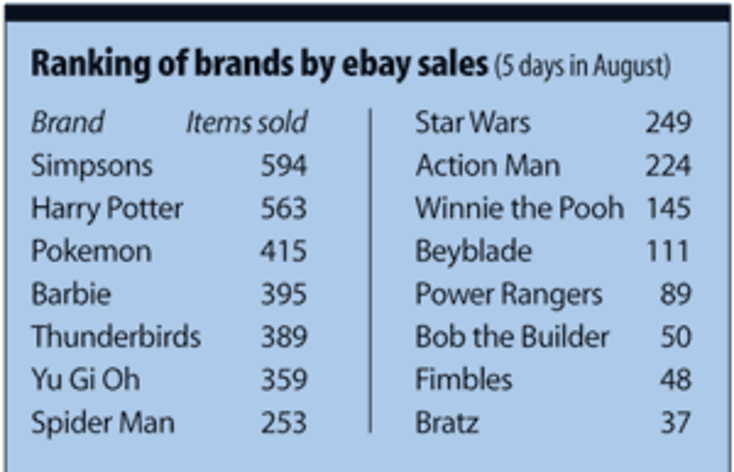 ]>Internet Intelligence company Webgravity helps companies track and manage the activity of their brands online and in August it used its spidering technology to perform some exclusive research for License! Europe. Picking 20 licences that appear in the NPD top or fastest growing charts, Webgravity tracked those brands on e-bay over a week.
There are over four million items available to the UK on ebay.co.uk at any one time. Sending out spiders allows Webgravity to see exactly who is selling what and when. The majority of sellers on ebay are entirely legitimate but using the technology for a period of time enables researchers to spot 'trickle selling' or bulk selling of particular items. The results reveal a striking variety of licensed products sold on ebay, from Bart-Simpson-Man-U badges to Winnie the Pooh curtains. Each day there were 1000 licensed products available and on August 12th there were 82 Harry Potter novelty banknotes for sale from the same seller. Interesting observations
from the one week surveyed include the mixture of vintage and new Action Man merchandise and the use of the word Bratz to sell a 'Bratz-style' My Scene Barbie set.There were more than 1500 individual sellers over the period and most of them were selling just one item, with 1% selling over 20 items. Consistent with Webgravity's usual findings, a small number of sellers were selling a large proportion of the total sales.This ability to track thousands of web transactions and pick up patterns that might lead to counterfeit or illegally obtained goods is just one of many research services Webgravity performs. Its data-feeds and free-roaming spiders roam into password-protected and hidden sites to provide customer research and spot trends in brand-perception or domain hijacking. All of these can be used as protective and positive marketing tools.The survey mentioned here continued for a few weeks longer and can be accessed from www.webgravity.co.uk, or
.
Subscribe and receive the latest news from the industry.
Join 62,000+ members. Yes, it's completely free.
You May Also Like
Loading..