For holiday, a number of new toys are rolling out from some of CBS' most popular hits. For hit series CSI come the Crimelab Videoscope, Facial Identification Kit, Fingerprint Examination Kit and Impression Kit Ink and Handwriting Analysis Kit, available at Toys"R"Us.
From Pressman come NCIS The Game and Bert the Farting Hippo, a plush featured on the show.
A number of CBS' shows will also be featured as video games, including The Amazing Race, CSI: Unsolved!, Hollywood Squares from Ubisoft and America's Next Top Model by Conspiracy.
Cartoon Network is rolling out a range of Ben 10 Ultimate Alien toys from Bandai America. The line will continue to expand on its top-selling 4-inch and 6-inch action figure line, which will include all of the aliens from the series, as well as a new Disc Alien Ultimatrix and Alien Creation Laboratory. Items in the pipeline for spring 2011 line include a 7-inch HyperAlien motorcycle, comic book, Alien Creation figures and Mark 10 vehicle.
AFA Interactive and TrendSource
Distribution are also rolling out a line of Ben 10 gaming accessories to retailers in the U.S., following a successful launch in the U.K., Europe, Australia and Africa. The products will coincide with the 10.10.10 release of the new Ben 10 Ultimate Alien video game and season premiere of "Ben 10 Ultimate Alien." The range includes wired and wireless game controllers, remotes, nunchuks, protective shells, portable gaming cases, and accessory packs for Nintendo Wii, Sony PlayStation2, PlayStation Portable and Microsoft Xbox 360.
Exclusively in Asia Pacific, Bandai will release a set of limited-edition 4-inch gold alien figurines. The range also will include the Ultimatrix, Ben's latest alien-morphing device, featuring versions of Ultimate SpiderMonkey and Ultimate Humungousaur.
For Cartoon Network's Generator Rex property comes a line of toys from Mattel. Product includes a figure assortment, Super Slam Cannon, Transforming Rex Ride, a vehicle assortment, an Evo Attack Pack assortment and Air Attack Boogie Pack.
The Zhu-niverse! is the licensing program for Cepia's newest offering, Kung Zhu. Game Mill and Activision will be releasing a new line of Nintendo and Wii games for Kung Zhu during holiday 2010. Items featured for holiday include plush and collector cases from The Bridge; backpacks, lunchboxes and Nintendo DS cases from Accessory Innovations; and outdoor play and swim products from Big Time Toys.
Zhu Zhu Pets coloring and activity books from Modern Publishing, fashion apparel from Bentex, outerwear from Berkshire, sleepwear from AME, bed and bath from Franco Manufacturing, footwear from SG Footwear and outdoor swim and play from Big Time Toys will retail at Walmart, CVS and other chains.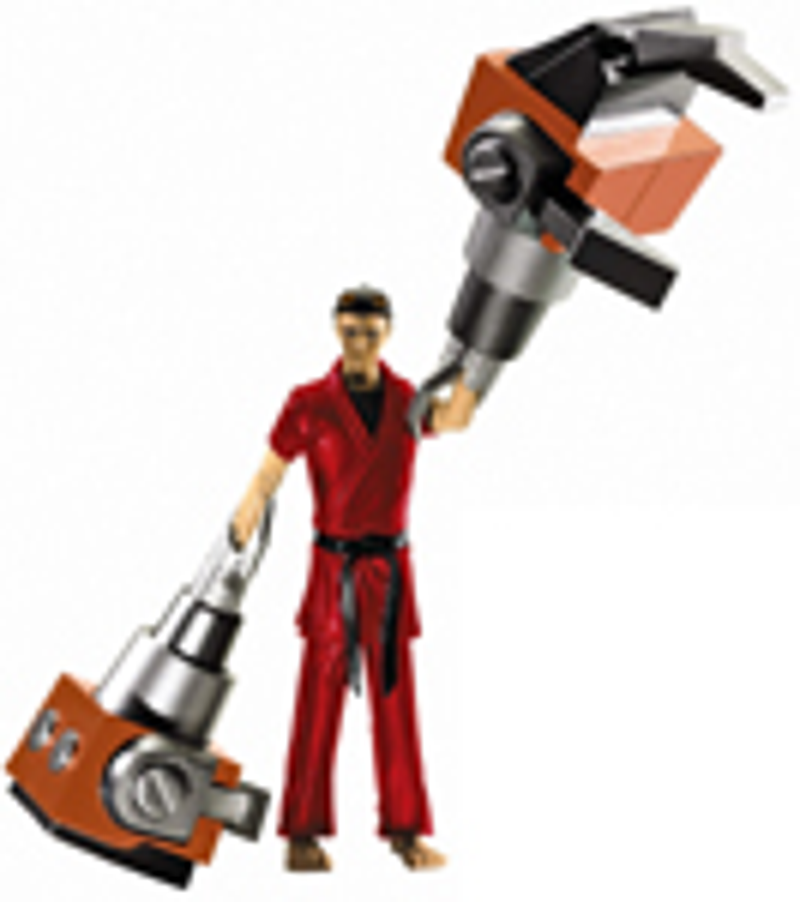 The company also will launch a Fancy Nancy doll line to mass retailers for the holiday season.
In honor of Sanrio's 50th anniversary, Jakks will offer Hello Kitty and other Sanrio friends in limited anniversary edition mini plush. Product will be available at Target and Toys"R"Us stores nationwide.
A new line of Plug It In & Play TV Games Motion video games from Jakks will offer popular entertainment brands, including Star Wars, Toy Story, SpongeBob SquarePants, Spider-Man, Disney Fairies and Power Rangers.
Princess & Me is a new lifestyle brand from Jakks and Disney Consumer Products that features large-scale dolls based on the Disney Princesses. The Princess & Me line of dolls, doll fashions, accessories and matching outfits for girls is designed for the slightly older Princess fan.
Jakks' Tollytots division will launch Disney Princess characters as baby and toddler dolls that include Aurora, Cinderella, Snow White, Belle, Ariel and the newest Disney Princess, Tiana. Each 12-inch soft-bodied Disney Princess Baby doll is dressed in a onesie in her signature color and a tiara. Each 14-inch Disney Princess Toddler doll is dressed in her signature ballgown and features rooted hair, poseable legs and a tiara.
The company's Disney Fairies lineup includes dolls, playsets, dress-up, role-play, Halloween costumes, plug and play and novelty items.
Jakks Pacific's Toy Story lineup features all the characters in the movies and encompasses multiple categories, including dress-up, role play, novelty toys, Halloween costumes, activity tables and a new video game based on the Toy Story Mania experience at Disney theme parks.
Big Tent Entertainment and Keenway Industries have created a preschool toy line for animated series "Miffy and Friends" that includes tea sets, medical kits and figurines. Miffy is celebrating its 55th anniversary this year. The property has been featured recently in international museum exhibits, contests and promotions. Upcoming merchandise includes a Wii video game and a feature film.
Ravensburger has a new 2011 collection of licensed products. The rollout has a trio of colorful puzzles from the company's debut Highlights collection for children ages 4 and up. The Animal Planet collection, set to hit stores in January 2011, will include 10 puzzle designs ranging from 100 to 500 pieces, including puzzles with fact booklets and special packaging. For fall 2011 comes a puzzle collection inspired by two animated TV series for preschoolers, "Chuggington" from Ludorum and "Tinga Tinga Tales" from Classic Media and Tiger Aspect Productions.
In 2011, Ravensburger will add a unique dimension to its puzzle lineup with its 3-D puzzlepyramid designs, featuring flexible hinged pieces that are numbered on the inside and snap together easily to showcase a different design on each side. The introductory puzzlepyramid collection will include five 240-piece designs.
ESPN Pro-Style Hangin' Hoops by Moose Mountain Marketing is inspired by the backboards seen in professional basketball games and features a clear polycarbonate backboard, a metal breakaway rim and includes a basketball. The ESPN Game Shot 2-in-1 Game Center offers basketball and darts. The basketball game features an LCD scoreboard/game clock, arcade sound effects and includes two basketballs. The electronic dartboard features scoring for up to eight players, 13 different games and 80 variations and also features an LCD scoreboard and arcade sound effects. The ESPN Stick 'N Move Speed Bag hangs on any door with a platform that can be adjusted to any height and is a great tool to develop the hand-eye coordination needed for boxing.
SyFy series "Battlestar Galactica" is offering an expanded board game. The new series has three new options—Ionian Nebula, Cylon Fleet and The Final Five—and features new personal goals and Allies, as well as new characters and skill and loyalty cards.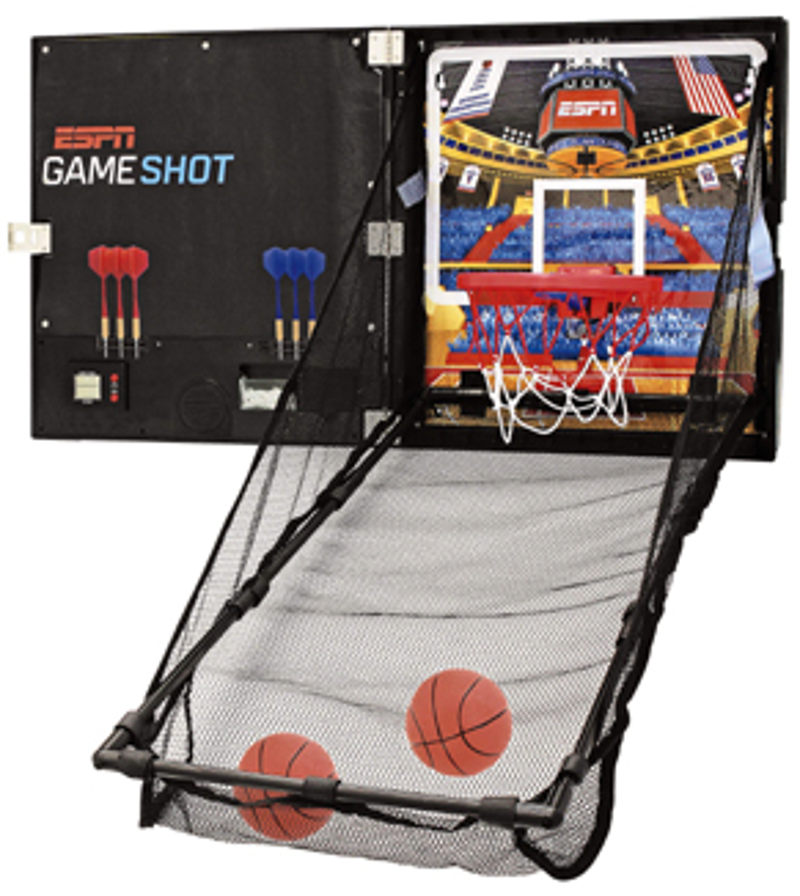 Learning to play and playing to learn is the licensing brand positioning for UNICEF. The UNICEF brand, represented by Moda globally, is looking to translate its brand into a wide variety of toys, such as building sets, crafts, video games, software, plush, games and puzzles, learning/exploration and outdoor sports and toys. UNICEF's multicultural equity can serve as inspiration for product development and design. With strong worldwide awareness, more than 90 percent in most markets, UNICEF is a "borderless" brand and has a track record for success with its cards and gifts business.
Research shows that consumers care about cause and that it provides a reason to buy. The cause creates opportunities for in-store merchandising, pop-up stores and tie-ins to world events that lend themselves to giving.
Subscribe and receive the latest news from the industry.
Join 62,000+ members. Yes, it's completely free.
You May Also Like
Loading..