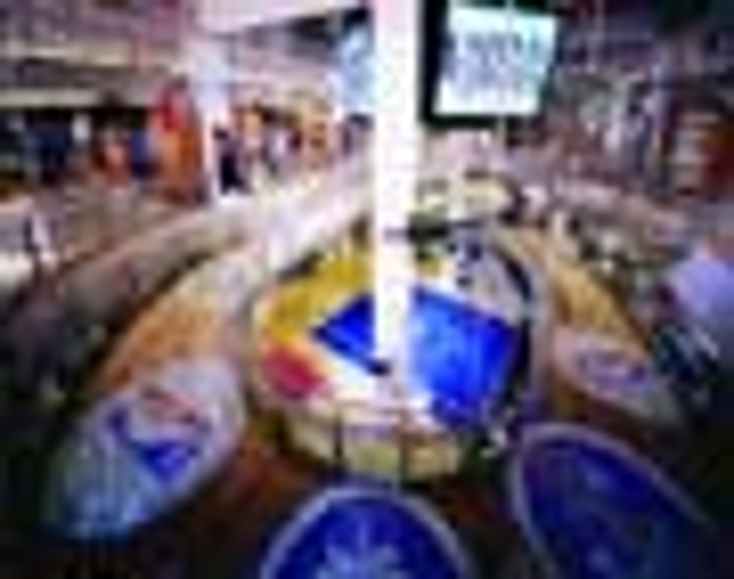 ]>Reebok's exclusive licensing deals with the NFL and NBA have changed the game for licensors, leagues, and retailers.
Call it a slam dunk, spike, power play, or home run, but no one has really come up with a good trash-talking phrase to describe what Reebok has done to the sports licensing business. You might have to go into the most dramatic event in sports to find a good analogy: "Knockout" comes close.Reebok now is seeing the fruits of two huge exclusive licensing deals it signed last year and in 2000. Two years ago, it became the exclusive licensee for the crown jewel in NFL licensing-the jersey category. In the process, it knocked out Nike, Starter, and Champion. Then last summer, it repeated the feat with the NBA. The deal has ramifications that will affect retailers this fall as Reebok enters its first full season of NFL product. Next season, it hits stride with the NBA. And it has rocked the sports licensing world to its core."It will be different," says Sal LaRocca, NBA global
merchandise senior vice president. "There will be improvements in our ability to react to retailers' needs. And there's the simple matter that some of our licensors have gone out of business. If I'm a retailer, I want to know my vendors are solid companies. Reebok is certainly a solid company."
From a league's perspective, the Reebok deal represents an evolution in licensee management. The prevailing thinking just a few years ago was that a league should license as many categories as possible to as many licensees as possible. All within reason, of course. No leaguer wanted to see a category too crowded with competition. But healthy competition meant you had solid companies that paid you a big up-front fee and then a cut of revenues. In some cases, that model stopped working. Pressure on the textile business made some companies-Starter among them-feel the financial heat. Leagues began to question whether they should increase the amount of up-front fees for each license, and, in turn, limit the amount of licensee competition.League LeadersThe NFL and the NBA are not the first leagues to follow this strategy. The NHL has had an exclusive license for jerseys with The Hockey Company, a firm it has helped develop with marketing and retail support. It has grown into a full-line company, and Brian Jennings, NHL group consumer vice president for product marketing, says both the league and retailers have been happy with its performance.
"We want to deal with well-structured, well-funded companies," Jennings says. "We want to capitalize on each category in a way that will promote healthy business and an alliance among our partner companies. Some of the companies that saw 35 percent of their revenue coming from NFL licenses will be hurt by the Reebok deal. There will be more attrition. You will see some casualties. We thought from the beginning that limiting key categories could give us more control and add more marketing synergy."
The NFL looks at control and marketing consistency as the two keys to making its Reebok deal work. Not to mention the multimillion dollar check Reebok signed. This year, the company's licensed goods push started with the April college draft, and will continue non-stop. According to NFL Senior Director of consumer products Susan Rothman, the Reebok NFL Equipment marketing campaign makes for a new brand, not just a new license.
"And that brand will be conveyed with a consistent message, with a lot of clarity to our retailers, as well as consumers," Rothman says. "Competition is a good thing among licensees. But instead of many companies speaking many messages, we feel our apparel line is a bit more special."
Cause and Effects
So here's the bottom line for the leagues: They still get the big paydays, but they can communicate clearly with one licensor if a team or player suddenly gets hot, as the Chicago Bears and Anthony Thomas did last season. And they can focus their formidable marketing support. Instead of trying to fit three licensors into an NFL program, with no confidence the support will benefit any particular company, now they need to fit only one. The marketing support from their end increases, as does the league's confidence they can affect the business.
For licensors, the deal changes the rules completely. "This deal has stood sports licensing on its ear," says NHL's Jennings. Instead of negotiating for product category licenses, now licensors need to approach leagues with exclusivity in mind. This plays, once again, to the need for marketing.
"This puts a tremendous amount of pressure on you if you're not a huge global company," says Velocity Sports and Entertainment agency Vice President Chris Caldwell. "But this does consolidate marketing. In the past, if a league had three licensees in a category, none of them would advertise because they thought they would drive the competitor's business. Exclusive deals such as Reebok's remove that dynamic. There's only one brand to worry about, and that brand needs to market to survive."
Which leads to the retail perspective. At the most basic levels, retailers want to know the instability in sports leagues, with big stars changing teams often, will be addressed. They want to know that if Jason Giambi signs with the New York Yankees in January, his jersey will be on the racks by spring training. "That's my biggest concern," says Sports Authority Chairman Marty Hanaka. "There's so much player movement these days that it's hard to keep track of where the players are, and keep the proper inventory in stock."
So consolidation of licensees should be an advantage. But there's also the other side of the coin: lack of competition. If you want to buy NFL jerseys this season, or NBA jerseys next season, there's only one vendor and one price to worry about. Price competition plays to the retailer's advantage. Now it's gone.
"It's a mixed bag, the Reebok deal," says Dan Head, vice president of e-commerce for CBS Sportsline, which owns and operates MVP.com. "Yes, there's only one provider, and you don't want to be in that spot as a retailer. But I'd rather have one reliable provider than worry if my jersey vendor might be out of business next year. So far, Reebok has been great-much better than fragmentation."
Competitive Focus
League officials can't discuss pricing issues on the record. But off the record, they agree that Reebok's status as a full-line provider will prevent it from getting greedy on jersey prices. Example: If Retailer X doesn't like Reebok's performance in the licensing department, Retailer X also is a big customer for Reebok's athletic footwear lines. Reebok is so big and so locked into competition with Nike, Adidas, and New Balance that it has to play fair with its new exclusive licenses.
In the end, it's about focus and marketing. It's also the biggest bomb dropped on the sports licensing business since Michael Jordan first retired. "Intensity and focus. That's what the Reebok deal brings," says PLAYERS, Inc Assistant Vice President Pam Adolph. Her company represents the NFL players union interests in licensing deals. "Scattered money brings scattered effort and scattered results. Now we have a much more solid base to walk on."
Motorsports Revs Up New Gear
If you thought fans of car racing were good ol' boys who had nothing better to do than watch cars drive in circles, think again. Both NASCAR and the Indianapolis Motor Speedway (IMS) are revving their engines for a big licensed goods push later this year. And their fans are probably more diverse than you think.
NASCAR has 75 million fans. It is the only sport with television ratings that have increased every year since 1990. More than 38 percent of its fans are women; 55 percent have attended college; 30 percent earn more than $50,000 a year; and 70 percent are in the 18 to 44 age group. And check this: Sales of NASCAR merchandise are up 1,100 percent since 1990, with more than $1.3 billion in retail sales.
Retailers that are not stocking NASCAR licensed goods, or have overlooked the category, may be missing something. Wal-Mart dedicated the whole month of June to the sport's apparel and electronics gear, and the number of licensors opening new categories is growing this year. According to Dee Scott, NASCAR's managing director of licensing, Emerson Electronics, Pioneer, Fox Sports, MCA Records, Wilson's Leather, and even Gibson Dinnerware are new to the team this year.
"We're very good at delivering the key demographic for selling sports, which is the male 18 to 34 audience," Scott says. "But our sport is expanding among females, as well. We want our brand to move into as many sections of a store as possible and into as many stores as possible."
At the IMS, big retail promotions have helped drive apparel and break into new demographics. With an income profile and geographic spread that matches that of Nordstrom's high-end shoppers, the IMS convinced the retailer to run a special promotion for its team gear. Through its licensor, Colorado Clothing, polar fleece gear and polo shirts featuring the Red Bull, Pennzoil, and Coors Light teams will be featured this fall.
The IMS also is pushing into the women's area. Rookie driver Sara Fisher is one of the most popular drivers on the IMS International Racing League circuit.
"It's not really a changing demographic, but I think it shows you the future of the sport," says David Moroknek, senior director of marketing and consumer products for the IMS. "That's the beauty of this sport. Winning helps. Sara Fisher has a great personality; she's a young competitor; and her licensed apparel will sell well."
Subscribe and receive the latest news from the industry.
Join 62,000+ members. Yes, it's completely free.
You May Also Like
Loading..