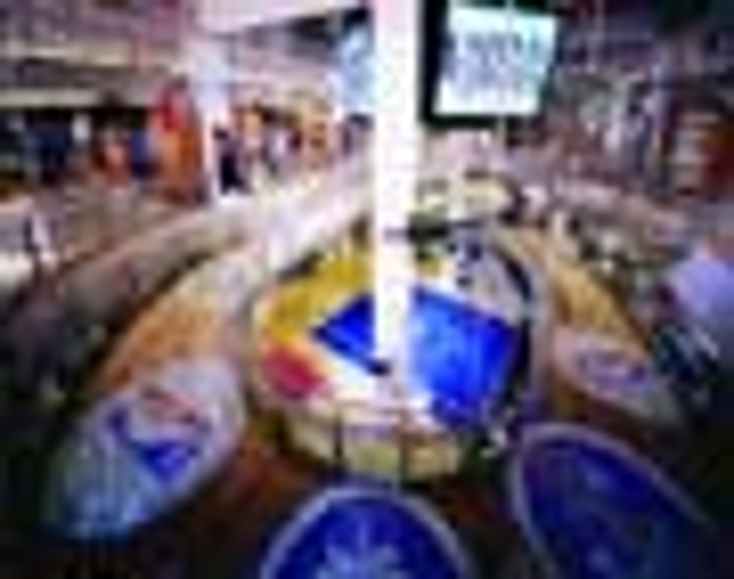 ]>
Move over electronic gadgets, there seems to be a trend toward old-fashioned, do-it-yourself children's products. What's more, most are food-based. This fall, Spin Master Toys in Ontario, Canada, will introduce the first hand-operated Icee Maker, under license from J&J Snack Food Corp., the Pennsauken, NJ-based owner of the Icee trademark. The Icee Maker operates without batteries or electricity: Simply fill the freezing drum with salt, ice, and water; add juice or soda to the surrounding compartment; and turn the crank. In less than five minutes, the process of heat transference will create a drinkable Icee (suggested retail, $19.99).
To complement the November 2002 release of the second Harry Potter film, Harry Potter and the Chamber of Secrets, kids can taste edible treats from the Snake Bites Edible Activity Set (average retail, $14.99) and the Polyjuice Potion Maker (average retail, $24.99). With the Polyjuice Potion Maker, kids concoct drinkable potions-that can fizz and change color-in a variety of yummy flavors. Accessories include a cauldron, self-stirring wand, and mixing cup. Along with their potions, kids can create and petrify edible creatures with the Snake Bites Edible Activity Set. When the snake bites down, prey is injected with a lime-flavored candy. A bath in the petrifying potion creates a hard candy shell.The move toward mechanical rather than battery-operated toys even has Lucas Licensing Ltd. seeing the light. Voice chips have been eliminated from some toys. According to Howard Roffman, president, Lucas Licensing Ltd., this move has brought the average price down from $30 in 1999 to $20 without hurting the play value.
Subscribe and receive the latest news from the industry.
Join 62,000+ members. Yes, it's completely free.
You May Also Like
Loading..