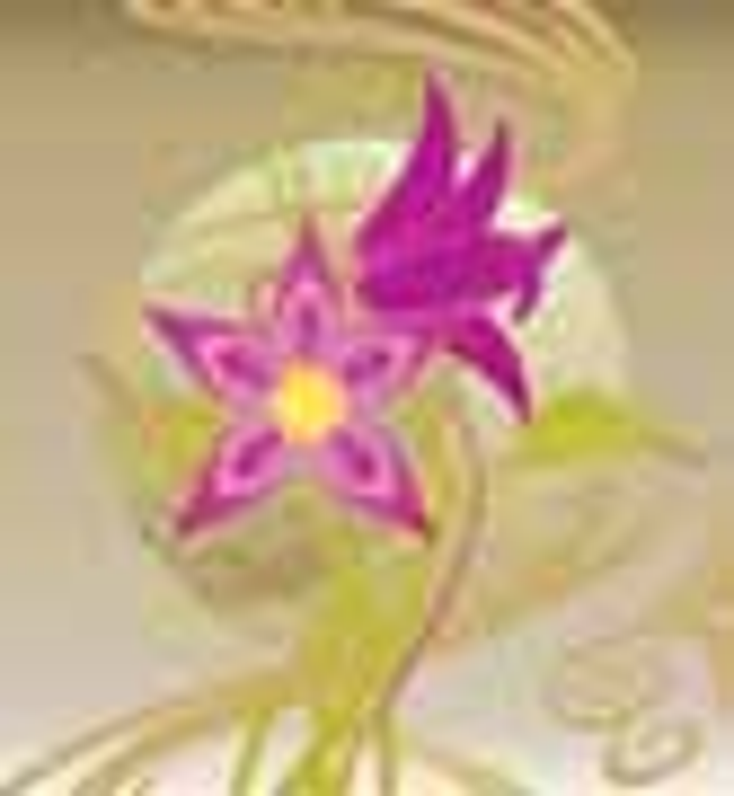 ]>Techno Toddlers
According to NPD Group, the pre-school electronic learning sector was worth £67m in the UK in 2004 and it has displayed astonishing growth. Leapfrog, for example, has become the fifth biggest toy company in the UK in as many years (it's number three in the US after ten years) and, between them, VTech and Leapfrog make eight of the top ten bestselling pre-school products for the first nine months of this year. Pre-school electronic learning is the darling of the beleaguered toy industry and takes £1 of every £6 spent on pre-school in the UK.
There are four main interactive, educational platforms in the sector, which require consumers to purchase a platform and then selected DVDs, cartridges or 'books' to provide the content. They are the V-Smile (from V-Tech), the LeapPad (from Leapfrog), Bright Things' Bubble (distributed by Bandai) and Mattel's InteracTV. In all four cases, licensing is key to the introduction of the products to the market and to their ongoing growth
and success. The oldest, V-Tech, has been in the market longest. It was created thirty years ago in Hong Kong and moved into licensing five years ago with the launch of its V-Smile platform and titles from Disney. There are now 25 titles in its range. Leapfrog, founded by a California Lawyer ten years ago, launched into the market with its LeapPad (a stand alone device) and four Disney titles. Since then it has launched many similar products, most recently the Little Touch for infants and the L-Max handheld device. It hopes to have 20 licensed titles that you can play on the platforms in the market next year. Bubble is a device containing software that allows complex interaction with a DVD being played as normal on the TV. Its first titles are licensed from the BBC. Similarly, Dora interacts for Mattel's InteracTV. Licences are used here for all the traditional reasons. 'When the product and technology are new, you have to do a lot of explaining,' says VTech's Andrew Barrett. 'Licensed characters help you gain immediate endorsement and a better understanding from retailers and from consumers.' Bubble's Dominic Wheatley agrees, 'licensing was always a strategy. This is a new category so we can explain how it works to people through familiar content,' he says.
But as well as helping these products debut in the market and be accepted and understood, the 'platform + software' business model means new content is always required. 'It's a perpetual sales opportunity for licensing,' says Leapfrog's Richard Body. But they are all careful not to put too much down to the characters. 'Licences are attractive, but it's more about the platform itself, recommendations from other parents and the technology,' says Andrew Barrett. Although the market now embraces this infant and pre-school gadgetry it wasn't an easy sell start with. Richard Body describes how, four years ago, retailers said the LeapPad would never sell unless you took the educational label off it. So why has it grown so quickly? It's a classic example of a product meeting a true gap in the market, and education is the key. Leapfrog has the most hard-core approach to development and admits it wants to own the educational statement in this market; all the Leapfrog content is curriculum-correct for each of the territories it exists in. Bubble had BBC producers on secondment to help adapt and edit material and it also worked with education consultant Ann Smith, who is quoted in the Bubble literature stressing the positive way children are invited to get involved through Bubble-rather than sit passively watching TV. Already, original Balamory footage is being filmed specifically for Bubble. V-Tech says it's about fun and play first, but is also of great developmental benefit. Localisation is also a factor. When the first Leapfrog LeapPads reached European shelves, they were American voiced. Now they are all dubbed for individual markets.
Today, aspirational parents want to give their children a head start and these learning toys seem just the ticket. They are also a 'safe' place for children to go, much as the video has always been. And if we accept that the next generation is going to spend a large percentage of its life in front of a screen then the logic goes that they might as well start learning early. And when the eldest child has finished with it, the platform is passed on to the next. Leapfrog's intention is to introduce children to the brand at the earliest possible stage (six months) and keep them entranced and learning until they get their first PlayStation. What will happen next? As the market becomes saturated, the pace of sales growth is sure to slow. Already the race is on to subdivide the market and capture children as young and as old as possible for the products. Leapfrog's Little Touch is for children aged six months up and its L-Max handheld is for older children. V-Tech's Andrew Barrett says it is developing new platform products for older and younger children, by building in more features, technology and sophisticated game play. He admits that you have to be somewhere different from Nintendo but thinks that as PS3 takes the gaming market older, it will leave a valuable space in the market for boys up to ten years old. Bubble's Dominic Wheatley says the industry has direct parallels with the games business. 'The next generation of games will be better than the first; and the market will continue to grow,' he says. Each manufacturer knows that its technology must develop to stay in the game. It's likely that other players may try to enter the market; Disney, for example, is rumoured to be developing an interactive DVD product and there will no doubt be others.
However things develop, licensed characters will continue to be important. Leapfrog already works so closely with Disney, it aims for a simultaneous launch of the LeapBook with the film release. But with the market so new and so ascendant, it's a challenge for licensors to decide which platform or application to partner with. The market is very hungry for these products and for the moment it seems they can do no wrong. The trend for parents to want to help their children is unlikely to go away, in spite of findings from organisations like the Good Toy Guide suggesting that ordinary household items like keys and shoeboxes can be just as useful to play with as expensive educational toys. But the leading products are a complex mix of technology, product design, play, education or development and licensed characters. There is a lot to get right. We wondered what pre-schoolers and their parents think of the products and their licences. Kids Industries, the consultancy that specialises in research and development within the children's and family product sectors gathered its junior board and put the four platforms to the test. The results reveal striking areas of challenge and opportunity, in a sector reaching maturity. Electronic Developmental Toys: a special report by Kids Industries
This document is based on Kids Industries own experience of electronic learning products and a series of focus groups conducted in South East London with parents and their children. All children were aged four and all families were consumers of the category. Each of the products were pitched for children 3+.
The children's play with the product was facilitated and observed whilst parents observed and discussed their views with a second researcher. For brevity we have compiled this outline report by binding all observations.

As we explored each of the devices it became apparent that they are impossible to compare like for like. Each has it's own unique features and each provides a different user experience. Perhaps Bright Things' Bubble and Fisher Price's InteracTV are the most similar but even they differ in fundamental ways.
Overview
It is relatively easy for a toy manufacturer to claim the developmental benefits of a product designed for pre-schoolers. The real test is whether the child engages and the parent is satisfied with the purchase. These products are about as high ticket as it gets for pre-school and that means that you must deliver.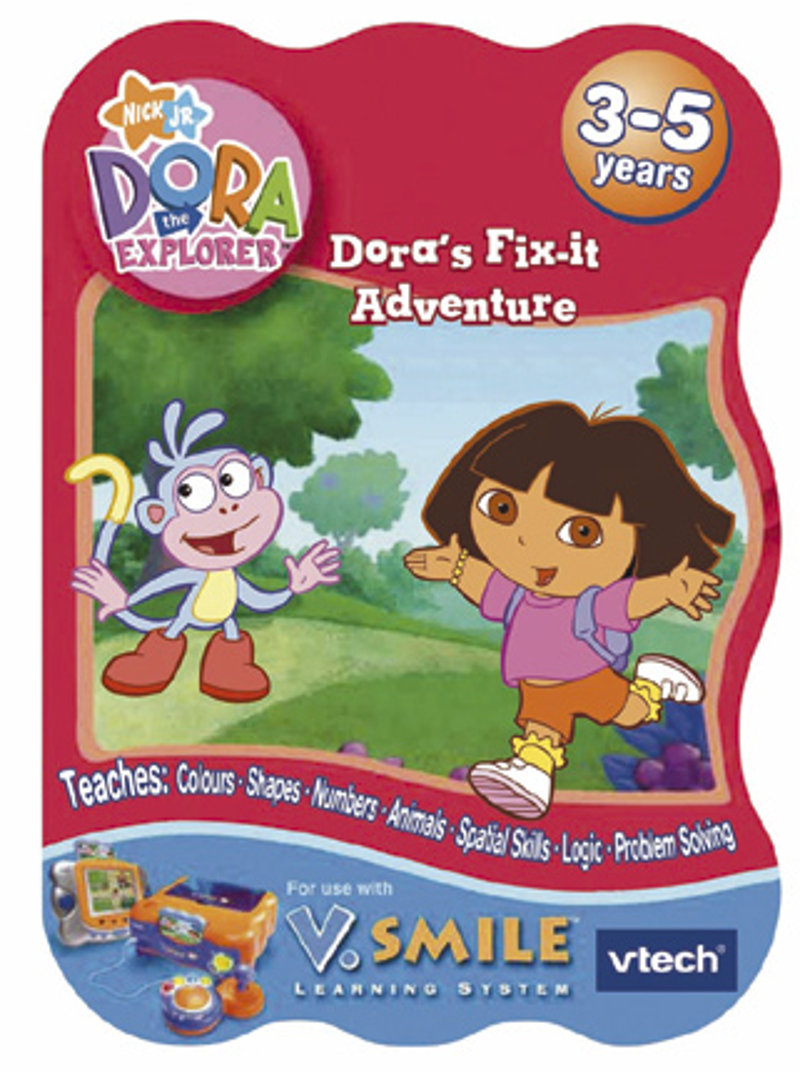 Whilst we are able to appreciate the benefits of these learning systems there is no empirical evidence as yet that the electronic experience is a better learning experience than sitting with mum or dad, granny or granddad and reading a book. Children are proven to learn most through close interaction with parents so it could be that the benefits of these systems are best delivered through child/parent interaction and not, as some marketing blurb suggests, by the children engaging in solitary play.
However, the great thing about bringing a TV show to life in this interactive way is that the children do indeed, as Fisher Price claims, engage in an interactive rather than passive experience.
Setting up the product
It's fair to say that the convoluted nature of DVD interactive learning toys and consoles makes for a very difficult customer experience. Both Bubble and InteracTV require users to programme their DVDs through the input of codes. There are DVDs, cartridges, touch pads, flip books and a host of bumf that needs organising to get you up and going. We asked the parents to install the devices to the TV. Without exception they found it difficult and with children bursting with excitement to get playing all around them they all reported the experience as stressful! It's classic Christmas day fayre but one hundred times more complicated than just putting the batteries in.
All the parents expressed initial concerns about the complicated nature of the set-up. Interestingly, many of the mums said that they would leave the installation of the units up to the technically more able in their household. However, after set-up, Bubble and InteracTV were very simple to start again.
Software and Licences
As with any computer it is the quality of the software that makes or breaks a product. In the case of our tests we were most interested in how the various licensed characters performed as learning tools. The results were very straightforward. Those brands that were inherently learning based performed well, those that were more entertainment driven performed poorly.
The most striking example of this was the SpongeBob programme from Fisher Price's InteracTV. The brand is not a pre-school brand and yet the product is absolutely a pre-school product: a disconnect. The gameplay was poor and the learning benefits questionable at best. However, when Nick Games turned its hand to Dora it made a quite exceptional piece of interactive gaming that the children really loved. This simply proves that, if the licence has education within it, it will transfer to these platforms with ease.
If there is a watchword for this category it is suitability. Make sure the licence stretches to electronic learning toys. All the parents without exception were complimentary when they could perceive the benefits the license offered their children but vitriolic in their comments when they felt it a case of label slapping. All marketers are aware of the damage a brand can suffer if it overstates a claim but in the developmental toy market this is greatly amplified. It is a more emotional space in which to market product rather than a disposable place, typical of other licensing disciplines. Developmental toys matter and brands need to understand this from the consumer perspective before they licence.
Window of Opportunity
The products we tested were unlikely to be effectively used by many children of three years old. They simply do not attend this well, especially boys at this age! And given that children graduate to the PlayStation at around six, the window of opportunity where these products prove truly valuable is a mere 24 months. Even if older titles are introduced, most children will perceive these products as 'babyish' once they reach seven or so. There's simply too much other exciting stuff on offer and they will probably want to use a grown-up computer!
LeapPad
If there were a class for traditional electronic learning toys then the LeapPad would be at the top of it. It keeps learning to a book form but the multi-sensory nature of the product ensures children engage. The system is very different to the others; it is, in essence, an electronic book. The children did not engage quite as richly with the LeapPpad as with TV products but this is to be expected; TV consoles will always be more interesting to the children. The question is, are they any better at supporting learning? The LeapPad system is by far the simplest to use and could be argued to deliver the best learning experience. The page turning experience remains a difficult one and should be made more intuitive but with other manufacturers solving this problem we're pretty sure the most trusted electronic learning manufacturer is hot on the case.
Developmental benefits 9Ease of use-adult 9Ease of use-child 7Ergonomics 7Range & appropriateness of software 8Value for money 8
Bubble
Perhaps Bubble appears the least 'design-led' of the products we used and it was tricky to install. In many ways the physical build of the product is more reminiscent of what you might expect of Fisher Price; it's incredibly robust (if somewhat heavy for little people) and the buttons are big and chunky! It's functional, tough and made for the people who are going to use it. The children all loved the look of Bubble and were able to get going in a very short space of time.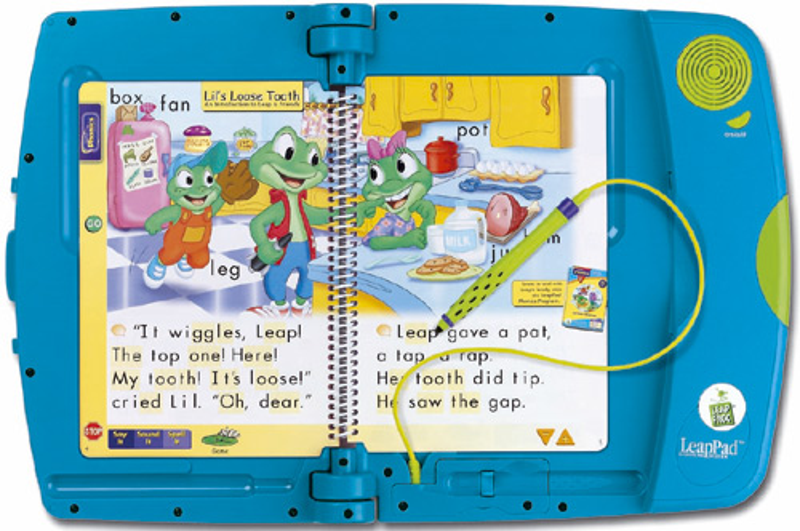 One key feature of Bubble is the away-play facility. Unlike its nearest competitor, InteracTV, children can play without a DVD player in much the same way as the LeapPad.
All the parents were impressed by the levels of interactivity and all the children engaged wholly with Balamory. The selection of licensed titles for Bubble all air on CBeebies and have learning in their very DNA. And this is one of the key reasons it's a winner. As with all good licensing you have to marry the product, the consumer and the licence and nowhere is this more true than in the pre-school market. As one parent put it "Why do I want my child developing their reading skills in an American accent?"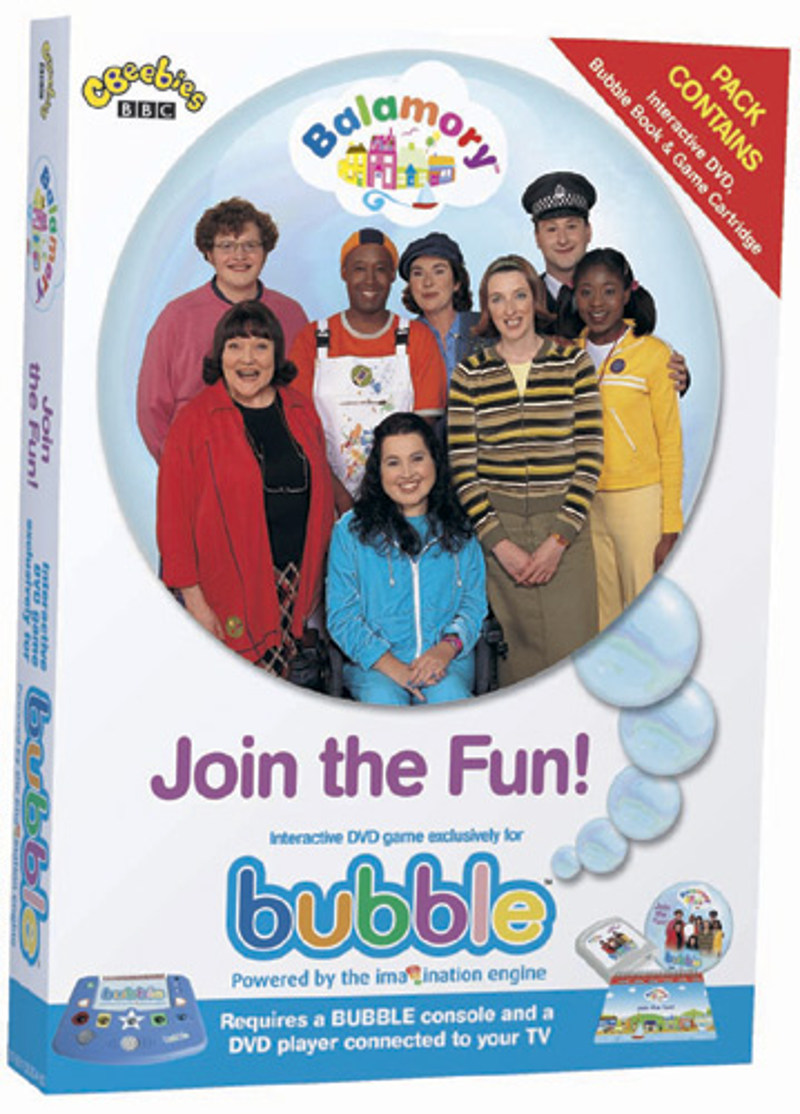 Developmental benefits 7Ease of use-adult 4Ease of use-child 8Ergonomics 6Range & appropriateness of software 8Value for money 8
InteracTV
We found the unit very difficult to install on some DVDs but simple on others. The unit itself looks great and is easy for the children to manipulate. However, the forward and back keys were easily hit accidentally leading to a little frustration! Two parents were concerned that the console itself would become damaged by sustained use, particularly by boys that would want to use it as a steering wheel for their spaceship!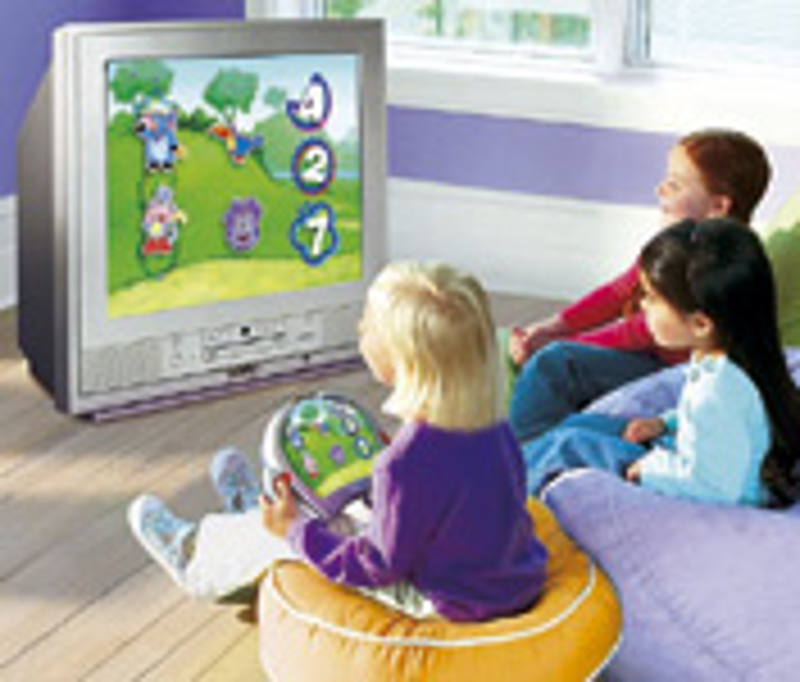 A great touch is that the multiple choice questions appear randomised each time you use the unit and prevent the children from simply recalling the answers.
The gameplay was lovely with the children really getting involved with Dora and Boots.
The biggest question mark for many of the parents was that each of the licences bundled with the unit were American with American voice-overs. While they understood that this is important, as the experience must replicate the television, they question whether it is appropriate for American voices (with some instances of American spelling) to be teaching English to British children. Overall, a very well liked product.
Developmental benefits 7Ease of use-adult 4Ease of use-child 7Ergonomics 6Range & appropriateness of software 6Value for money 7
V-Smile
Perhaps the simplest to use; a simple scart plug-in and play device. Perhaps this should be termed "My First Games Console" and indeed V-Tech make no bones about this. As a solution for a pre-schooler wanting to play PS2 this is fantastic; as a learning system all parents, including the two that owned the console, felt that this was stretching the claim slightly. VTech cites a total of 16 developmental benefit categories but it does not communicate how these benefits are qualified. Maybe a missed opportunity? In our test we only had the bundled Pooh software and so it may well be that additional games are more salient in the delivery of the learning experience.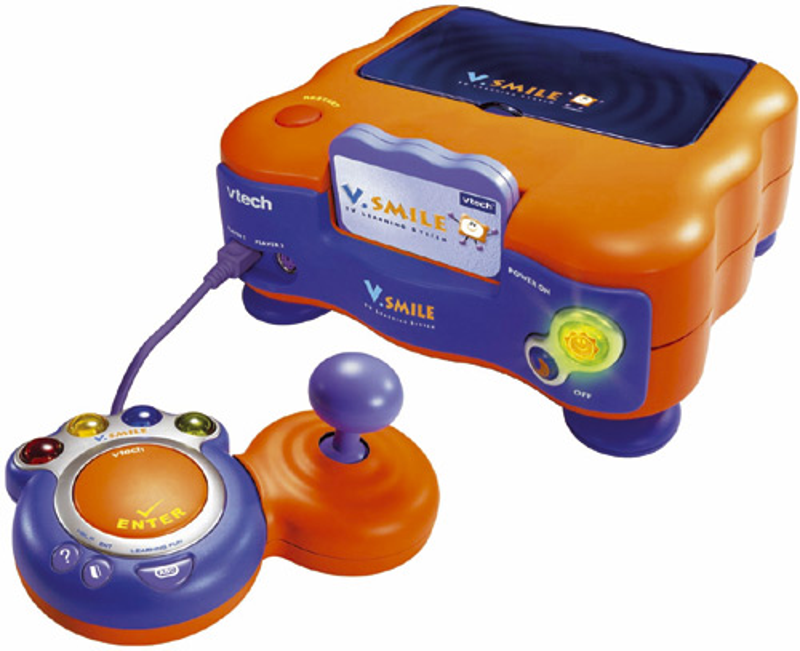 The ability to turn a joystick from left to right-handed use is an excellent and well thought through design feature and much appreciated by the left handed children and their parents.
Every parent would have liked an AC adapter to be included and one dad was determined to find the non-existent adapter in the packaging, despite the literature clearly stating the need to purchase this as an additional item.
Developmental benefits 5Ease of use-adult 8Ease of use-child 6Ergonomics 7Range & appropriateness of software 7Value for money 6
Subscribe and receive the latest news from the industry.
Join 62,000+ members. Yes, it's completely free.
You May Also Like
Loading..