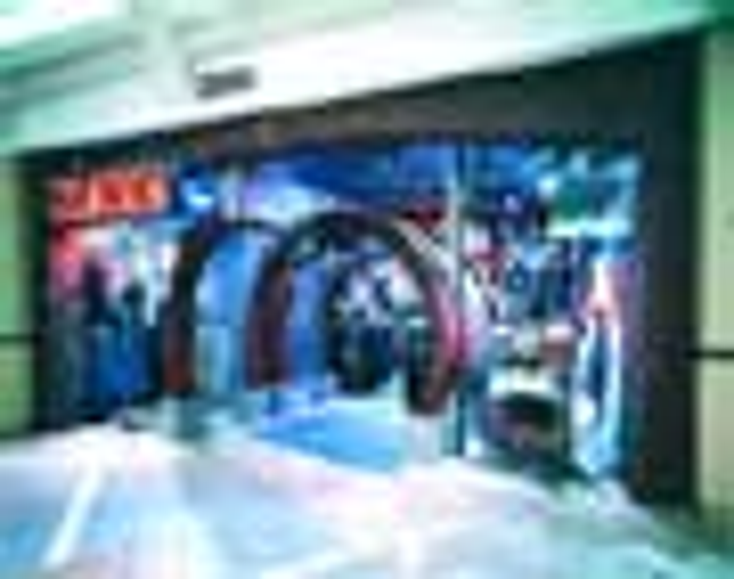 ]>Licensed merchandise is the biggest news at the teen-targeted chain, which has changed its product mix and ambiance based on customers' requests.
Hot Topic, the 420-plus chain that sells mostly music-inspired merchandise, is feeling mighty kindly about licensing right now. Nickelodeon's SpongeBob SquarePants merchandise, in its third year on the selling floor of the ahead-of-the-curve fashion chain, is HT's biggest licensed property to date, smashing all sales and longevity records. The retailer also is getting cozy with its direct-to-retail relationships (via partner Headline Entertainment) with several entertainment properties, such as '80s movies The Breakfast Club and Sixteen Candles (brokered by Universal Studios Consumer Products), and TV show Married with Children (handled by Sony).
"Licensed merchandise is the biggest news at Hot Topic, and I'd say this even if I weren't being interviewed by a license-centric trade magazine," says Cindy Levitt, with a wink in her voice. Levitt
was HT's first hired employee 13 years ago when the first store was born; today she is vice president, general merchandise manager for the $417 million specialty retail chain."We've learned a lot about the business of licensing, and we've gotten better at it," she says. "Licensors also have done a good job of streamlining the processes in recent years."When HT first came into existence as an accessories-only store, licensed product comprised roughly 5 percent of the assortment. Skull jewelry and licensed Harley-Davidson leather goods thrived. One day, store manager Maria Scarlett (who is still with HT today, as "culture and incentive coordinator") passed along to Levitt her customers' requests for rock T-shirts. "It was the turning point in making HT what it is today," recalls Levitt. This sort of open communication between customers, store staff, and buyers not only enables the chain to spot trends and give consumers what they want as quickly as possible, but it also has propelled the evolution of the merchandise mix.
Case in point: Back in 1989, when HT was hanging its first customer-demanded band Ts from The Cure, Bauhaus, Siouxee and the Banchees, and Depeche Mode, the store exuded a somewhat dark and foreboding ambiance. The color for the decade was black, and HT was a place where hard-core, new-wave-cum-gothic music and concert devotees could feel at home. Today, HT has a different ambiance. Music still influences most of the mix, and dark wall paint and loud music still abound, but now items such as SpongeBob accessories, licensed fairy images on tops from artist Brian Froud, and Care Bears perfume bring a lighter, friendlier feel. Soon Sesame Street's Cookie Monster and elephantine character Mr. Snuffleupagus will be shuffling their sweet presence on products into the mix. About half of the assortment overall is licensed.What has happened?About five years ago, teens shopping HT discovered sweetness and demanded more of it. Yesteryear characters such as Care Bears and Strawberry Shortcake on Ts and accessories began popping up on shelves in '98, and with them a slew of generic and branded cutesy things, some with a wry twist. The shoppers told HT what they wanted, and more important, what was missing. HT acted on the orders. "Seventy five percent of what's on the product floor today is a result of a communication (e-mail or phone) originating from a customer or store staff," explains Levitt. One of HT's most successful properties, artist Brian Froud, is the result of such communication, as are newcomers to the chain such as The Breakfast Club, Sixteen Candles, and Vargas Girls. The request for Cookie Monster and Mr. Snuffleupagus came from a Torrid customer, says Levitt. (Due to a great number of requests for larger size fashion tops and accessories, HT launched Torrid, a version of HT dedicated to the plus-size junior customer, in 2001. It has 27 units; 25 more are planned for 2003.)Now it seems the chain is attracting a younger, smaller size customer. "We used to be the scary store, now everyone and their mother come in," says Levitt. She staunchly states the spirit of the assortment will not change to cater to the younger customer, but notes that HT has begun to accommodate the requests for smaller sizes. "We have to walk a fine line here-if it is perceived we are catering to a younger customer, the older brother and sister will hate us," explains Levitt. It's not just younger customers, and their mothers, who recently have accepted the store, but strategic business partners. "Doors have really opened for us, in terms of manufacturing and licensing partners," Levitt says. "But it was a struggle. In the old days, we had to sell our story." Soaring same-store and year-end sales have helped solidify Hot Topic's credibility in the last few years. December '02 same store sales were up 10.6 percent over the year prior. December '01 was a strong month in itself for HT, with same store sales up 6.1 percent. In an overall sales snapshot for the year-fiscal 2002, which ended January 4, 2003-HT rang up more than $417 million, up 31 percent over fiscal 2001's sales of $319 million. Same-store sales for fiscal 2002 were up 4.4 percent over the previous year, just a smidge above 2001's same-store sales increase of 4.3 percent.Licensors and licensees eager to work with the swift-acting HT should take note of Levitt's suggestions. For licensors, Levitt recommends streamlining the approval process with licensees; making it as easy and brief as possible to get fresh product."Assign a point person to us, as Nickelodeon does. Our buyers from all the categories call one person at Nick for questions about existing product and about creating new product. It avoids layers and saves time. It's great."For licensees: "Keep our exclusives exclusive."Other ways to break into HT: There are three fast-growing license-friendly categories: gifts that double as home decor items, especially bath accessories; handbags/ book bags; and licensed fragrances. Artist Amy Brown, Care Bears, The Nightmare Before Christmas, and Brian Froud have spread their scents at HT largely via licensee Romane.The one thing that's not changing at warp speed is HT's corporate culture, says Levitt. Pink hair and multiple piercings on sales staff of both genders are common at the mall-based chain. "We attract employees who like music, who can do what they want to do and still have a good job. But above all that, we create a safe environment where it's OK to take risks. For every SpongeBob, there are a couple that... aren't. But, the only way to be first in everything is to allow people to make mistakes. We encourage our staff to step out and make decisions."
Subscribe and receive the latest news from the industry.
Join 62,000+ members. Yes, it's completely free.
You May Also Like
Loading..