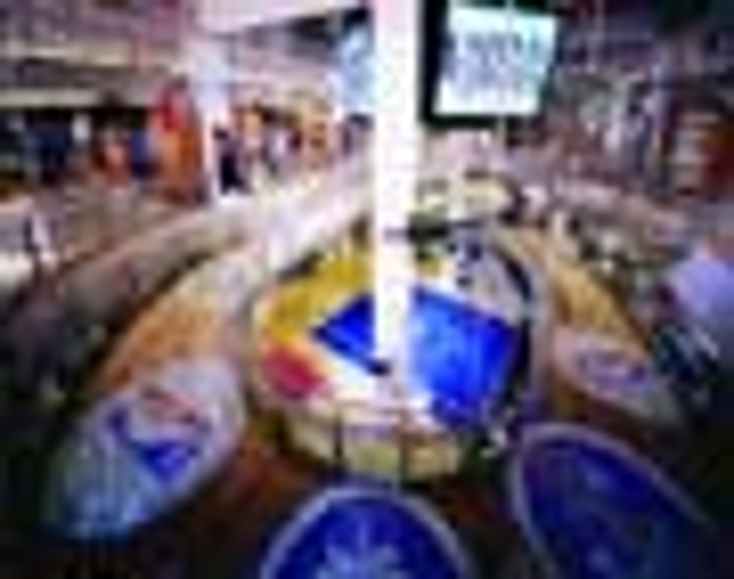 ]>Well-loved children's brands are positioning themselves to capture a wider demographic that spans teens, 'tweens, and beyond.
It's a fact of life: Girls eventually outgrow playing with dolls. But that doesn't mean these brands can't grow with their customers, offering more sophisticated products that appeal to the fickle 'tween/teen market. The key is finding the right products and marketing strategies that will hold customers' interest as they evolve in age, experience, and brand expectations. Longtime brands including Barbie and Superman and celebrities such as Britney Spears and Mary-Kate and Ashley are positioning themselves to capture a wider demographic that spans teens, 'tweens, and beyond.Teen Power Individuals between the ages of 13 and 18 (teens) and 8 and13 ('tweens) together represent the largest buying power since the baby boomers. "They are impulse spenders, and can easily spend up to $100 per week," says Catherine Stellin, director of marketing, Youth Intelligence, New York. Because of their sheer numbers, buying habits, and influence on the younger 'tween customer, teens are an increasingly important element in youth marketing strategies. According to Teenage Research Unlimited, teens in the U.S. spent $172 billion in 2001, while 'tweens are estimated to spend more than $80 billion each year.
"An
older consumer using the brand inspires your core audience to stick with the brand," says Richard Dickson, senior vice president, Worldwide Girls Consumer Products, Mattel. In addition to the 'tween customer and the core doll fan, Mattel is courting additional opportunities with teens/juniors who have grown up with the brand. "For the younger girl, the image is more important. For the older girl, it is the apparel and accessories that do not scream Barbie as a character, but rather a fashion brand," says Dickson.
This fall, Mattel and Fiorucci will launch Barbie by Fiorucci, a line of apparel and accessories for young adults ages 16 and up. The Japanese market is a focus for Mattel's immediate licensing efforts in the teen/junior category. Last fall, Mattel licensee Bandai Japan in Tokyo introduced a line of novelty T-shirts and accessories for teens/juniors in Japan. Mattel is in discussion with current Barbie licensees for additional product categories, with plans to roll out a similar line in the U.S. in the next two years. "We probably would not have targeted teens five years ago," Dickson admits. "But we have fought the superficial Barbie image and are ready to have fun with her heritage, because she represents something wholesome." Retail strategies going forward: creating permanent boutiques at retail with special sections during the year, and increased promotional events with retail partners.
Brands inspired by young stars such as Mary-Kate and Ashley Olson and Britney Spears likewise are constantly evaluating product opportunities to reflect their growing consumer base.
At the age of 20, Britney Spears has created a $105 million licensing empire in the mass and specialty market largely for pre-'tween/'tween girls. Though dolls by Play Along and back-to-school accessories by Pyramid Accessories are the strongest categories to date, Signatures Network, licensing agent for Spears, is positioning the brand to reflect her appeal in the teen/junior market. This may be the last season for dolls. To come: sunglasses from Sun Ban, and Britney four-wheel rollers from Skechers for mid-tier retailers and sporting goods stores. Skechers is seeking sublicenses for skating apparel, backpacks, and hosiery. Going forward, Signatures is looking at a complete eyewear collection. In addition, Signatures wants to expand Spears into apparel (beyond the existing T-shirt line) and bedding, both categories it had shied away from in the past. "We want product to reflect Britney in look and feel, as opposed to just slapping on her name and face," says Matt Hautau, senior director, licensing, Signatures Network.
Mary-Kate and Ashley, the lovable twins from '80s TV show Full House, are now 15 years old and represent a $500 million licensing business. "The girls have appealed to 'tween girls for 10 years," says Michael Stone, chairman, retail, The Beanstalk Group, licensing agent for MK&A. "As they get older, the fan base grows older, though the current 'tween base continues to flock to the brand." Wal-Mart recently bowed a line of MK&A cosmetics by Nu World and liquid hair-care products by Conair. Hair appliances will follow. Dualstar Entertainment Corp. and The Beanstalk Group seek partners for home furnishings such as bath ceramics.
New Brands Jockey for Growth
New girl properties are positioning themselves to appeal to a wider demographic with product she can use inside and outside the home.
"To reach the 'tween audience, we market product that would interest a 16- to 17-year-old girl," says Ike Panigel, president of New York based-EFX Marketing, which handles all licensing initiatives for YoGirl, a year-old 'tween property that is piquing interest at retail, with product ranging from socks to stationery. "We tested product last Christmas and since then, we have sold out consistently on every print and girl character, with constant reorder," says Lorraine Knapp, accessory buyer for Rave Girl, a two-and-a-half-year-old retailer with 85 stores in the U.S. "The notebooks and diaries are the strongest sellers," she adds.
She's Charmed and Dangerous doll fashions (Crank 2) tapped into the market for girls' ages 4 to 11 with product ranging from bags to cosmetics. Now the brand has its eye on older girls, especially in the apparel category. "We see a need for pre-junior apparel that is trend appropriate," says Crank 2 President Robert Reda. Crank 2 recently appointed brand management company Group 3 Design to extend the brand into products such as electronics and room accessories.
Though the BratzPack dolls debuted less than a year ago, MGA Entertainment has positioned the Bratz brand to appeal not only to doll lovers, but all girls ages 7 to 12. Product to bow this year includes bedding, towels, and decorative pillows by Metuchen, NJ-based Franco Manufacturing; sleepwear by New York-based AME; and school supplies and accessories from Fashion Accessory Bazaar (F.A.B.) in New York. To come: BratzBoyz dolls, which opens numerous possibilities for merchandising.
Fashion Appeal
More brands are appealing to 'tweens and teens by adding a fashion dimension to traditional icons reminiscent of childhood play. Licensee Haddad Apparel recently launched a line of G.I. Joe sportswear including swimwear and outerwear for boys sizes 8 to 20. "We've had good buy-in, and we are waiting for product to sell through," says Pat Schmidt, vice president of licensing and promotions, Hasbro. For its girls' property, My Little Pony, Hasbro is negotiating deals for accessories including belts and jewelry, and hopes to bring these categories to the specialty market by year-end. With Candy Land, Hasbro is seeking partners for health and beauty; accessories; and an apparel line including sleepwear, sportswear, outerwear, and footwear.
"Girls ages 9 to 14 have walked away from dolls because there was no product specific for them," says Stone Newman, president of Sababa Toys, New York, NY, which launched a fashion doll line targeting 'tween/teen audiences, featuring the licenses of Jordache, Nick & Nora, and Dollhouse. "We treated the dolls as environmental accessories, and sought brand licenses that are hot for juniors and up." Known as Fashion Attitude Dolls (FAD), the line is available at prime teen/'tween destinations including Serendipity, Claire's Stores, and Charlotte's Room, with a suggested retail of $20. "The dolls are a good seller for us," says Joe Calderone, director of public relations for Serendipity, noting that young girls love collectible items. "Plus, the dolls can wear the same fashions the girls themselves wear."
Mudd, handled by InGroup Licensing has tapped into the 'tween/teen fashion side with accessories ranging from hosiery to hats. "Mudd has been a strong license for us from the beginning," says Rave Girl's Knapp. "We started with handbags, then added spring and cold weather accessories including belts and hats." Rave Girl will add Mudd accessories from F.A.B. for back-to-school 2002 and plans to test a more feminine crafted mini-skateboard for 'tween/teen girls.
"'Tweens are buying glitter; turquoise; jewelry; hair accessories; and denim, especially on backpacks, handbags, or purses," says a spokesperson for Claire's Stores, a major destination for 'tween/teen girls with 3,000 stores worldwide.
"We've been doing well with styles involving tie-dye, flowers, and denim," says Wendy Gilmore, director, licensed design for Evy of California, an apparel manufacturer with licenses for Hello Kitty (Sanrio) and Scooby Doo (Warner Bros).
New York-based jewelry maker Zanova, Ltd., launched GloGear light-up jewelry in Hollywood two years ago. Today Zanova has added the licenses of Britney Spears, Barbie, Bratz, and classic Disney properties. Coming to retail in the fourth quarter are light-up earrings, key chains, bracelets, hair barrettes, and necklaces with interchangeable pendants (suggested retails, $6 to $9.99), plus a high-end collection of laser engraved crystal light-up jewelry (suggested retails, $15 to $20). "We've found that guys love GloGear - it draws attention to them, and is a great conversation piece," says Lance Kushner, co-president, Zanova, Ltd. Plans going forward include edible light-up product.
Marketing Strategies
Retailers and manufacturers agree that subtlety is critical to capturing teen/'tween audiences. "They will rebel if you try too hard to market to them," says Mark Nawrocki, senior manager of events planning licensing at Mervyn's stores. "When selecting a product, they want to feel this is a buzz they have generated themselves; one they feel is important and relevant."
"We redefine our properties for 'tweens and teens in a way that captures some subtle nuance of the property," says Jordan Sollito, executive vice president, worldwide marketing, Warner Bros. Consumer Products. Warner Bros./DC Comics has played up the Superman shield on product targeting the older audiences, including females. "It is a fashion statement, an empowerment, and not so much about the character anymore," says Kenneth Tawil of FAB, which manufactures stationery and accessories featuring such licenses as Scooby Doo, the BratzPack, and Mudd.
"Testing all new items and patterns is key," says EFX's Panigel. "If 'tweens don't like something, they will let you know." He notes that when fans expressed their dislike for a new Hot Stuff YoGirl image, product soon was removed from store shelves.
"Do not show new ideas too quickly," says Meera Santoro of Santoro Graphics (UK), marketer of the Bang on the Door teen/'tween property. "If you haven't first created a firm foundation on which to build, then a good idea just gets knocked off." Part of Santoro's strategies going forward is to "focus on working closely with particular retailers on a chosen concept and developing something exclusive with them."
"Give the customer more than one reason to buy the product," says Abe Chehebar, chairman of Accessory Network. "With a backpack, we might add a CD holder or a cell phone holder that coordinates with the bag."
Continual brand building and communication with consumers is key to James Green, Lisa Frank president and CEO. Lisa Frank keeps in touch with its girls through a quarterly magazine (Lisa and Me) and the Lisa Frank Club, and plans to take its six Lisa Frank stores nationwide.
"It's also a matter of helping us [the retailer] differentiate ourselves from the competition, whether through styling, packaging, and exclusive promotional opportunities," says Nawrocki of Mervyn's. The chain recently partnered with Warner Bros. Consumer Products for an exclusive promotional launch of the Pesky Meddling Girl product. The promotion included product giveaways and guest appearances by Jennifur Brandt, creator of the Pesky Meddling Girls teen/'tween concept.
"Don't forget about the internal team members-getting them excited about a property, they, in turn, will translate this excitement to the guest," continues Nawrocki. "For example, if it is a movie property, having the team members see the movie makes them feel good about talking up the product."
Brand Promotion
Aligning your brand with the interest of the consumer is key. Today, sporting activities and video games are major pastimes for 'tweens and teens, according to Youth Intelligence. Warner Bros., for example, recently kicked off an 18-city interactive, extreme sports exhibition-the Taz Atti-Tour, in which WB Looney Tunes characters host events with pro BMX bikers, skateboarders, and inline skaters. "Teens feel they own the extreme sports category, and 'tweens are aspiring to be like teens," says Sollito.
At Marvel Enterprises, home to popular comic characters such as Spider-Man, Hulk, and X-Men, alliances with motorsports from NASCAR to NHRA are part of the strategy to align the brand with the teen consumer. Going forward, Marvel is looking to create a multiplayer online game that would allow the world to play simultaneously, says Russ Brown, executive vice president, consumer products, promotions, and media at Marvel Enterprises.
"An entertainment property is a major tool in the marketing mix," says Marie Laure Merchand, director, international marketing and merchandising, Corus Entertainment's Nelvana. "[Our research shows] that 'tweens spend 22 percent of their time watching TV, 17 percent playing a sport, 15 percent watching movies, and 10 percent playing video games." Nelvana is positioning its newest property, Beyblade, to 'tweens as "the extreme sports entertainment experience," and is seeking sports-related licensees and promotional partners for such product as sports drinks and equipment bags.
"If you can combine a classic character with the trends of today, then you have a hit," says Lisa Westfield-Avent, vice president of worldwide licensing and retail business development, MGM Consumer Products. With this in mind, MGM has developed a multigenerational licensing program for its Pink Panther character: a classic line for adults, and a juniors' line that is fashion and music driven, including CD/tape players and hair accessories, targeting individuals who grew up with the cartoon series. Now MGM wants to take on the 'tween/teen Pink Panther fan. Jerry Leigh Entertainment Apparel, Van Nuys, CA, recently premiered the Pink Panther pre-junior collection at Limited Too retail stores.
Wireless World
'Tweens and teens are at the forefront of technology. They are buying MP3 players, digital cameras, and Palm Pilots, says Catherine Stellin, director of marketing, Youth Intelligence. Licensors and manufacturers are taking note, but with caution.
"Product must respect their maturity, fashion, and sense of cool," says Dennis Leahy, formerly of Santoro Graphics and now president of Arango Group, Fairfield, CT, which focuses on wireless content that 'tweens/teens access through their phones. Nelvana is in the process of developing wireless entertainment content for both the Beyblade and Braceface brands, a first for the company. "Try finding a rap music video without a two-way pager in it," says Jon Graham, director of marketing, Corus Entertainment's Nelvana. "If you can develop a tool that helps fuel 'tweenage girls' ability to gossip, I think it's safe to bet you've just created the next killer application."
Retro Peanuts
For more than 50 years, Charles Shulz's Peanuts gang has appealed to adults and children alike. Now California-based apparel licensee Doe of Mighty Fine has created a line of women's fitted T-shirts for specialty stores including Hot Topic and Gadzooks. "We are using characters with an '80s feel that will appeal to the junior market," says Debra Aviles, licensing manager, United Media, New York, worldwide licensing agent for the Peanuts licensing franchise.
T-shirts retail at $22 and feature repeat patterns including rainbows, V-shaped cutout necks and expressions such as "Born Crabby." For the juniors - market, United Media is seeking partners for accessories, including novelty bags, wallets, belts, and buckles.
Barbie Nostalgia
While little girls play with Barbie, adult family members can get in on the fun, too. Barbie Consumer Products will launch a line of nostalgic Barbie products for the adult market between third and fourth quarter this year. Licensees include Zak for tabletop accessories such as coffee cups, dessert plates, acrylic tumblers, and pitchers; Polyconcept USA for electronics including phones, radios, and CD players; Hallmark for greeting cards; Franco for bedding, novelty pillows, and beach towels; and Northwest for throws. "Product will appeal to several points of distribution, from the prestigious to the attainable," says Richard Dickson, Mattel. Zak currently is shipping to Fred Segal in California (suggested retails range from $20 to $95). This month, Mattel will re-introduce the '70s Malibu Barbie with a complementary accessory and apparel program.
Subscribe and receive the latest news from the industry.
Join 62,000+ members. Yes, it's completely free.
You May Also Like
Loading..