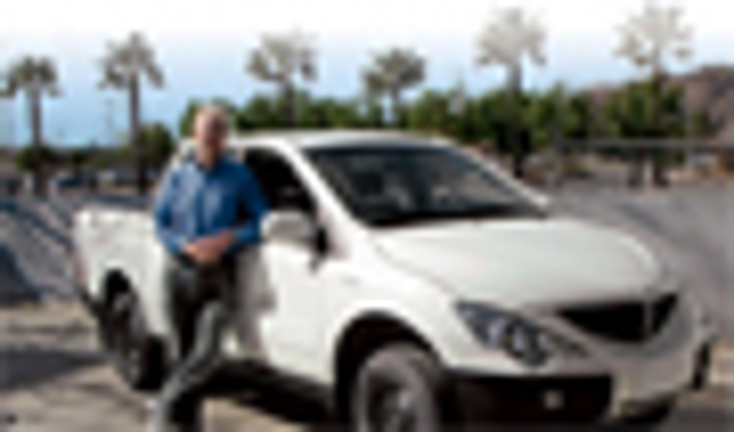 Now that green has gone mainstream, the licensing industry is tapping into the trend with environmentally conscious partnerships.
"People from every side of the political spectrum now realize we all have to do something about our environment," says actor Ed Begley Jr., who, along with wife Rachelle Carson, stars in the HGTV series, "Living With Ed," which is a clever mix of reality, DIY, and educational TV. Best-known for his work in "St. Elsewhere," "Six Feet Under," and several Christopher Guest films, Begley has been on the forefront of environmentalism since the 1970s, which he jokes, "is because my father was a conservative Republican who liked to conserve." While many licensors have already moved into organic foods, a select few, including Begley, are pushing the boundaries even further with partnerships that directly impact global warming.
Eco-Friendly Allies
"Living With Ed" explores the ways in which Begley and Carson balance between her appreciation for modern life conveniences and his ultra-green lifestyle. If it's not organic, recycled, energy-efficient, or solar powered, you won't find it in their home.
The concept came about
thanks to Brentwood Communications International Inc. (BCII) Co-executive Producer Joe Brutsman, who, says Begley, "mentioned that Rachelle and I have a unique routine and should do a show together. I said, 'We're not as dysfunctional as the Osbournes,' to which he replied, 'Don't be so sure.'"
The resulting show, which aired six episodes in January and February 2007 (13 more will begin airing in August), plays out like a docu-soap, with many green takeaways, and was recently sold into various European countries for broadcast. The Living With Ed brand also has not gone unnoticed by licensees, with BCII signing on nine, as well as an in-the-works organic apparel deal. Partners range from Currie Technologies (iZip Electric Hybrid Bicycles) and TerraPass (carbon offsets, which, in laymen's terms, is a way for consumers to offset their carbon footprint through the funding of renewable energy) to Citizenre Corp. (solar power equipment and services) and Phoenix Motorcars (fully electric S.U.T. and S.U.V. automobiles). While these may seem out of reach to some, the solar service is already taking orders before launching in 2008, while licensee PacWind Inc. offers Vertical Axis Wind Turbines that offer the same environmental takeaway as a propeller-based windmill, but are compact and usable in an urban environment.
"We want these lines to be accessible to everyone," explains BCII Vice President Greg Glass, "but we also want to partner with best-in-breed companies and not simply those that are in the eco realm." With a powerful slate of partners lined up, cross-promotions are also in the works.
Eco-awareness is nothing new for the National Wildlife Federation (NWF), which has been working with green organizations for a number of years, and even consulted on Al Gore's
An Inconvenient Truth
. The non-profit partnered with Green Mountain Coffee Roasters on a Fair Trade Organic coffee dubbed National Wildlife Blend, which is available through NWF's catalog, along with non-licensed organic apparel, while Recycline introduced the Preserve Jr. toothbrush in partnership with NWF and Stoneyfield Farm; its handle is constructed from 100 percent recycled plastic from Stoneyfield yogurt cups. On the outreach side,
Carbonfund.org
and NWF have launched a year-long education campaign to promote cost-effective solutions to global warming. The campaign will reach more than a million NWF members to educate them about the impact of travel and other everyday activities on carbon dioxide emissions, as well as how carbon offsets offer a simple, affordable way to reduce the global warming impact to zero.
Shelving It
While green products are clearly growing, it's been a challenge getting them into mainstream retail. "Unfortunately, it's still the case that dollars drive which products get space on retail shelves," says Martha Shaw, founder of Earth Advertising, a creative public relations and media content outlet for environmentally responsible goods and services. "Oftentimes," she adds, "there is little regard for social consequences."
But the winds of change may be blowing. "While we've been involved in the green movement for many years, it's certainly great that it's becoming so popular," says Tony Summers, associate director of production, licensing, and cause-related marketing, NWF. "In the long run, it's going to help increase our distribution and get our current partnerships into stores that were harder to sell previously."
As proof of green's growing shelf space, BCII partnered with Real Spirit USA, an international distributor of home air purifiers and related home electronics, whose products are available at most mass merchants. Real Spirit will be using "Living With Ed" and Ed Begley Jr. as marketing drivers on packaging and in advertising. More recently, Random House's how-to publishing division, Clarkson-Potter, signed on with Begley to publish two books on sustainable living practices to be published consecutively in 2008 and 2009 and sold into traditional book channels.
Retailers, for their part, are also looking at ways to make their own operations eco-friendly. While Wal-Mart currently is testing eco-stores in Texas and Colorado, its biggest initiatives are happening in the supply chain. New guidelines set by the retailer require its 60,000 suppliers to reduce packaging, allowing more products to be packed into fewer trucks. The world's third-largest retailer, Tesco, has been more vocal about its efforts, pledging to spend $1 billion over the next five years to nearly halve its worldwide energy output. Its eco-friendly test stores in the UK are constructed from renewable timber, make use of wind turbines, and recycle rainwater, while a fleet of battery-powered vans runs deliveries for
Tesco.com
; each van is said to reduce carbon dioxide emissions by 21 tons a year—the equivalent of driving 51,000 miles in a car.
As Tesco ramps up its U.S. efforts—a proposed 100 stores under the Fresh & Easy Neighborhood Market banner by year's end—published reports quote the retailer as saying it plans to spend $13 million to install solar panel roofing on a distribution center in California.
Subscribe and receive the latest news from the industry.
Join 62,000+ members. Yes, it's completely free.
You May Also Like
Loading..