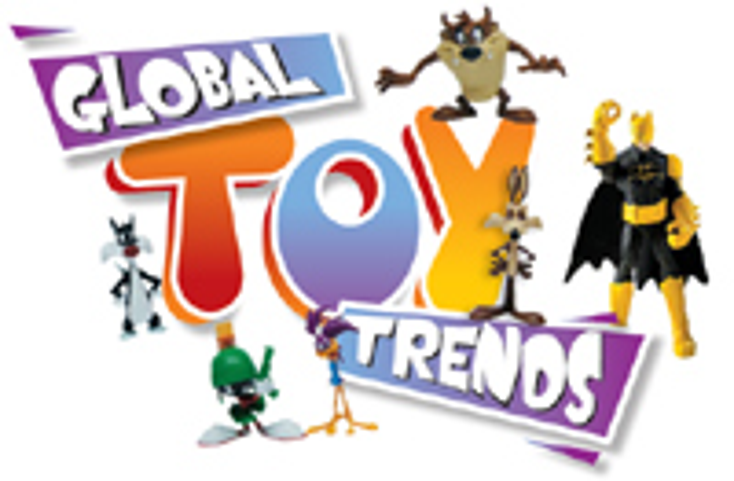 A look at global toy trends currently and into 2013 and beyond.
Toy fair season is upon us. Kicking off the international toy expos are three of the world's largest: the HKTDC Hong Kong Toys and Games Fair, set for Jan. 7-10, 2013; London's U.K. Toy Fair sponsored by The British Toy & Hobby Association, which will run Jan. 22-24, 2013; and the Spielwarenmesse International Toy Fair Nürnberg, which will take place Jan. 30-Feb. 4, 2013.
The events highlight toys and games that will hit retail in 2013 and beyond, but they also reflect current trends in play, pop culture and business. 
License! Global
 has forecasted its top trends heading into toy fair season–trends that we'll certainly see on exhibition floors around the world.
Perhaps the largest influence on global toy trends of the past and those yet to come is the No. 1 evergreen boy's property, Star Wars. Disney's October acquisition of Lucasfilm will only ensure that the property will continue to remain in the top tier of boy's properties.
The $4.05 billion deal will give Disney total ownership of the brand and the technologies used to create the franchise (LucasArts, Industrial Light & Magic and Skywalker Sound), ensuring that the planned 2015 release of 
Star Wars Episode 7
 will continue to maximize the value of this truly global brand.
The superhero genre, bolstered by Marvel's stable of films and the conclusion to Christopher Nolan's Batman saga from Warner Bros., shows no sign of abating. The coming year will find Superman getting the big screen reboot with Warner Bros.' release of 
Man of Steel
 next summer. Licensees such as Mattel, Fisher-Price, LEGO, Thinkway and others are already on board to support the sure-to-be hit that will, in all likelihood, spawn yet another blockbuster superhero franchise. Warner Bros. Consumer Products will also support its evergreen Batman ranges from master toy partner Mattel abroad.
From Marvel, spring's 
The Avengers
 film led the charge for its roster of heroes–from 
Iron Man 3
 (set for release in May 2013), to 
Thor 2
 (November 2013), to sequels to both 
Captain America
 and 
The Amazing Spider-Man
 in 2014–and will only further bolster the toy trend on shelf globally.
But movie-led licensing programs aren't the only trend in toys. Apps and interactive toys and play are still gathering steam. Physical toys will continue to pop up around the globe in support of popular apps from 2011 and 2012 such as Disney's "Where's My Water," PopCap's "Plants vs. Zombies," Lima Sky's "Doodle Jump," Halfbrick's "Fruit Ninja" and the ongoing iterations of Rovio's "Angry Birds," which most recently got the Star Wars treatment. ZeptoLab, creators of the hit app "Cut the Rope," announced its next generation app, "Pudding Monsters!," this month, which will undoubtedly get the consumer product treatment as its frontrunner has. While it's too early to gauge how well these products are truly performing on shelf, early indicators point to continued success merging virtual properties with physical products and retailers.
According to retailer Toys 'R' Us and its hot holiday toy list 2012, app integrated, interactive or video game-based toys are all the rage and sales are trending well. Mattel's Angry Birds King Pig apptivity integration made the list, as did Hasbro's Words with Friends board game (based on the Zynga hit app). On the video game side, SEGA is continuing its support for its Sonic the Hedgehog property, taking the property to the U.K. Toy Fair on the back of licensee Meccano. Meccano will highlight Sonic the Hedgehog construction toy ranges (a trend in itself and one several licensors forecast will be big in 2013), which includes five different play sets. Another strong console-based property is Activision's Skylander's Giants, who's Legendary 3-pack found itself on many hot toy lists this year.
The flip side of innovation, however, is the familiar, and retro is another trend that's consistently making its way back to the retail shelf.
Nickelodeon made a splash in 2012 in a big way with the re-launch of the 80s series "Teenage Mutant Ninja Turtles" for a new generation. The property, which appeals almost equally to boys and girls, has been updated for the tech-savvy viewers of the new millennium with product to support. The new TV series launched in September to stellar ratings–2.1 million viewers for the initial broadcast, making it the No. 1 kids program on basic cable.
"The most important factor for licensors in today's competitive marketplace is international expansion," said Michael Connolly, head of international consumer products and brand licensing, Viacom International Media Networks, in an interview with 
License! Global
 in "Turtle Power" from the September/October issue. "If there is one property that could have an immediate and long-term impact on a company, TMNT is that property, and it will have a huge impact on VIMN."
The series has been renewed for a second season already, and more than 50 licensees are on board to drive the property throughout the world. First products are hitting retail shelves this month.
Hasbro re-introduced its Furby range, a 90s throwback, to much fanfare this year, sparking high demand at stores and online for its pink, black, white, red and multicolor interactive toys. The toys are more sophisticated this time around, with LED eyes and a free companion app for download.
The ongoing success of other evergreen Hasbro brands such as Transformers and My Little Pony, whose hit Hub series "My Little Pony: Friendship is Magic" is a constant ratings boon, also points to the retro trend continuing for years to come.
Saban is also re-introducing two retro properties in 2013: Digimon and Popples. The Popples brand, another 80s staple, will be re-introduced first with a retro line based on the original toy. An all-new, refreshed line is set to follow in 2014.
Japanamation and manga are also having an effect on toy trends both currently and moving forward, evident by the resurgence of Saban's Digimon franchise, which will get a new global TV series, "Digimon Fusion," next year. Other properties include Zodiak Consumer Products' Ddee. Ddee, which is represented by Zodiak Kids Consumer Products Paris, who acts as licensing agent for the brand, is based on a Japanese design-led girl's property with broad appeal. Likened to other classic properties such as Hello Kitty (due to its multi-demographic appeal), Strawberry Shortcake and Little Lulu, the Ddee range includes collectible dolls, play sets, fashion, role play, publishing, furniture, apparel and back-to-school products.
On the whole, the coming year is also predicted to be big for construction toys, action figures, plush and dress up, as well as preschool age toys. According to WBCP, it also expects its classic animation brands like Looney Tunes, Tom & Jerry and Scooby-Doo to perform well and grow into Q1 and beyond around the world.
Subscribe and receive the latest news from the industry.
Join 62,000+ members. Yes, it's completely free.
You May Also Like
Loading..