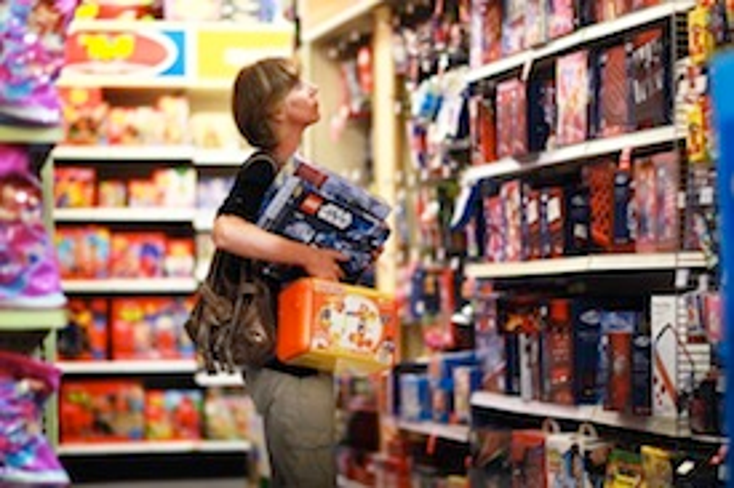 Two recent studies give some interesting insight into the toy market this holiday season with Harris Interactive predicting that holiday toy sales will be up this year, and Young Love reporting an increased affinity among girls for typically boy brands like LEGO and Batman.
More than half of Americans (52 percent) say they will be purchasing toys as gifts this holiday season, with that number increasing to 77 percent among parents with children under 18, according to The Harris Poll, conducted by Harris Interactive.
The poll shows that 23 percent of general toy shoppers plan to spend more this year than they did last year, and 27 percent of toy-shopping parents saying they will spend more. In 2011, just 16 percent of shoppers said they would spend more on toys.
Books, video games and arts and crafts products look to top the list of toy purchases with 43 percent saying they will buy children's books, 36 percent planning to buy games for consoles and 29 percent planning to spend their money
on arts and crafts items. Other top categories include (in order) board games, dolls, building blocks, sports equipment, handheld electronic games and game consoles.
Half of toy buyers (51 percent) plan to shop at large discount stores and 27 percent plan to do their toy shopping online. Interestingly, the poll also showed that parents are more likely to buy toys at a national toy store retail chain (18 percent vs. 10 percent for non-parents), and non-parents are more likely to buy toys at large discount stores.
In another interesting trend, a recent study by Young Love among kids ages 6 to 12 shows that some of the fastest-growing brands among girls this year are brands typically geared toward boys.
The study, which is conducted by youth and family research firm Smarty Pants, ranks kid's and mom's affinity for 250 brands each year. The top brands that gained ground with girls include (in order) LEGO, Batman, Superman, Cartoon Network, Beyblade, Madden NFL, Hot Wheels, Best Buy, Under Armour and Spider-Man.
"Today, girls comfortably hang an Under Armour shirt in their closet next to a Monster High tee without seeing contrast between the two, and they are quick to point out that LEGOs are just as much fun for girls as boys," says Wynne Tyree, president, Smarty Pants. "They are drawn to the likes of Catwoman in the Batman franchise, and they see Best Buy as an invaluable tech hub as much as their male peers."
Subscribe and receive the latest news from the industry.
Join 62,000+ members. Yes, it's completely free.
You May Also Like
Loading..