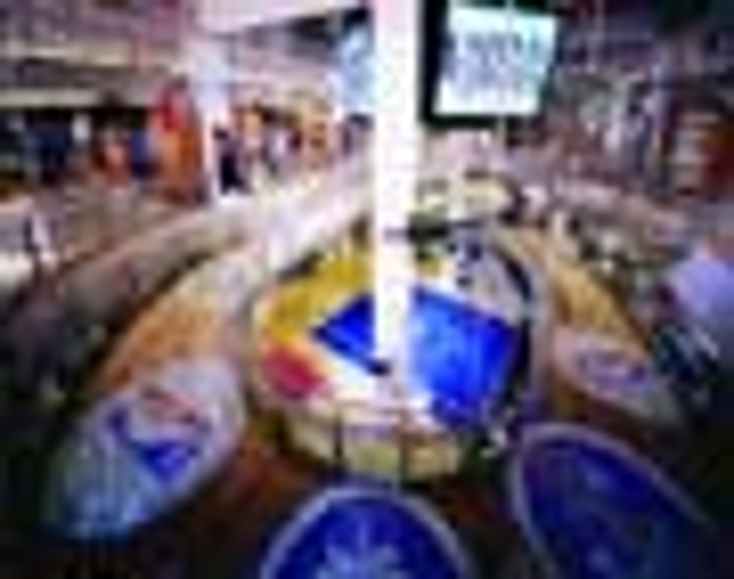 ]>Fun foods flourish at FMI.
Snack portability, coupled with fun-to-eat food, has been a dominant trend in the world of food merchandising, but proved equally important to licensees and licensors exhibiting this year at the Food Marketing Institute Show (FMI) and the Fancy Food Show, held concurrently in Chicago in May.
Yogurt is a dominant player in the tube snacks category (just ask the folks at Go-GURT, the popular portable yogurt for kids that is supplying LucasFilms with Attack of the Clones yogurt packaged in glow-in-the-dark lightsaber-like tubes), but other snacks and brands are vying for shelf space. Food giant ConAgra is entering the portable tube snacks category via its relationship with Hershey Foods Corp. "Tube snacks, portability and convenience, fun snacking for kids, and comfort foods are important trends in the market," says Charlene Lee, brand manager for the snacks business unit of ConAgra Foods' grocery foods group, Irvine, CA. So it was a natural move for her firm to work with its existing licensor-partner Hershey Foods Corp. to develop refrigerated, single-serve snacks such as Hershey's Portable Pudding in tube form and Jolly Rancher Portable Gel Snacks. (Hershey also owns Jolly Rancher.) The eight-pack pudding tubes carry a MSRP of $2.89; the Jolly Rancher eight-pack is set at $2.69.Separately, ConAgra Foods Store Brands picked up the rights to manufacture fruit snacks in licensed shapes inspired by the Justice League (including Batman, Superman, Wonder Woman, Hawkgirl, The Flash, Green Lantern, and Martian Manhunter) from Warner Bros.' Cartoon Network. Kit & Kaboodle In a broader scope, the billion-dollar portable lunch kit/snack kit category also saw some new additions via licensing. Although Kraft's Oscar Mayer Lunchables brand dominates the category, new entries debuted from firms such as West Chicago, IL-based Jel Sert. The company is bundling its Mondo Fruit Squeezers Primo Punch with a Kellogg's Rice Krispies Treats Bar. The kit is set at a 99-cent pricepoint and is targeted at the mass market.
In
other snacking news, Northfield, IL-based Kraft introduced new Cheese Nips in licensed shapes from Nickelodeon, such as SpongeBob SquarePants and Rocket Power, and from Universal Studios, E.T., The Extra-Terrestrial (MSRP, $2.49 per 10.5-oz. box). SpongeBob also joined the Macaroni & Cheese dinner family, where Blue's Clues (Nickelodeon) and Scooby-Doo (Warner Bros.) already live (MSRP, 88 cents to 95 cents per 5.5 oz.-box). E.T. also is making a splash in the Teddy Grahams graham snacks family.
Another fun-focused snacking activity hails from Color-A-Cookie, a Plainview, NY-based marketer of cookies kids can decorate. The edible prebaked shortbread cookies come with line-drawn characters on them, such as Jay Jay the Jet Plane (Porchlight Entertainment), Rudolph the Red-Nosed Reindeer (Good Times Entertainment), Arthur (owned by Marc Brown Studios, now handled by The Firm), and Spookley the Square Pumpkin (marketed by Barnes & Noble). The cookies are bundled with two nontoxic markers filled with juice flavored "ink."
The most recent ready-to-license play snack comes in the form of Gummi Army Guys, from Albanese Confectionery Group in Hobart, IN. Similar in shape to the little green plastic Army Men toys, the Albanese-made snacks depict soldiers with ammunition. "They are something kids can play with on the kitchen table," says Larry Albanese, "and kids always want to play with their food." Albanese explains he was motivated to finally complete the molds for the military-theme candy-a four-year-old work-in-progress-after seeing confectionery carrying the likeness of Osama Bin Laden.
Kiddie Treats
Bravo! Foods, based in North Palm Beach, FL, and Warner Bros. have been co-branding flavored milk with Looney Tunes for about a year or so, initially abroad but now almost fully distributed domestically. Characters such as Taz on chocolate milk are reaching about 4,900 grocer doors. Scooby-Doo is appearing on bottled water and flavored drinks distributed in Mexico by Embotelladora Cactus.
In other Mexican marketing news, Marinela, a leading brand of snack cakes, leveraged the massive popularity of World Cup Soccer by putting its consumers into the game. In June, Marinela gave away Futbol CD-ROM games, developed by New York-based BrandGames, free with purchase. In the game, Marinela's brand characters compete with the Mexican national soccer team players, much like the premium (also developed by BrandGames) wherein General Mills-owned cereal characters competed with Major League Baseball athletes.
SoBe, maker of herbally enhanced beverages and a division of PepsiCo, is running a summer sweepstakes promotion with MAD magazine (owned by Warner Bros.). Its Love Bus Brew, a drink concocted of real milk, Dutch chocolate, and ginseng, is the vehicle for the sweepstakes; the grand prizewinner will grace the pages of the humor magazine. MAD artwork and slogans are appearing on print ads, on in-store advertising, and under Love Bus Brew bottlecaps.
Fun for Adults
On a much more adult-targeted note, gourmet chocolate marketer Chocoholics Divine Desserts, based in Stockton, CA, romanced new product introductions such as Chocolate Body Soap ($12 to $15 per bar), the Strip Chocolate board game ($25 to $30), and Body Talk Tattoos. Kid-friendly molds are in development. Chocoholics Divine Desserts, which also markets chocolate pasta, cookies, and truffles, is open to licensing opportunities.
In spicy pockets of the food licensing world, Paul CP McIlhenny, president and CEO of McIlhenny Company (Avery Island, LA), which owns 135-plus-year-old hot sauce brand Tabasco, says he has been in co-branding discussions with manufacturers of vegetable juice and mayonnaise. Tabasco's current food ingredient licensees include Heinz for ketchup and Hormel for chili. The newest co-branding ventures include the test marketing of microwavable Tabasco cheese-flavored popcorn, via Chicago-based Houston Harvest. Houston Harvest has been a resource for the ready-to-eat Tabasco cheese-flavored popcorn for about a year-and-a-half.
In Tabasco's non-food licensing relationships, brokered by IMC Licensing in Louisville, KY, Kay Dee Designs based in Hope Valley, RI, is launching a line of kitchen textiles, replacing licensee John Ritzenthaler. Also, Atlanta-based In Zone debuted Tabasco-branded melamine tabletop, and is shipping a preliminary line to retail now. The full line should be introduced over the next six to 12 months.
For foods with a different kind of kick, Southern Comfort, a Brown-Forman adult beverage, recently launched eggnog from Chelsea, MA-based H.P. Hood. Colony South in Charleston, SC, which introduced Southern Comfort grilling sauces for the gourmet tier about a year ago, just broke into supermarket distribution. Another recent addition: Confectioner Toms International, based in Ballerup, Denmark, currently is developing a Southern Comfort spirit-filled chocolate and a truffle. IMC Licensing handles Southern Comfort.
The Halifax Group in Atlanta debuted new sauces and condiments for alcohol beverage brands such as Scotland-based Drambuie and Jim Beam Kentucky Bourbon. Halifax markets spicy ketchup and marinade, jams, jellies, steak sauces, and pancake syrup.
Subscribe and receive the latest news from the industry.
Join 62,000+ members. Yes, it's completely free.
You May Also Like
Loading..