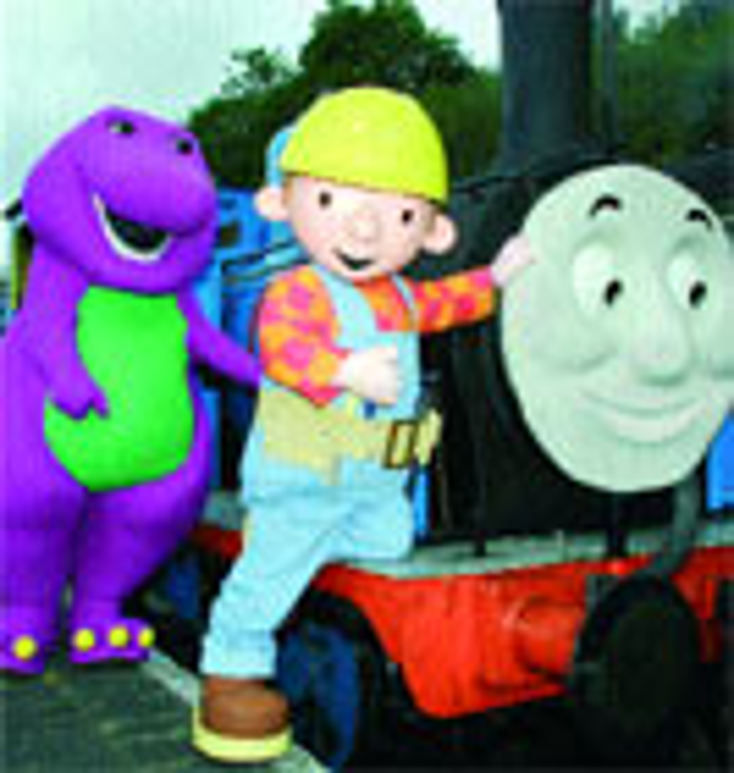 ]>It's a 6 a.m. cast and crew call, and I must head over the Brooklyn Bridge to meet and greet. The first time I walked over that bridge was 9/11 . . . an unhappy memory. This time is much different. Last June, the memorial lights for those who perished on 9/11 graced our cover; this year, we opted to use the backdrop of New York City for a lighthearted, fun cover image. With a police escort in tow, the six characters and crew (who are characters, as well) step onto the Brooklyn Bridge walking past faces of awe and confusion. Just a normal day in New York City . . . what's the matter? Is it such a shock that Bugs Bunny; an M&M; Dora the Explorer; He-Man; Snoopy; and Sagwa, the Chinese Siamese Cat are taking a stroll through lower Manhattan?
Waiting for the right shot to be set up and the sun to comply, passersby (walking commuters and tourists alike) stop to take photos (for some reason, it seems everyone has a camera) or simply to high-five Bugs Bunny. At the same time, driving commuters honk horns and stop traffic (who ever said we're all so wrapped up in our own worlds?). Off the bridge, a crowd forms around a nearby subway station as we set up the photo you'll find on p. 176. It so happens it is "Bring Your Child to Work" day in New York City, and some children, fortunate enough for their parents to work in this area, get more than an office experience of pens and paper. Hugs are in order, and not just from children. No matter the age, the child at heart in all of us comes to play. We hope you enjoy this cover image as much as we enjoyed pulling it all together and spending the morning with seasoned costumed professionals. Turn to p. 176 for a day in the life of these professionals. This issue is so chock full with pertinent information it probably will be on your desk for months to come. From our First-Ever Licensing Agent Roundtable Discussion to Mattel's exclusive deal with Limited Too to the makings of live stage shows and our First-Ever Salary Survey, that's not all . . . Our Target Demographics story covers every ethnicity and age, and provides tips for licensing opportunities for each. More? Yep! As promised, a behind-the-scenes look at the Australian Broadcasting Corporation can be found on p. 114; plus Editor's Property Picks from MIPTV and Bologna Children's Book Fair. There's so much more that my First Word could've been devoted to every word you are about to read.I, and the entire publishing team of License!, look forward to a successful Licensing 2003 International Show . Don't forget, our seminar, "Beyond the Brand: Successful Retail Partnerships in Brand Extensions," takes place Wednesday, June 11, from 10:30 a.m. to 12:15 p.m. in the 1E Hall of the Jacob Javits Convention Center. I hope to see you there…if not, you'll find us on the show floor preparing stories and photos for the License! Show Daily. Have a fantastic, fun show!
Subscribe and receive the latest news from the industry.
Join 62,000+ members. Yes, it's completely free.
You May Also Like
Loading..