Shoppers are starting to let loose of purse strings and licensed apparel is among the first items they are spending precious dollars on, according to retailers and manufacturers. That's good news as executives head to the MAGIC Marketplace after a few soft back-to-back seasons.
"In truth, shoppers really never went away," clarifies Candace Corlett, president of WSL Strategic Retail in New York. "They merely shifted their purchases or did without some items, but they still shopped. Licensed apparel really never went away and the new generation doesn't remember a time without licenses. They started out with Sesame Street; they've grown up with licenses."
Now, industry executives hope to see them stock up on characters, vintage logos, corporate icons, movie and TV themes and, of course, the plethora of celebrities adding their mark to licensed products.
That comfort with buying a well-known icon is helping rebuild men's, women's and kids' clothing sales. "The economy helps licensing because
it is seen as a good value," says Howard Loevner, co-president of Trau & Loevner.
There are positive signs. In 2009, U.S. apparel sales continued to decline, but there were indications that a turnaround was coming, according to market research firm The NPD Group. Pointing to its most recent data, apparel sales fell 5.1 percent for calendar year 2009 to a total $188.5 billion. But in the fourth quarter there were markers that women's apparel was starting to recover, as the segment posted only a 3 percent drop. And having women start to shop again is a very positive indicator.
"Women represent just over 50 percent of total fashion market sales and they account for almost 25 percent more in the purchases they make for others ... without them a true recovery will not occur," says Marshal Cohen, chief industry analyst for NPD.
The National Retail Federation's back-to-school forecast predicts Americans are ready to replenish after two years of stretching the life of existing products. NRF's 2010 Consumer Intentions and Actions Back-to-School survey, conducted by BIGresearch, found that the average American family will spend $606.40 on clothes, shoes, supplies and electronics, compared to $548.72 last year, and close to the $594.24 in 2008.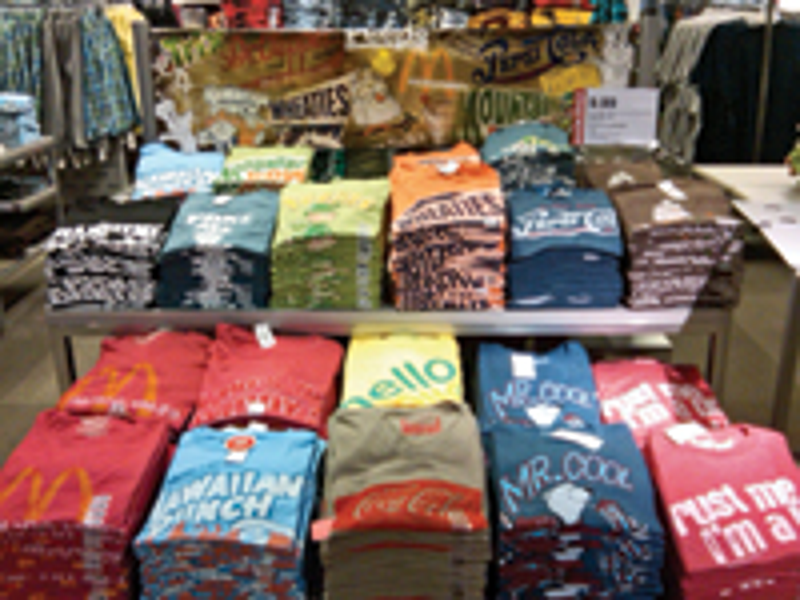 "We are encouraged by the fact that parents are eager to start their back-to-school shopping this year, but the industry still remains cautiously optimistic about recovery," says Matt Shay, NRF president and chief executive officer. "As the second half of the year gets under way, retailers will gauge their customers' spending appetites, which often serve as a bellwether for the all-important holiday season."
The survey also found discount stores will be the preferred location and that teenagers and pre-teens may dish out more of their own money for apparel this year. The only challenge will continue to be a demand by retailers to cut season buying time closer than in the past to reduce excess inventory and to compress turnaround times, as well as to produce smaller orders.
June apparel sales increased after two months of declines, according to the U.S. Commerce Department, and a final harbinger of good news was when Eduardo Castro-Wright, Walmart's vice chairman, said category bright spots for Walmart's first quarter included licensed apparel.
One of the most promising areas of apparel, buyers and suppliers say, is T-shirts. T-shirts are an easy and economical ways to update wardrobes. Loevner at T-shirt giant Trau & Loevner says many retailers such as Kohl's and JCPenney have shifted more store real estate to T-shirts in the last few years. The T-shirts turn fast, but also represent a quick and easy way to make a fashion statement. He said tables with his men's T-shirts are the No. 1 performers at JCPenney.
Loevner thinks trends for the future include interest in minor league baseball teams with cool, campy mascots, vintage looks and corporate logos. A few items he's excited about at his firm include Pillsbury Doughboy with the saying "Poke Me" and a new Energizer Bunny endeavor.
Debra Joester, co-founder and president of the New York-based Joester Loria Group, a licensing agency, agreed shoppers love well-known names and noted that several of its clients have growing apparel businesses, including Pinkalicious, Discovery Channel and Pepsi.
Pinkalicious, based on the book by sisters Victoria and Elizabeth Kann, first ventured into apparel in 2009 with sleepwear and book sets carried by high-end department and specialty stores such as Saks and Nordstrom. Later this year, it will expand into department stores and mid-tier retailers such as Kohl's with a girls' clothing collection, including tops, hoodies, leggings, jackets and skirts, made by Success Apparel. Retail prices are expected to range from $10 to $40. The pieces will be embellished, patterned after the book's artistic illustrations. Beginning in 2011, Pinkalicious apparel will move into the mass market starting with sleepwear.
Meanwhile the Discovery Channel has numerous shows with an apparel offering such as Animal Planet, which has a top-selling T-shirt line for boys, men and juniors.
Joanne Loria, executive vice president and co-founder of Joester Loria, adds that Pepsi will be extending its apparel business with a high-end specialty line of tops for young men and juniors. The collection is likely to delve into Pepsi's archives with retro graphics. Still in the early stages of development, products are expected to debut for back-to-school 2011.
Presently, Pepsi's Mountain Dew brand boasts one of the best-moving graphic tees at Kohl's. "Beverage brands are really doing very well and we are focusing on breaking out of the clutter of the assortments and establishing on-trend looks and silhouettes that will be at the forefront," says Loria.
Vampires and gothic looks should hold up through the end of 2010, buyers say. A hot licensed property can indeed jolt a sleepy business out of the doldrums. In June, the Hot Topic chain enjoyed an 18 percent spike in its licensed business thanks mainly to merchandise tied to the latest
Twilight
installment,
Eclipse
. Jim McGinty, chief financial officer for Hot Topic, says that licensed business typically accounts for about 25 percent of total sales. From February through May, Hot Topic stores suffered double-digit comparable-store sales declines. While still not in the black, with the help of Eclipse products, June's decline eased to a loss of 2 percent.
A spokesman for Summit Entertainment says that sales of
The Twilight Saga: Eclipse
movie apparel "have been great. The Twilight Saga brand is very strong around the world with apparel continuing to be one of the strongest categories."
Apparel and accessories have been available at specialty stores throughout the U.S., including Hot Topic, Borders, f.y.e. and Hastings, with international distribution at retailers such as Claire's in the U.K., Carrefour and Tesco. The collection includes T-shirts, hoodies, sweatshirts, bags and more. With the release of the DVD in the fall, Eclipse apparel and accessories will also become available for a limited time at select U.S. mass-market retailers.
There is also a fashion line in the U.S. from Awake by Jem available exclusively at Nordstrom that focuses on tops, jackets, pants and shirts inspired by the film.
Sears is also keen on the people-pulling power of important logos. In July, Sears signed a deal with Iconix Brand Group for a direct-to-retail license for the juniors' brand Bongo. Bongo will launch in fall 2010 exclusively at Sears and Kmart stores. MTV star Audrina Patridge will be featured in the marketing campaign.
"We have experienced the strength and success of working with Sears Holdings with our Joe Boxer and Cannon brands and we are excited to work with John Goodman [Sears executive vice president of apparel and home] and his team to roll out Bongo at both Kmart and Sears," says Yahuda Shmidman, executive vice president for operations at Iconix. Goodman adds, "We are thrilled to be working with Iconix on this new brand launch and are excited to be able to offer an established juniors' brand and great style to our customers."
Walmart's Miley Cyrus departments are still buzzing with activity just prior to the back-to-school season and, following in that vein, Kmart is hoping to rejuvenate its juniors' department with a line from Selena Gomez. The star of "Wizards of Waverly Place" has a back-to-school exclusive kicking off this September. Kmart is even weeding out lesser-known labels to boost lines such as that from Gomez.
The mass merchants aren't the only ones seeking differentiation with exclusives—so are retailers such as QVC and Brooks Brothers. VF Corp., whose portfolio of power brands includes Wrangler, The North Face and Nautica, has positioned itself to aggressively pursue these emerging opportunities. While it already possesses significant licensed businesses through its associations with the NFL and Major League Baseball, a year ago VF created the new position of president of VF retail licensed brands. David Conn, formerly of Iconix, was tapped for the post. At the time the company said it saw another avenue for growth "with key partners through the introduction of new brands under a licensed business model."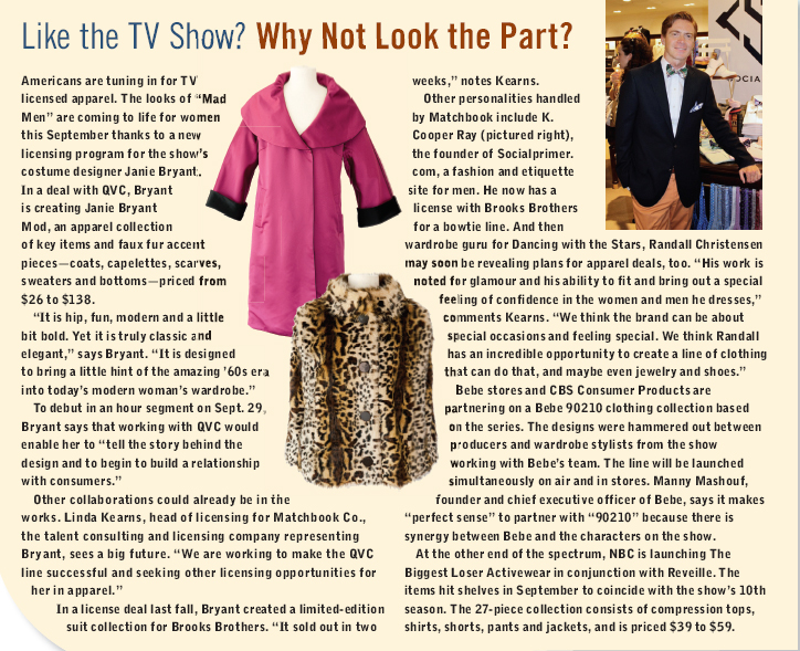 Even Frederick's of Hollywood, which has had success with swimwear, is now expanding licensing efforts into categories such as fragrance, jewelry, accessories, footwear, headwear, handbags and costumes.
A few other nods to the strength of both apparel and licensing includes Jones Apparel Group's move into a licensing and distribution agreement with G-III Apparel Group for Andrew Marc jeanswear, breaking Jones into the men's jeans market. The initial launch will be for Marc Moto, a division of Andrew Marc, beginning with approximately 500 doors in the fourth quarter. The introduction of the Andrew Marc and Marc New York brand lines is expected to follow in 2011. The denim-inspired Marc Moto collection will feature jeans, casual pants, shorts, jackets, knit tops, T-shirts and sweaters. Item prices will range from $49 to $79.
Andrew Marc, a 25-year-old brand, best known for its outerwear and leather goods, is associated with adventure and rebel spirit. The lines will be found in better department and specialty stores. Jack Gross, chief executive officer of Jones Jeanswear Group, says he "looks forward to mirroring the success of our women's platform in the menswear market."
Subscribe and receive the latest news from the industry.
Join 62,000+ members. Yes, it's completely free.
You May Also Like
Loading..