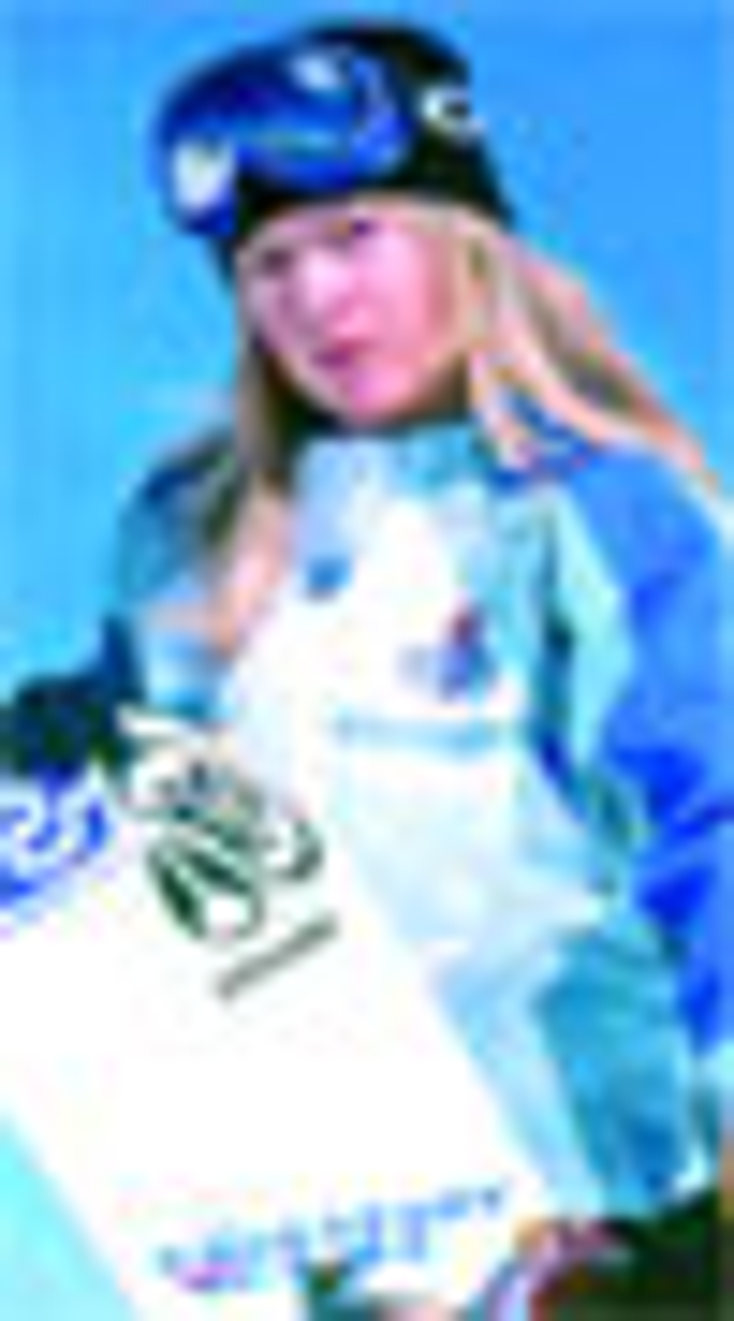 ]>License! offers a sneak peek at what's to come for spring and summer '04.
Above: Trend-conscious intimates from Hot Kiss.
Licensors and licensees have teamed up to deliver the latest fashion trends. Plenty of glitter, metallics, and vibrant colors are sure to make the season bright. Some will showcase their collections at this month's MAGIC Marketplace, to be held February 23 through 26 at the Las Vegas Convention Center and Sands Expo and Convention Center. Booth numbers are included for companies exhibiting at the show.Hot Kiss (#JR 50827) recently signed on Fantasia for a sportswear-inspired intimate apparel collection that takes its fashion cues from the trendy apparel line. It features contemporary looks in camisoles, crop and empire tops, and triangle bras paired with boy shorts; hot pants; and G-string, T-back, and Y-back bottoms. Glitter, nail heads, and rhinestone studs add spice to the intimates that boast a color palette of dusty pastels and muted tones. Distribution is scheduled for the spring at better department and specialty stores; suggested retails range from $8 to $20. Freeze (#K15611) recently was granted the license to Care Bears (American Greetings) for a line of juniors' apparel that will be available in the spring at mass-market venues. It includes baby T-shirts, fashion novelty knit tops, coordinated athletic pants and jackets in French terry, and tanks with coordinating board shorts. The styles are embellished with embroidery or screen-printed designs. Initial retail previews at Wal-Mart, Target, and Kmart have generated a positive response. Marvel Enterprises, Inc., launches a wide array of clothing inspired by the company's library of more than 4,700 characters. It includes pajamas, boxers, and swimwear for all ages. More than 20 licensees are on board, including Fruit of the Loom; NTD Apparel, Inc.; Sara Lee Underwear; and Haddad Apparel Group. OTB Jeanswear (#YM 20829) and CSG Apparel unveil a collection of knit tops for boys and young men. It includes novelty jersey Ts and flat-back ribs in knit textures and fleece, and a complete sweater line. "CSG is a strong vertical manufacturer that offers newness in fabrics, stitches, and prints, and prices them for volume sales," says Lily Sidorovich, president, OTB Jeanswear. "It is a perfect complement to our bottoms line." The products target department and specialty stores; suggested retails range from $16 to $36 for boys, and $20 to $40 for young men. Dollhouse (#JR 50900) reveals the latest offerings for the junior market from jewelry, hats and scarves, sportswear, and handbag licensees. OK Originals debuts a jewelry line that features glass beads and plated base metals; suggested retails range from $6 to $15. David & Young launches a stylish line of fedoras, cabbies, and fashion caps, as well as ivys and bell-shaped hats that target juniors and fashion-forward missy customers; suggested retails range from $15 to $30. A collection of sportswear and activewear by ALT Sportswear caters to sizes 4 through 16. The sportswear line presents a range of chic tanks and tube tops accented with flower pins, with stylish skirts to match. Suggested retails range from $12 to $24. A line of sleek handbags by Global Design Concepts is made of nylon, vinyl, denim, and other fabrications, and accented with metallic chains, glitter printing, zippers, and neon accents. Some of the bag sizes are scaled down to suit younger customers. Suggested retails range from $10 to $25 for kids, and $19.99 to $49.99 for juniors. Dollhouse products are available at Carson Pirie Scott, Proffitts, Nordstrom, and other fine department stores, as well as chain stores such as Gadzooks.Trau & Loevner (#AL 13607) debuts a collection of T-shirts featuring images of classic cartoon favorites such as Beetle Bailey, Betty Boop, and Popeye (King Features Syndicate), as well as Casper (Classic Media). Some are embellished with sugar ink and glitter effects. The shirts target the mass and mid-tier levels of distribution including JCPenney. Suggested retails range from $12 to $18 for juniors, and $10 to $18 for men and women.Fox L&M's hit TV show The Simpsons lends its humor to several new apparel lines. Changes (#AL 14511) debuts a line of men's T-shirts, and Giant Merchandising (#AL 13100) launches a collection of trendy surf shorts that incorporate the show's edginess and wit. The products will launch in the spring at Target. NJ Croce (#AL 13605) also joins The Simpsons fashion craze with limited-edition, novelty packaged Ts that will be available at Musicland in April. Each T-shirt is packaged inside a prop from the show. The first to kick off is the official "Krusty Show" shirt wrapped in a classic Simpsons TV set. Ralph's paste jar, Homer's hardhat, and the Pin Pals bowling pin also serve as novelty wrapping.Wormser (#K 16131) unveils Dr. Denton, a brand synonymous with sleepwear since 1865, in a new collection of sleep and playwear for infants and newborns, and offers soft and snuggly fabrics detailed with embroidery and appliques; suggested retails range from $7.99 to $10.99. The collection includes a line of blanket sleepers for newborns through age 14. These feature double-sided velour microfiber fleece and are priced between $12.99 and $14.99. Dr. Denton Outerwear is also part of the mix; suggested retails range from $14.95 to $19.95. The collections will be available in the spring at the mid-tier. "Our goal is to include licensing. We believe there's a lot of equity in the brand," says Elisa Gangl, vice president of licensing at Wormser Company, adding that it plans to start pursuing licensing agreements in the fall.U.S. Polo Association (#ST 30438), a division of Jordache Enterprises stitched a deal with The Max Leather Group for belts and small leather goods. Belt styles will range from a core leather collection to a more fashion-driven line that features a new approach to webbing. Styles range from plaque buckles to reversible buckles, and more traditional roller styles. The products will launch in fall '04 at the mid-tier. Suggested retails range from $9.99 to $19.99.Mac & Jac and Kenzie recently signed on Prima Royale for a line of women's footwear. Mac & Jac Footwear will unveil a fashion-forward, yet classic leather collection with unique textures, and Kenzie will launch a contemporary leather line. Both will debut at The WSA Show (#41861) this month, and will target department stores and specialty stores; suggested retails for both collections range from $60 to $90.
Subscribe and receive the latest news from the industry.
Join 62,000+ members. Yes, it's completely free.
You May Also Like
Loading..