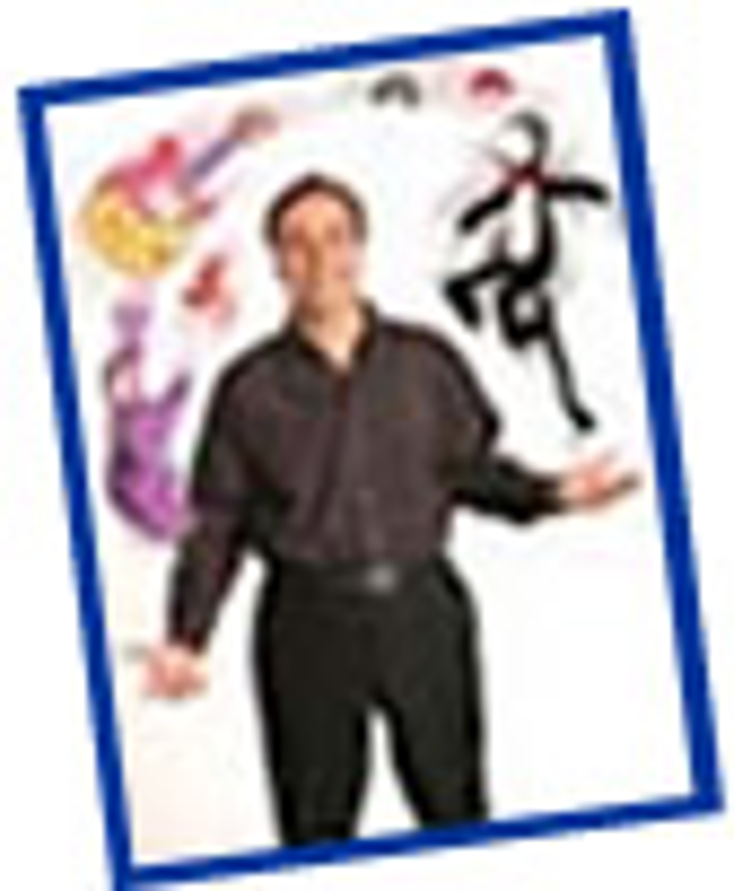 ]>LIMA is the industry's only world-wide trade organsiation. It has over a thousand members, a fifth of whom are based in Europe. How was it formed? How is it funded? What does it do? And how does it benefit our industry? These are all questions we put to Charles Riotto, LIMA's mild-mannered but determined president, in this, the association's 20th year.
How was LIMA formed?
It was formed by a merger between two organisations, the Licensing Industry Association, which consisted mostly of licensors, and the Licensed Merchandise Association, which consisted mostly of manufacturers. The two bodies existed as rivals and even ran two shows simultaneously, until common sense prevailed and they merged to create LIMA in 1985. Murray Altchuler (who gives his name to the LIMA Hall of Fame) and Gerry Robinson, who ran the two original organisations were LIMA's first heads.
When did you join?
In 1997. Murray Altchuler had been executive director until that time.
What did you do before LIMA?
I worked
in association management and all three associations that I worked for were in some way linked to licensing. LIMA's first priority at that time was to find some-one with experience of running an industry association. The second was having knowledge of licensing. I had been with the Toy Manufacturers' Association (now the TIA) for ten years. I wasn't too interested in LIMA to start with - it had an air of the maverick about it. Then I researched and found that the licensing industry was maturing and there was great potential to grow the organisation.
What were your main objectives back then?
Two fold. Firstly I wanted to increase the educational programme. The industry was growing and so there was a need for education.
Secondly the business of licensing was expanding outside the US and was taking hold especially in Europe so I wanted to increase LIMA's presence abroad. We targeted the UK first because the business was further along there than anywhere else and there was no language barrier. LIMA UK opened in 1999 and Germany in 2001
How has LIMA represented or campaigned for the industry in the last 20 years?
LIMA doesn't lobby for the industry. The reason is that if you look at the composition of our membership there are issues that could be favourable to licensees but not licensors and vice versa. So we have avoided political issues like this. However if there was an issue that affected every-one then we would lobby aggressively.
What sort of licensing issues might you take a stand on?
We would be wise to have a position on something like obesity, for example, which might become important but hasn't yet in the US.
Explain LIMA's link with the ICTI code, relating to manufacturing conditions
It stands for The International Committee of Toy Industries and goes back to my days in the toy industry. Toy trade organisations from various countries adhere to a code that defines acceptable working conditions in the manufacture of toys. So many licensed products are toys that the LIMA board voted to support the code.
Do members have to adhere to the ICTI code?
No, we can't force people to. But we do urge them in the strongest possible terms. As far as I know many licensors incorporate it into their contracts. It's a business and a human response.
Are there other industry issues LIMA is working on?
We are trying to get an anti-counterfeiting code in place. It's hard because we cover so many product categories, but recently our Shanghai office has been working with local agencies to take the initiative. The problem is so deep-rooted and widespread that it will take years and years to achieve. But our position is that you have to start somewhere.
Do members ever ask you to get 'heavy' about counterfeiting?!
No! But there are opportunities for us to partner with major players to be part of a larger movement in the long term.
Looking back, what do you think are LIMA's most important achievements?
I think there are two. Firstly, the significant education we offer. From offering seven or eight seminars at the New York licensing show there will be 35 this year. Each of our four international offices is mandated to provide at least one or two educational programmes in their market each year. Also, I'm a speaker at conferences in different regions.
Secondly, to grow internationally as the industry takes hold. The best example is Japan. In 1992 we had five members, now there are 75 and Licensing Show Asia is becoming more important with Disney coming in for the first time. As a sponsor of the show we have been aggressive in soliciting exhibiors for it. The bi-product is that members elsewhere in the world have access to LIMA members in that part of the world.
Why did you set up in China?
This is a grass roots effort on our part, thinking long term about how the market will develop. The Beijing Olympics is in 2008 and I believe this will create awareness of licensing in China. I'm encouraged that the Chinese Government is the official licensor for the games because it will reinforce I.P. protection issues at the highest level.
What do you mean when you say that LIMA 'sponsors' the licensing shows?
It means we share in the promotional responsibilities of the shows. In New York we have a responsibility to put educational programmes in place.
Generally, it's PR and promotion and educational programming. We also share in show revenues.
How much does LIMA earn from the shows?
About 50% of our revenue comes from the shows, the rest is membership dues. All shows are enjoying good revenues, especially New York and London, which is a big plus for us. It enables us to grow internationally and to put money back into the industry.
So as the shows grow, you earn more?
Yes, the bigger the show, the more we earn.
Are the LIMA accounts published for members?
They are presented at the annual business meeting and summarised in a report.
Do members ever ask to see them?
Only two have! I interpret this as a sign of satisfaction with the way the organisation is run.
What kind of organisation is LIMA?
We are incorporated as a not-for-profit organisation, which is standard for a trade organisation here. We are subject to all company laws, the only difference being our tax structure.
Explain the structure of the Board
There is an executive committee (the chair, vice chair, treasurer, general counsel and me) which has responsibility for over-seeing finances. It reviews finances and recommends an operating budget. There is also a board with 16 directors which oversees the activities of the association, ensuring we follow the mission statement and that activities are positioned to serve the industry best.
Why is there only one non-US board member?
In reality anyone from any country can run for board positions. But we have an international board member post so that there is always one person not US-based.
With the exception of this special post, have you ever had a non-US person on the board ?
No! Not one has ever run for the board. Possibly we should communicate this better. The fact that four board meetings a year happen in the US may be a hindrance. But we might address this with teleconferencing.
How is the board elected?
We ask the membership for recommendations to the board. This year there are three licensee posts and four licensor posts open. We screen the recommendations and narrow them down to people active in the industry. A ballot is then put to the membership to vote.
What does the board discuss at board meetings?
Recent activities of the association, such as educational activities or the founding of the Shanghai office. Committee chairs report on their activities and propose new ones. We discuss our relations with shows and show sponsors.
LIMA publishes valuable research for an industry hungry for data. Will it be surveying the industry in Europe?
I'm confident that the LIMA survey for the US is as accurate as you can get for an industry. There's disappointment on my part that there is no similar programme in place for Europe. The trials we did on the UK and Germany were inaccurate. So we are looking for ways to approach Europe differently. The model in place for the US wasn't appropriate but I hope we'll have something new for next year.
So by 2006 there will be a European industry survey?
Yes I'm 98% certain.
Why has Europe been so hard to survey?
Lots of companies are reluctant to reveal data. I don't understand why when nobody here at LIMA sees it. Also some European offices aren't approved by the US to release data and there are complications over global deal reporting.
How many members are there in Europe?
There are 220, which is roughly 20% of our total of 1,012.
How will LIMA expand in Europe?
The Eastern European countries are certainly a focus. We don't have a business plan right now but they are on our radar screen and we'll decide how to approach it. We want to be the global organisation for the licensing industry and don't want to leave any market neglected. Candidly, from our perspective, it takes a significant investment to open a new office.
On your website you mention new services coming for members. What are these?
Most are in the educational vein. The US programme Anatomy of a Licensing Agreement is being expanded and we will create a German, Japanese and UK model, for example.
On the surface, LIMA looks like a very US organisation - how would you answer that comment from a European?
Yes, this is where the industry all started and the bulk of our membership is in the US. But we look at ourselves as being international. If a company is looking to grow its brand internationally it could miss out on a global organisation that offers events and networking around the world if it doesn't become a member. We have tried to expand our range of activities outside the US and I look forward to the day we have more of a mix on the board.
Do you think students ever choose licensing as a career?
At this point: no! Licensing flies under their radar. All of us have found our way here by happenstance. But we are creating more awareness of licensing as a career path.
How do you encourage students or new people into licensing?
We send mailings to universities inviting them to the New York show and offer student rates on the seminar programme. Now we are developing programmes on campus. There's been one at UCLA for ten years but this year there's also a licensing course at New York University. There's nothing in Europe yet, but it's on our list...
Finally, what do you think are the most important issues facing the licensing industry over the next five years?
Firstly, and especially in the US, the biggest issue is of retail consolidation. It's tough to find shelf space. So the issue of getting to the appropriate retail channels will be a major point of contention.
How will LIMA help its members get close to retail?
It's up to LIMA to provide information and education to help members. We'll communicate major information through email blasts, educational programmes and the New York show. The second major issue to affect the industry is the growing interactive market. We are bringing licensing and interactive parties together through our partnership at MIPTV, for example.
When will you next be in Europe?
I'll be there for Brand Licensing in October!
Subscribe and receive the latest news from the industry.
Join 62,000+ members. Yes, it's completely free.
You May Also Like
Loading..