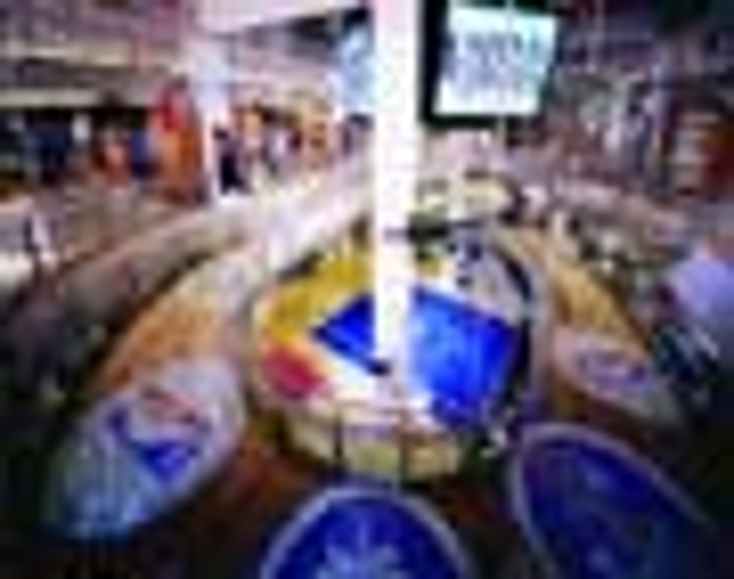 ]>From fairies to nostalgia to hamsters, Children's Book Fair and MIPTV sparked potential blockbuster trends, concepts, and properties.
It was a given that the Children's Book Fair, held in Bologna, Italy, April 11-14, would offer up expansions on already-successful children's properties as well as focus on new children's book properties. But, from Bologna to Cannes, France, where MIPTV opened a week later, children-from preschool to 'tweens and teens-were at the heart of properties to watch. What's more, License! got the scoop on up-and-coming properties that potentially will be the next "Harry Potter" and "Lord of the Rings." Plus, trends, trends, and more trends-overall product and marketing concepts that will now and in the future spark consumer interest at the movie theater, in bookstores, and in licensed merchandise at retail. Here, from my editor's notepad, property highlights from both shows.
Early Learning Aids Grow Up Early learning with a cause, is what's behind the "Doctor Spot" book series (author Jenny Leigh), from Haldane Mason, London. While three children's books are currently in the series, six to eight are expected by year-end. Currently available in the UK, a portion of profits from sales of the book support the National Asthma campaign.
Teletubbies
Everywhere (Ragdoll) previewed at MIPTV. Teletubbies co-creator Andy Davenport says, "Teletubbies Everywhere was designed to complement the existing Teletubbies programming," adding that in Teletubbies Everywhere, Teletubbies are not in familiar Teletubbyland. "In five years, Teletubbies has become a familiar part of childhood." Shapes, counting, and the ubiquitous "big hug" are found in the new programming. (For more details, see Pop Life, p. 162.)
I-Spy, termed "Brain-Building Games for Kids," has been a big hit thus far for Scholastic (New York). Available in 40 countries, according to Aleen Stein, director of international licensing, an I-Spy console game (Game Boy Advance) will launch first in the U.S. and then internationally.
Alliance Atlantis' So Smart series has already sold one million videos in the U.S., primarily at specialty stores. Now, the company has picked up international video distribution rights and interest is coming from Latin America, Mexico, Australia, New Zealand, Korea, and Japan. Alliance is looking at So Smart long-term, particularly merchandising initiatives with an eye on books, developmental toys, and CD-ROM. With seven videos currently available (So Smart has been on the scene since 1997), the series has walked away with 26 awards in the U.S. Retails range from $9.99 to $12.99.
Merchandising was key for The Harry Series from Gullane Entertainment. (Gullane acquired UK-based book publishing company David & Charles in January 2001.) "Harry and the Snow King," "Harry and the Dinosaurs say Raahh," "Harry and the Robots," "Harry and a Bucketful of Dinosaurs" each had unique hard and soft goods merchandised with them-like a bucketful of dinosaurs and a plush dinosaur that says "raahh."
HIT Entertainment announced at MIP its latest acquisition of Pingu. HIT has secured a five-year deal with Sony Japan, which allows Sony the rights for TV, video distribution, publishing, new media, and licensing in Japan. Pingu-a penguin-has been a success story in Japan among preschoolers, teens, and adults alike. Further episodes of Pingu will be produced by HOT animation (Bob the Builder).
'Tween, Teen Power
TV and online potential exists for Adventurers: Into the Vortex from Greenlight Media. Targeted to ages 8 to 12, Adventurers is the story of four kids of varied ethnic backgrounds, genders, and ages (two characters are 14, one is 9, and the other is 15) traveling through history. With German-based Super RTL, an Internet presence for Adventurers has been established. (Super RTL's site, www.toggo.de, boasts more than 25 million page impressions monthly. www.adventurers.com is linked with www.toggo.de.) According to Greenlight Media's Arwed-Ralf Grenzbach, executive vice president/marketing & licensing, the Internet portal will aid in the launch of the TV series. Greenlight believes that much merchandising can be built around the property, and licensing opportunities exist, particularly in fashion apparel.
United Media's Rita Rubin, senior vice president international licensing, relates that the 2grrls property is now available in France, Germany, Spain, and Portugal, and UM (New York) is hoping to have 10 to 15 more licensees by end of year. Further, major interest exists for the 2grrls property in Latin America, particularly Mexico. Asia, particularly Japan, is excited about the 2grrls property. Trend retailer H&M took on the property four years ago and has now re-signed through 2004.
Dot's Bots from Mainframe Entertainment brings Dorothy Dill to the 'tween, teen scene. The 12-year-old character and her brother, Arnie, 10, use junkyard metal to assemble robots. Twenty-six CGI animation half-hour episodes are available.
Ace Lightning, a co-production of BBC Worldwide and Alliance Atlantis, is a new 'tween action comedy that combines live action with CGI animation. Mark Hollander, a 13-year-old English boy, plays his favorite video game, Ace Lightning (also the name of the game's hero). Ace enlists Mark to help him defeat Lord Fear and his gang, all while Mark must continue to be a normal U.S.-based teen.
What's Old is New: Nostalgic Properties
The Osbornes (MTV Networks), featuring the real '80s heavy metal man Ozzy Osbourne and his family and their real-life, everyday family problems, has been on U.S. air since March 5, earning a 2.8 rating at its debut; its ratings were up to 6.8 rating by its April 9 episode (source, Nielsen Media Research). Following the U.S. success, MTV announced it will roll out the series internationally.
Out of the gate, Transformers was the No. 1 selling comic book in the U.S., with more than 200,000 copies sold, according to Hasbro's Tom Klusaritz, vice president global publishing and new business development. Targeted to ages 8-plus, Transformers is celebrating its 30th anniversary: In the '80s, it was a comic series, an animated TV series, and a movie, explains Klusaritz. Further, 52 episodes of Transformers are scheduled to appear on Cartoon Network in fall '02-'03. Apparently, Hasbro has TV rights, joint ownership, and control.
Also, a major book deal will be announced shortly for Hasbro's GI Joe.
Out of This World
London-based Impact brought 26 episodes of Ultra Guardians to MIP. According to the company, while episode one is finished, episodes two and three are in production. The story is based on a new planet, Centre World, and the year is 2048. In the year 2053, Omni Force was created to rid Centre World of Terras Nautlin, a madman. Omni Force-made up of five superbeings-was created and they eventually became Ultra Guardians, to protect the human race from evil. UK-based Wave is handling the merchandising. Some characters have a stop-motion feel, and Impact married a CGI feel with a cinematic quality.
There exists a world of today, a world of dinosaurs, and a world of the future, believes John Adams of The Future is Wild, a natural world of the future. The CGI animated feature film has taken four years to complete. (License! first reported on the property in May 2001.) A TV-series for The Future is Wild, produced by Bristol in the UK, took two years from conception. The Future is Wild will release its first book this October in German; an English version is expected spring 2003. U.S. broadcaster Animal Planet will begin airing The Future is Wild TV-series, January 6, 2003.
While the company is seeking potential licensees for the property, underway is a sublicense for audio/visual adaptations with Evans & Sutherland's DigiStar, which has 25 sites already in the U.S., China, France, and Spain. Production will begin in May and will be ready in 2003. DigiStar will work perfectly for The Future is Wild, according to Adams, as the world features the likes of a toraton, a 100-ton dinosaur that evolved from a giant tortoise. The largest dinosaur to date is roughly 90 tons, until now. From the grasslands to the desert and the ocean, the animal and plants evolve 5 million to 200 million years into the future.
Subscribe and receive the latest news from the industry.
Join 62,000+ members. Yes, it's completely free.
You May Also Like
Loading..