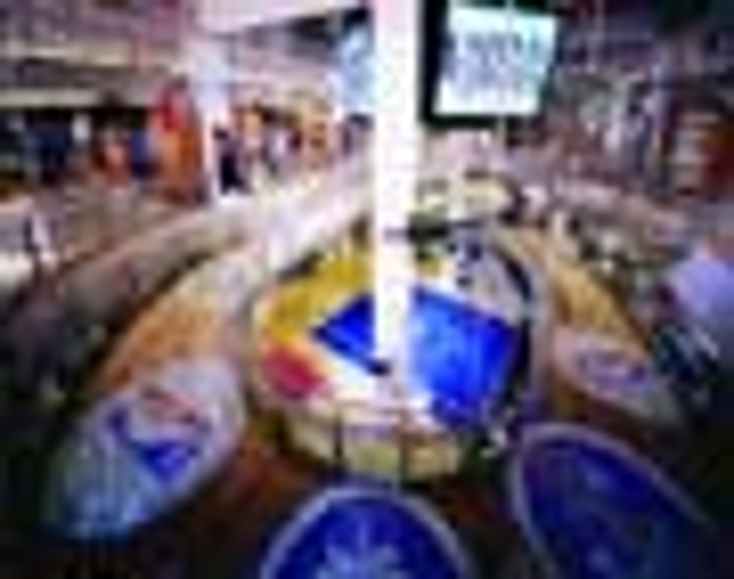 ]>Believability and community ties help bind ethnic consumers to licensed products.
In 1997, Cadore Moda USA introduced a line of eyewear aimed at the Hispanic market. In a licensing agreement with mega-popular Spanish TV talk show host Cristina Seguilere, the line became the "Cristina Collection." Last year, Jennifer Lopez and her Sweet Face Fashion Company partnered up with Parigi Group Ltd. to manufacture, market, and sell clothes for the teen and preteen markets-The J.Lo Girls Collection. Licensing is only beginning to cash in on today's biggest, burgeoning U.S. market: the ethnic market.
What exactly constitutes the "ethnic market"? According to a report from the U.S. Department of Commerce, "Minority Purchasing Power: 2000 to 2045," this fastest growing part of the U.S. population is made up of Hispanics or Latin Americans, Black or African Americans, Asians, American Indians, Native Alaskans, American Indians, and Hawaiians and Other Pacific Islanders. It is predicted in the report that "by 2045, minority purchasing power may reach $4.3 trillion." (See chart) The U.S. Census Bureau projected in its January 2000 report that the combined ethnic and minority population will grow from 79 million in 2000 to 178 million in 2045.Cornering the MarketExamples of licensing as a tool to garner more ethnic market share abound lately. In April, Time Inc. Brand Licensing announced the release of three CDs in the pop, tropical, and Mexican music categories; the first offerings from a series of Latina Music compilations created in a partnership between Warner Music Latina and People En Español magazine. Says Risa Turken, vice president of Time Inc. Brand Licensing, "We're very excited to be working with our sister company, Warner Music Latina, to create CDs that appeal not only to the People En Español reader, but also to an even wider music loving audience." Latin artists such as Ricky Martin, Cristian Castro, and Chayanne are featured on the CDs.
"We're
getting a tremendous response to People en Español apos;s first product line (the CDs), so that's promising," says Jennifer Bonhoff, associate licensing manager, Time Inc. Brand Licensing. "People en Español magazine is not merely People magazine translated into Spanish. It's actually written specifically with the particular needs and interests of the U.S. Hispanic community in mind. Any licensed product introduced must have that same specificity-otherwise it won't be relevant to the community we're trying to reach. As we expand People en Español apos;s licensing program, we'll continue to focus on product categories that not only reflect the qualities of the brand, but ones that also are relevant to the Hispanic market."
In a study from the Selig Center For Economic Growth, University of Georgia, it was reported that in the 10 years between 1990 and 2001, U.S. Hispanic buying power grew from $208 billion to $542 billion.
Community Connections
In a recently published report by the Food Market Institute in Washington, D.C., "U.S. Hispanics: Insights into Grocery Shopping Preferences and Attitudes," the question was asked, "Why does community involvement rate so highly among U.S. Hispanics?" The answer? "This ethnic group pays lots of attention to family and relationships. Sharing with people and with one neighborhood from day-to-day is a priority in Hispanic culture."
Connection to community is a key element in capturing ethnic market share. Kodak has long understood this, sponsoring scholarship programs for minority youths, as well as recently teaming up with Alan Page-the former pro-football-great-turned-Minnesota Supreme Court justice-to produce the Kodak/Alan Page Challenge, a nationwide essay contest encouraging minority youth to recognize the value of education.
Page is the founder of the Page Education Foundation, which provides mentoring and scholarships to Minnesota students to continue their studies after high school. "Page is doing great things in Minnesota to empower minority youth," says Dr. Alan Erlich, president, Transcultural Consultants. "He appeals to both older and younger African-American audiences [as a spokesperson]." The positive characteristics of a spokesperson can expand the sales of a product within the ethnic community, Erlich says. "A spokesperson such as Page has across-the-board appeal to Hispanic and Asian consumers, as well as African American. "
Cristina Seguilere is a celebrity spokesperson (aside from the Cristina Collection eyewear, Cristina has associated herself with both AT&T and Mastercard) with very strong community ties. She has garnered a number of community service awards, including one from the National Council of La Raza/Kraft Foods ALMA (American Latino Media Arts) for her exceptional work in heightening the awareness of HIV/AIDS in the Latino community.
Says Seguliere, on her Website cristinaonline.com, "I have collected eyeglasses all my life...I'm blind as a bat...So if I was going to have a line of products with my name on it, why not be something I really like and use?"
The believability factor in successful licensing is evident here. If Cristina were hawking bathroom cleaner, the audience probably would rightly assume Cristina does not, in fact, scrub her own tub, and, therefore, is not representing a product with which she has any firsthand experience. Dr. Erlich notes, "People want to believe in what they're buying because they're cautious with their resources."
Image Is Everything
Both Reyne Rice and Marshal Cohen of The NPD Group, a market research firm in Port Washington, NY, say image is key to successfully sell to the ethnic market. "The Hispanic market is much more about lifestyle, and being marketed to it directly. It is not about adapting to mainstream," says Cohen, co-president, NPDFashionworld.
Rice, director of marketing and communications, NPDFunworld (NPD's toy and video division), confirms that an honest matching of brand or spokesperson to product is essential to success in the ethnic market. "If the product selected to represent the license is mismatched by age group, gender, type of product category, or price profile, it can mean the kiss of death for that licensed property."
Dr. Erlich cites boxer Oscar de La Hoya as providing a positive image for the Latino market in the context of the "Got Milk" ads in which he appears. "He's strong, handsome, a battler," Dr. Erlich says. "He has a strong identity the Latino market can identify with." Oscar de La Hoya's strong ties to the Hispanic Community in Los Angeles are evidenced by The Oscar de La Hoya Youth Center. With believability and concern for the community going for him, de La Hoya is a licensing dream in the ethnic market.
Subscribe and receive the latest news from the industry.
Join 62,000+ members. Yes, it's completely free.
You May Also Like
Loading..