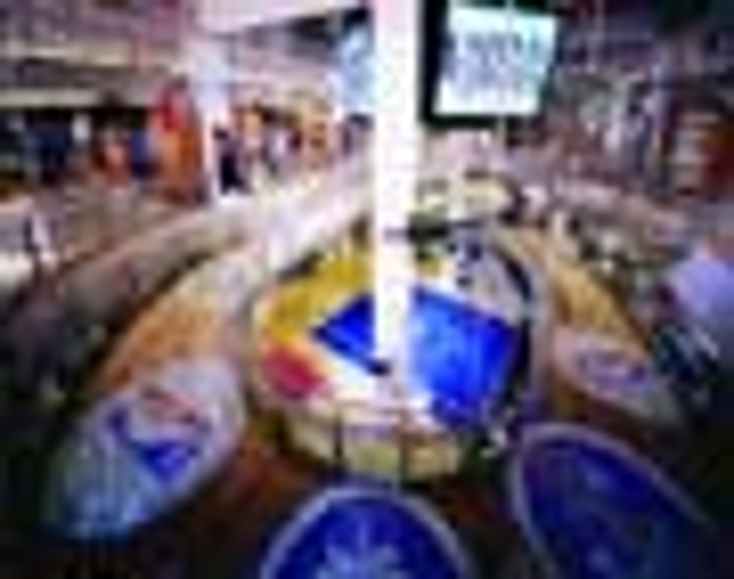 ]>Expo attendees check out the next generation of video games.
More than 60,000 interactive entertainment professionals from 70-plus countries honed their game plans for the future as they roamed the aisles of the 8th annual E3 Expo, held May 21 to 24 at the Los Angeles Convention Center. Some 400 exhibitors showcased thousands of new computer and video games and products-including more than 1,000 never-before-seen titles-at the show, which is owned by the Interactive Digital Software Association (IDSA).
Such titles should serve to boost computer and video game software sales even higher than the $6.35 billion mark hit in 2001, an 8 percent increase from the year before, according to Washington, D.C.-based IDSA. Indeed, a recent report by investment banker Jefferies Company forecasts the video game market, including PC games, will reach $21.4 billion in North America alone by 2005.Online gaming continues to be a topic of discussion in the video game arena. In 1999, IDSA research found that 18 percent of the most frequent game players in the home played online; this year, the number was 31 percent. However, IDSA data also show that the majority of gamers still prefer playing offline. What's holding online games back? "It's partly a dearth of content," IDSA President Douglas Lowenstein explained in his opening remarks at the show. "When those who don't play online were asked why, 30 percent said it was because they were not interested in the offerings available, three times any other explanation. Equally significant, when non-online gamers were asked if they would be willing to pay to play, only 6 percent answered yes."Interactive companies increasingly are looking at their in-house intellectual properties, such as Sega's Shinobi and Majesco's BloodRayne, as licensing opportunities. Other game publishers-including Electronic Arts, UBI Soft, and Infogrames-are turning their attention to younger kids, hoping to grow old with them as they progress in their video game careers. IDSA's annual consumer research released at the show found that nearly six out of 10 gamers have been playing for six years or more, and the same six out of 10 said they expect to play more or the same amount 10 years from now, according to Lowenstein. "In short, they were gamers yesterday, they are gamers today, and they will be gamers tomorrow." Title TracksE3 exhibitors showcased a mixture of upcoming releases, works in progress, new installments, and games for different platforms. Some highlights:
BAM! International
Dropship, Ecks vs. Sever, King of the Coliseum, Riding Spirits, Way of the Samurai, WipeFusion for PlayStation 2

A Sound of Thunder, Fire Pro Wrestling 2, Samurai Jack, The Farm for Gameboy Advance

The Powerpuff Girls for PS2, GameCube, PC

Reign of Fire for PS2, Xbox, GC, GBA
Bandai
hack-four-part series game for PS2 this fall, fusing action/RPG game play and anime

G Gundum is a new property from Cartoon Network for teen girls
Capcom
New installments of Devil May Cry (DMC 2) and Resident Evil (Resident Evil Zero prequel)
Conspiracy Entertainment
Tiny Toons Adventures: Scary Dreams and Wacky Stackers for GBA

The Land Before Time for GBA

An American Tail: Fievel's Gold Rush for GBA

Gadget Racers for PS2, GBA

The Flintstones: Big Trouble in Bedrock for GBA

Intellectual property: Enclave
Eidos Interactive, Inc.
Lara Croft Tomb Raider: The Angel of Darkness for PS2, PC

TimeSplitters 2 for Xbox, GC, PS2

Hitman 2 for Xbox and PS2

DX2: Invisible War for PS2, Xbox

Republic: The Revolution and Virtual Resort Spring Break for PC
Fox
No One Lives Forever 2 for PC
Electronic Arts
Co-publishing with Fox Interactive The Simpsons Skateboarding for PS2 this summer

The Sims City 4 for PC (Sims Online is nearing beta test)

NHL 2003 and Madden 2003 for PC will have online functionality, as will Madden 2003 for PS2

Need for Speed: Hot Pursuit 2 for PS2

NASCAR Thunder 2003 for PS2, Xbox

Harry Potter and the Sorcerer's Stone for PS2, Xbox, GC

Lord of the Rings for PS2, GBA

James Bond 007: Phoenix Rising for PS2, PC

Buffy the Vampire Slayer for Xbox

Battlefield 1942, Medal of Honor Frontline, Aliens: Colonial Marines, and The New World 1503 for PC
Infogrames
Superman: Shadow of Apokolips

Heading to multiple platforms: Terminator: Dawn of Fate for Xbox, PS2; Mission Impossible: Operation Surma (Xbox, PS2, GC, GBA); Men In Black II: Alien Escape for PS2; Deadly Dozen: Pacific Theatre for PC

Driver 2 (working title) for GBA

Battle Engine Aquila for Xbox, PS2

Dungeons and Dragons Heroes for all next-gen consoles

Zapper (working title) for all platforms

Taz: Wanted for next-gen consoles and PC

LOONS: The Fight for Fame for Xbox

Godzilla: Destroy All Monsters Melee for GC

Nickelodeon Party Blast for all platforms

PC's Backyard Football for GC and GBA; Backyard Hockey for PC

TransWorld Snowboarding for Xbox

NASCAR Heat 2 (working title) for PS2, GC

Dirt Track Racing 2 for PC

Monopoly Party, Risk, Wheel of Fortune for next-gen gaming

Master of Orion III for Macintosh
Majesco Interactive
Partnered with UK developer Rage Software to publish 10 of its top games in the U.S. for 2002; agreement now possibly includes additional titles for release in 2003

Intellectual property: BloodRayne for Xbox, PS2, GC, PC

Black & Bruised for GC, PS2

Bomberman and Generations for GC

Earthworm Jim 2, BattleBots, Turbo Turtle, Hyperspace Delivery Boy

Officially licensed racer Lamborghini for Xbox, PS2

Rolling for Xbox, GC, PS2, GBA

Three licensed titles from Cartoon Network for GBA in 2003
NewKidCo
Tom and Jerry War of the Whiskers and E.T. Return to the Green Planet for PS2

Little League Baseball 2002 for GBA, GC (targets children ages 5 and up)

The Super Stoo-Pendous World of Dr. Seuss and Dora's Pirate Treasure Hunt for GBA

E.T. Cosmic Garden (working title) for GC
Sega
Looking to release sports titles for NHL and NFL at the beginning of the sports seasons; New sports titles coming this fall for NFL, NBA, NHL, NCAA, baseball, soccer, and tennis

Super Monkey Ball: looking to get into movie or animation; Sprint has non-exclusive with cell phone for SuperMonkey Ball

Intellectual property: Shinobi to be released fourth quarter on PS2; looking for animation, feature film, action figures

Third exclusive title for Panzer Dragoon ORTA

Classic franchises such as Virtua Cop and ToeJam & Earl are being updated with new titles

Sequels: CRAZY TAXI 3, House of the Dead 3, Sega GT 2002 for Xbox; Super Monkey Ball 2 for GC; Bass Fishing 2 for PS2

New launches: Beach Spikers for GC; F355 Challenge for PS2; Phantasy Star Online for GC
TDK Mediactive
Shrek Extra Large (working title) for GC; and Shrek Party (working title) for Xbox

Additional Shrek titles published on multiple platforms; in development with Japan's Tose, an action/adventure game is scheduled to release in September

Aquaman for GBA in October

He-Man Masters of the Universe for September/October

Robotech for October for Xbox, PS2, GC

Robotech: The Macross Saga for fall release

Intellectual properties: Pryzm Chapter One: The Dark Unicorn for PS2 debuted last E3 and was released this E3; Max (Kangaroo); Lady Sia

Secured Chevrolet license for interactive video games, specifically dedicated to the Corvette 50th anniversary (titles scheduled for next-generation consoles in 2003)
UBI Soft
New licensing agreement with Eidos for Lara Croft Tomb Raider: The Prophecy for GBA

New licensing agreement with MGA Entertainment for Bratz video games for PC and all next-generation consoles

Far Cry is targeted for PC release during the first half of 2003, with PS2 and Xbox versions later that year

Tom Clancy's Rainbow Six: Raven Shield for PC and Xbox

The Sum of All Fears for PC

Tom Clancy's Ghost Recon and Tom Clancy's Splinter Cell for Xbox

Intellectual property: Rayman 3 Hoodlum Havoc for all next-gen consoles and PC

XIII; Shadowbane; Crouching Tiger, Hidden Dragon
Wizards of the Coast, Inc.
Magic: The Gathering Online (an electronic trading card game that lets players
Subscribe and receive the latest news from the industry.
Join 62,000+ members. Yes, it's completely free.
You May Also Like
Loading..