DreamWorks Animation SKG (DWA) is dreaming big these days. Big in terms of box office performance, franchise development, new properties, emerging global markets and consumer products as the studio looks to bolster its position as a leader in technology, family entertainment and brand licensing.
The multi-billion dollar Shrek franchise, which has been a driving force for the studio over the past decade, is coming to an end on the big screen, but DWA is aggressively expanding several other properties and developing new ones, while pursuing a plethora of multi-platform opportunities.
As the creative content keeps flowing out of the newly expanded Glendale, Calif., corporate campus and studio, the worldwide consumer products group, headed by Kerry Phelan, Brad Woods (domestic) and Sheila Clarke (international), has an abundance of properties to work with and some ambitious plans in brand extensions.
"We are accelerating development and moving to a new business model based on five films every
two years," explains Phelan. "We are expanding the studio and pipeline and 2010 is the first year in which we will have three new films and it is the first time any animated studio is releasing three films in one year."
"It's quite an undertaking," adds Woods, "and we are very excited about it as it represents another milestone in the company's history."
With its three major films in 2010—two of which mark the beginning of new tentpole properties,
How to Train Your Dragon
and
Megamind
—DWA will churn out a total of eight films in three years.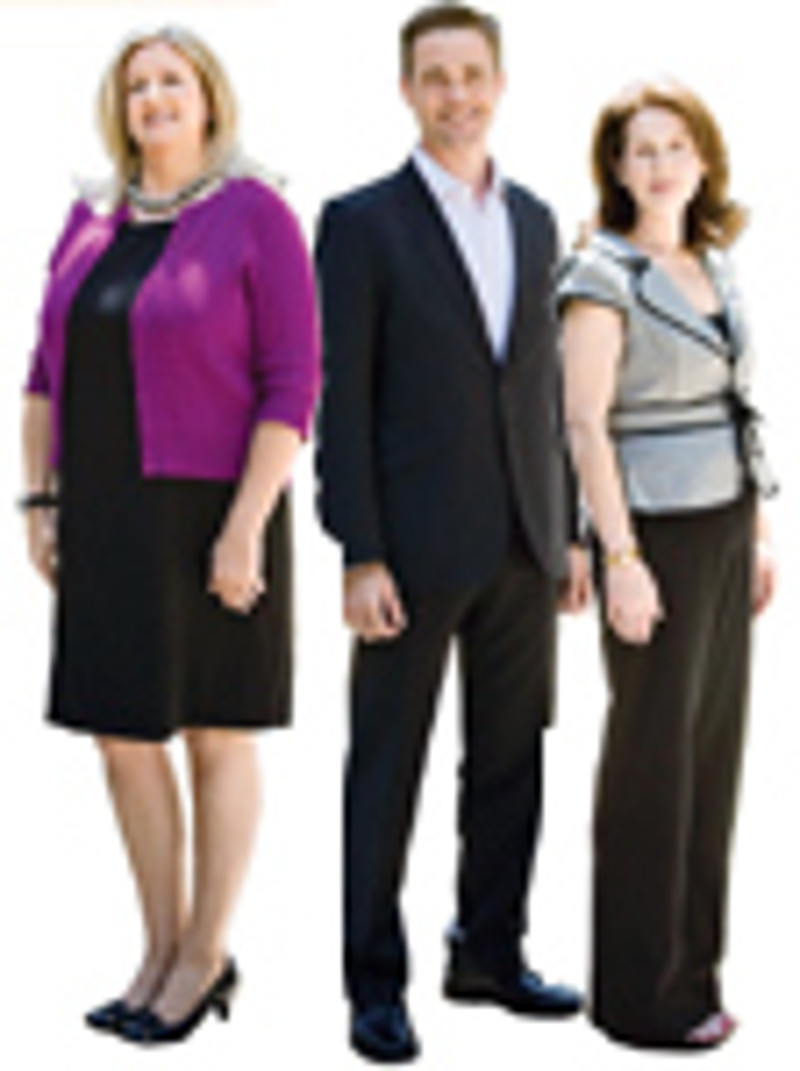 DWA is filling the pipeline for family and kids' entertainment and becoming more aggressive globally than ever before in its relatively short history since becoming a publicly traded (NASDAQ) company in 2004, headed by chief executive officer Jeffrey Katzenberg, one of the original co-founders of DreamWorks SKG.
The major theatrical releases scheduled over the next few years certainly answer the company's strategic mantra to produce "high-quality family entertainment with cutting-edge technology." The film slate includes:
2010:

How to Train Your Dragon

(released March 26);

Shrek Forever After

(released May 21);

Megamind

(Nov. 5).

2011:

Kung Fu Panda: The Kaboom of Doom

(May 27);

Puss in Boots

(Nov. 4).

2012:

The Croods

(first quarter);

Madagascar 3

(second quarter);

The Guardians

(working title, fourth quarter).

2013:

How to Train Your Dragon

sequel;

Trolls

(to be announced).

There are two other original films in the works—no dates yet announced—

Truckers

, based on The Bromeliad Trilogy by Terry Pratchett and

Boo U

, a ghost-related project.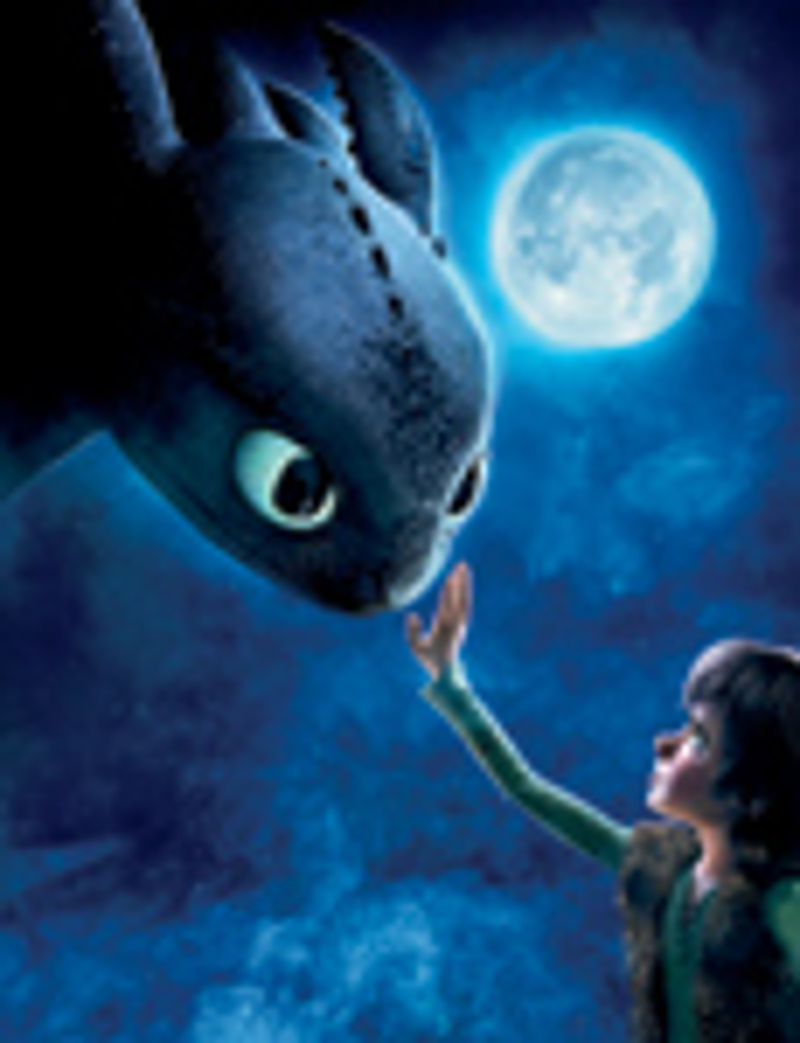 DWA's films have been consistent performers at the box office—
Kung Fu Panda
, $215 million;
Madagascar 2
, $180 million;
Monsters vs. Aliens
, $198 million;
How to Train Your Dragon
, $217 million; and
Shrek Forever After,
$234 million. Furthermore, this year's two films,
Shrek
and
Dragon
rank (through June) as two of the top five box-office films behind
Alice in Wonderland
($334 million) and
Iron Man 2
($306 million).
While DWA has upped its production from two films per year to five films every two years, the long-range goal is to increase output to three films per year although no specific time frame is in place.
Considering the lead time for 3-D film development, as well as the substantial investment in its infrastructure and creative staff, DWA's commitment to the future is evident and has been well received by the financial community.
In 2009, DWA reported total revenue of $725 million and net income of $151 million, up from $650 million and $142 million, respectively, in 2008. Based on the average projections of analysts (as of June 30, 2010), revenue in 2010 is projected at $801 million and revenue in 2011 is projected at $903 million with EPS at $1.78 in 2010 and $2.25 in 2011.
Katzenberg, not surprisingly, is bullish on 3-D saying at a recent media and telecom conference in New York sponsored by Jefferies, that it is "the most amazing new storytelling tool to be put in the hands of filmmakers in many decades. The sooner the world, moviegoers, audiences and Hollywood start to understand that this is a unique opportunity to immerse audiences into the movie world of storytelling in a way that is much greater and much more compelling than what was ever possible before. This is a genuine technological innovation that is going to empower (and already has) filmmakers to amplify the feelings that people have when they are watching these stories."
He also says that the incremental cost of 3-D technology continues to decline and that theatergoers will continue to pay a higher premium for the technology.
While the innovative studio is becoming a major force in cutting-edge 3-D technology, the licensing and merchandising group is also pushing the envelope in its approach to product development, promotions and partnerships.
According to Phelan, DWA has established a multi-platform strategy that focuses on theatrical releases in 3-D only, television series and TV specials, live events, and interactive/online virtual worlds.
"We are very serious about the business of building long-term franchises," says Phelan, "and in order to do that we are expanding our media platforms."
Television. The strategy for television, which is key component of establishing a bona fide long-term franchise, includes traditional programs, as well as themed specials. DWA released its first animated TV series, "The Penguins of Madagascar," with Nickelodeon in 2009 and the show has won several awards and experienced strong ratings results and is Nick's second-highest-rated show behind "SpongeBob SquarePants."
DWA is also planning a second series, "Kung Fu Panda," in collaboration with Nickelodeon, which will debut in the 2010-2011 season.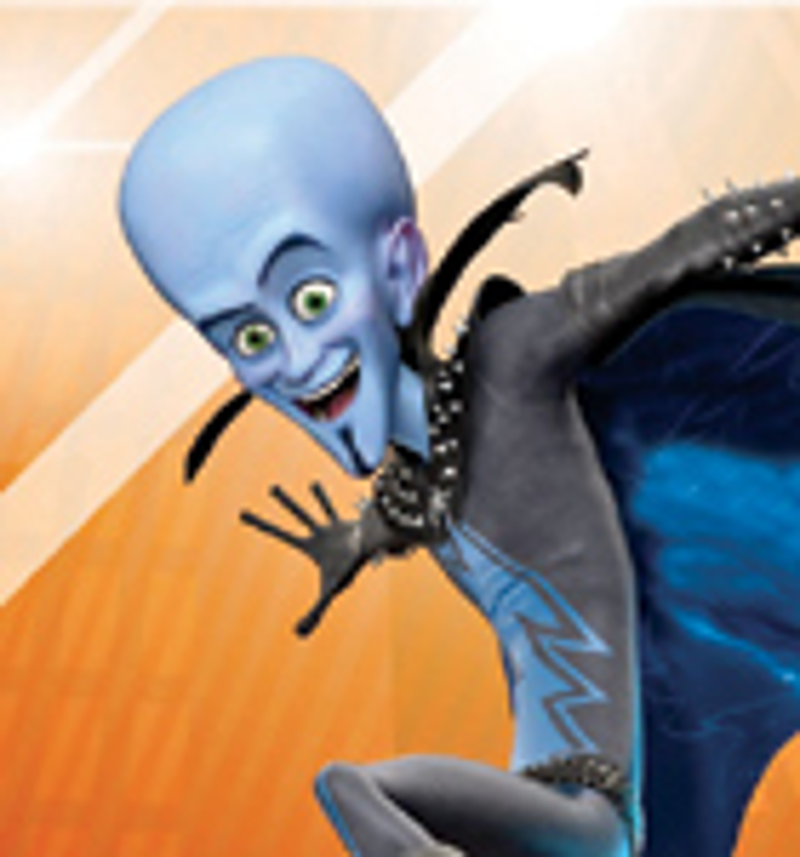 TV specials. According to Phelan, the TV specials are all being developed internally by the same creators of the feature films giving the studio control over content and greater synergy in the development of exclusive consumer products. The first TV special, "Shrek the Halls," aired in November 2007, and "Merry Madagascar" and "Monsters vs. Aliens: Mutant Pumpkins from Outer Space" debuted last year. For holiday season 2010, two new specials will air on NBC, "Scared Shrekless" and "Kung Fu Panda Holiday."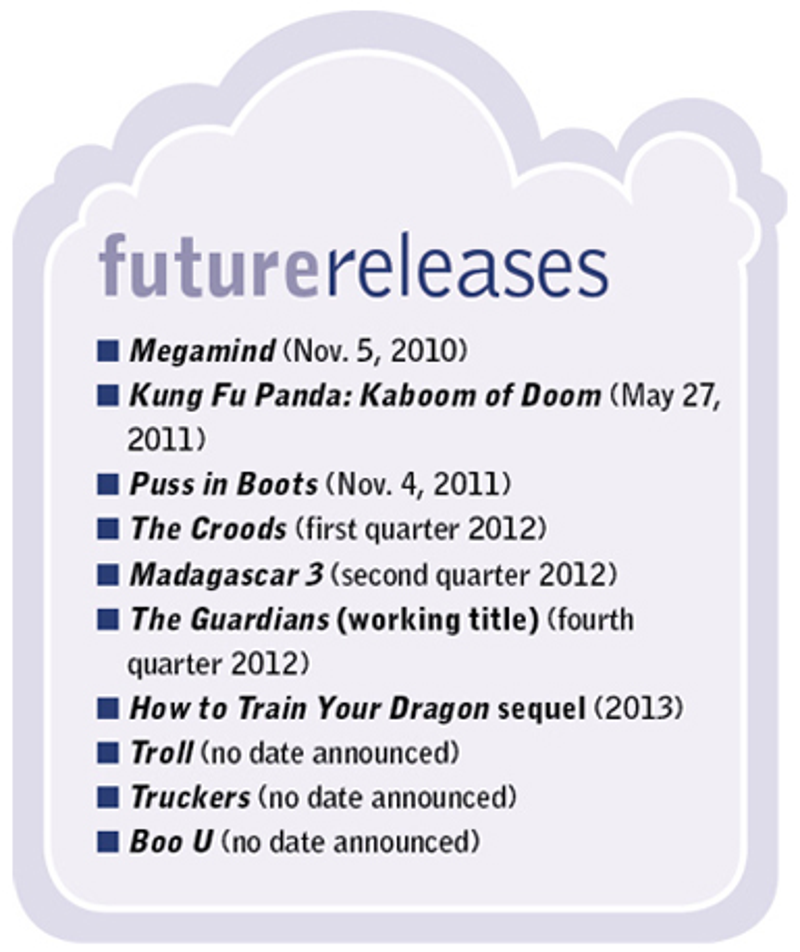 Live events. Another strategy that helps DWA to extend its customers' experience and franchises is the development of live events. "Shrek The Musical," which debuted in December 2008, will launch a tour of 60 cities in the U.S. and eventually will go to international markets, as well. Along with producers DreamWorks Theatricals and Neal Street Productions, Broadway In Chicago will launch a national tour in Chicago at the Cadillac Palace Theatre from July 13 to Sept. 5.
Phelan says that a live show based on
How to Train Your Dragon
is also being developed.
Virtual worlds. "We are also developing virtual worlds internally for kids to go online and to continue to engage with our stories and characters and enter the world that these characters live in," says Phelan. "We launched our first initiative last month with a Kung Fu Panda virtual world with great success."
"These are great examples of how we are going to keep our stories and characters alive in between the feature films/tentpole events every three years or so," explains Phelan. "In the past we would go dark on the property, but now we have multiple ways to stream content to consumers and keep stories, characters and engagement with fans alive and help strengthen that bond."
Publishing. DWA is expanding its licensing offerings in publishing by testing the fledgling digital segment. Two digital books were recently launched on iTunes based on the How to Train Your Dragon property. "It's an exciting new area for the publishing world to analyze and figure out how to make it a more robust business. It's still in its early stage for licensing, but we had good success and are looking to expand it."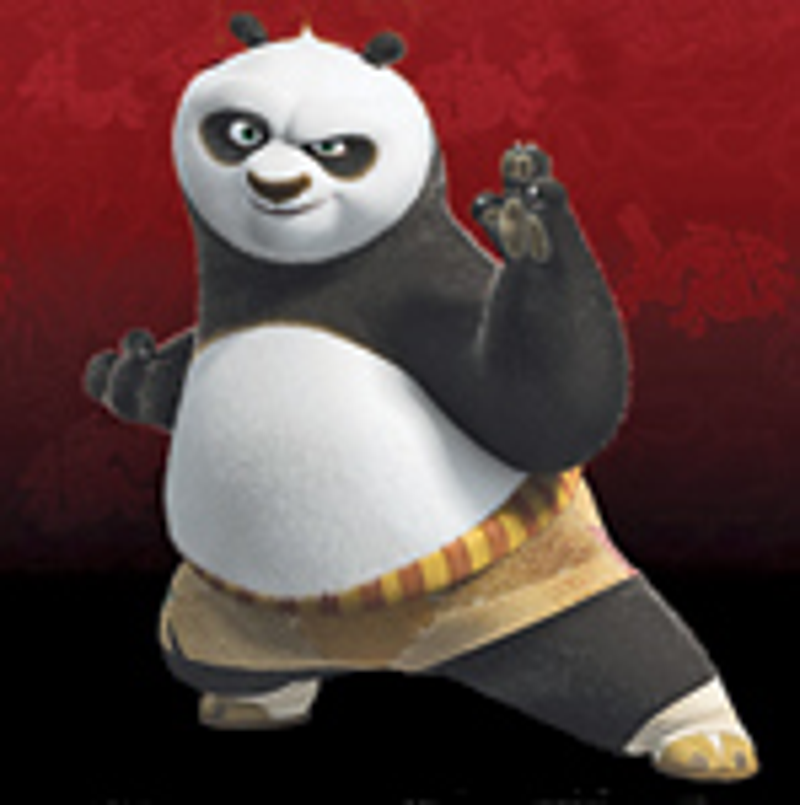 The licensing and merchandising group—evidenced by its longstanding Shrek programs and retail partnerships—is gearing up for expansion worldwide.
While DWA does not break out its global retail sales of licensed merchandise, it is estimated that the studio would likely be within the top 20 global licensors based on the exclusive Top 125 Global Licensors ranking produced annually by
License! Global
magazine. In this year's report, for example, the No. 20 licensor reported global retail sales of licensed merchandise of $2.7 billion.
DWA's licensing group has implemented some innovative merchandising programs this year, including its exclusive store-within-a-store concept with Walmart for How to Train Your Dragon, an agreement with Royal Caribbean Cruise Lines for themed entertainment and a co-branding promotion with Vidalia Onion.
"We worked with Walmart early on, showed them the film and they shared our passion and enthusiasm," explains Phelan, "and we developed a way to leverage the property. We had a major feature shop with a 40-foot Viking ship and it involved categories across the board. It was a great way to launch the franchise with the clout of Walmart."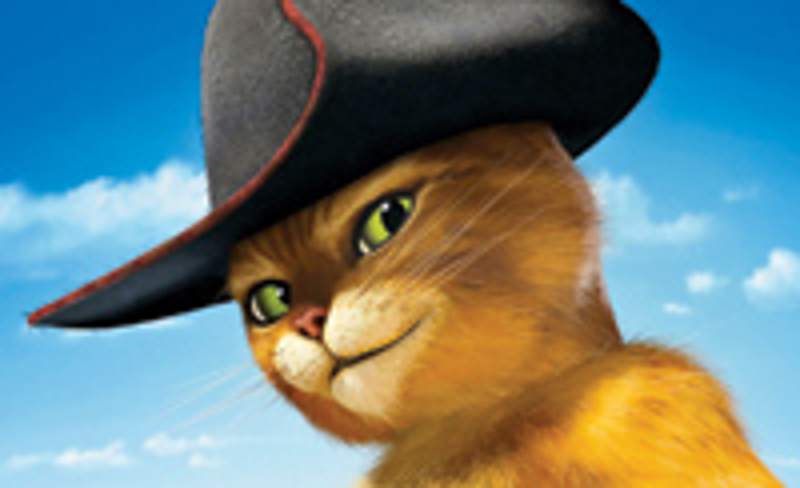 "It created the ultimate destination for all things dragon which was a compelling message, especially for a new property," says Phelan.
DWA's partnership with Royal Caribbean, announced last month, will offer cruise ship guests exclusive shows and activities featuring the studio's key franchises. It will debut on Royal Caribbean's newest ship, Allure of the Seas, in December.
DWA's promotion campaign with Vidalia Onion, "Shrek Forever After, Vidalias Forever Sweet," used the film's characters on packaging and in-store displays and also featured an online contest.
The driving factor to DWA's licensing strategy is its core franchise properties that include Shrek, Penguins of Madagascar, How to Train Your Dragon and Kung Fu Panda, which are now being complemented by several new properties being launched.
Phelan's philosophy is to have "one partner that forms a strategic alliance across all categories and not to slice and dice it."
One of the most extensive licensing programs this year was developed for Shrek. "We had opportunity to learn what works and what doesn't work which enabled us to be very deliberate in our strategy," says Phelan.
For example, Phelan says DWA brought back Shrek Operation!, from Hasbro, which was very popular for
Shrek 2
. The master toy partner, Playmates, created a collection of figures, plush, dolls and role-play toys. OPI, maker of nail polish, created six limited-edition Shrek-themed lacquer colors. Other partners included: Activision (video game); Blue Bunny, (ice cream); General Mills (cereals); Hallmark (greeting cards, party goods); Hostess (snacks); Penguin (books); and Rubies (costumes).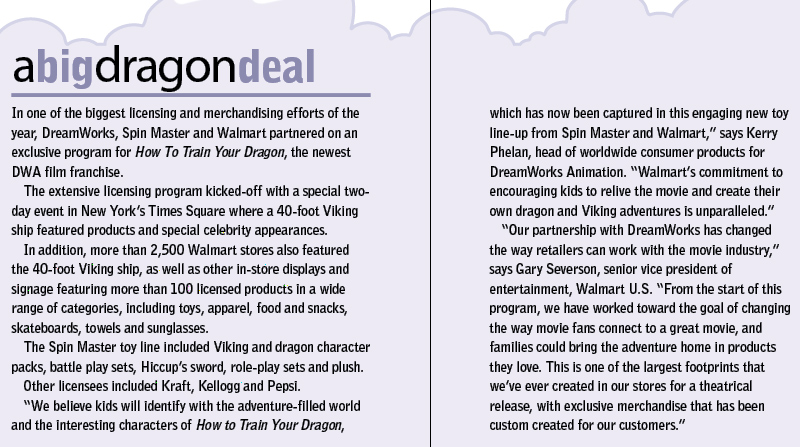 "Kung Fu is a perfect example of how we are bringing all different platforms to bear in one franchise. A virtual world is up and running, an animated TV series with Nickelodeon launches in late fall and a holiday TV special is planned," explains Wood. "This will all help drive incredible consumer awareness leading up to the sequel next year."
This comprehensive approach will be replicated for other franchises, as well.
Phelan and the licensing team are excited about the new property Megamind and the potential it offers. She believes "Megamind will do for the superhero genre what Shrek did for fairy tales with an unexpected humor and ending. It's very licensing friendly for toys, gaming, publishing and mobile apps."
International expansion is also critical to the future of DWA's licensing strategy. According to Clarke, DWA's franchises have a strong awareness and popularity in new markets such as India, China and Russia.
She says DWA is working with key retailers and local licensees on more nontraditional promotions, such as with SC Johnson for Shrek-branded Off! and Raid in Canada. Another major brand licensing partnership is with a fashion apparel retailer, Metersbonwe Group, in China with 3,000 stores.
The dream makers at DreamWorks are thinking big and obviously enjoying it as the company was ranked No. 6 in
Fortune's
annual report "100 Best Companies to Work For."
The multi-platform strategy, cutting-edge 3-D technology, global penetration and innovative licensing deals, will drive not only growth in the future, but also significantly influence the dynamics in the animation, family entertainment and brand licensing sectors.
Subscribe and receive the latest news from the industry.
Join 62,000+ members. Yes, it's completely free.
You May Also Like
Loading..