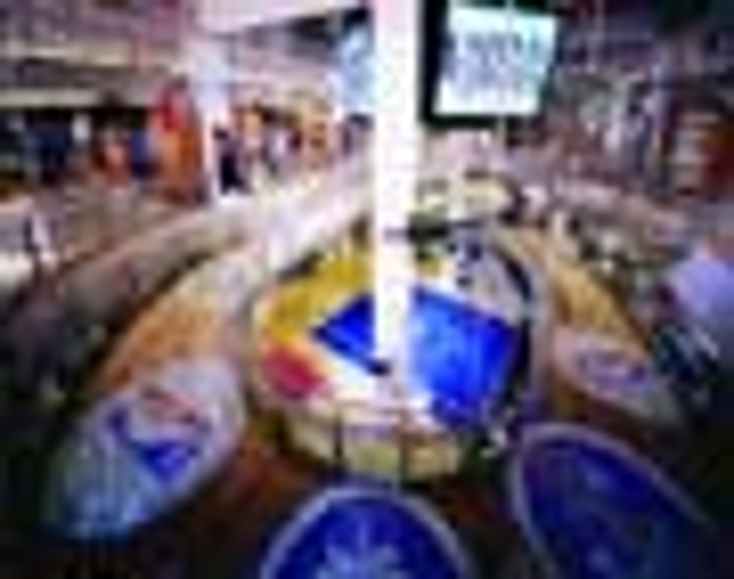 ]>Manhattan's museums, libraries, and galleries offer myriad artistic places to visit.
Historically, much inspiration for commerce has come from the world of art. Remember Raymond Lowey, who was under the influence of Modernism when he designed the Studebaker in 1949? Now think of Mondrian and Yves St. Laurent, Bridget Riley and Bergdorf Goodman, Keith Haring and Swatch Watches, and Jennifer Bartlett and New Amsterdam Beer. Where would Louis Vuitton be without Graffiti? Luckily, in the 21st century, inspiration for anything is found literally everywhere, and no source and subject make too wild a pair.
What better source of inspiration than New York City with its wide range of museums, libraries, and galleries. In this first inspiration hunt that will span cities, License! visited a short list of both famous and obscure destinations. Call it enlightenment.Making the RoundsAlways contrary, Claus Oldenberg used the commercial to inspire his art. In the 1960s, his giant statues of erasers, cigarette butts, and spoons set the art world on its ear and made it laugh. See the drawings for these and other masterpieces at The Whitney Museum of American Art, 945 Madison Ave. at 74 St. Then for the real thing (cutlery to cushions), visit The Cooper Hewitt National Design Museum, 2 E. 91 St., for "Russell Wright: Creating American Lifestyle," a comprehensive show of the industrial designer's oeuvre.
Meanwhile,
some of the most exquisite decorative arts in town are by early 19th century masters such as Adolf Loos and Koloman Moser and displayed at the Neue Gallerie, Fifth Ave. and 86 St., Ronald Lauder's elegant new museum. While admiring these precious objects (and taking in Leonard Lauder's shimmering Klimts), you also should peruse the beautiful paintings and book by Oskar Kokos (on view only through June 10).
Speaking of books, for those familiar with The Morgan Library, 29 E. 36 St.-whose vast collection contains the bejeweled "Lindau Gospels," as well as classic early children's books-May Castleberry, editor of the Library Council Publications at The Museum of Modern Art (closed temporarily), suggests a visit to Glenn Horowitz Book Seller, 19 E. 76 St., (212) 327-3538 (by appointment only). Or you can read all about the contemporary art scene while you snuggle into a vermilion chair at the Dia Foundation For The Arts, 548 W. 22 St. Designed by Jorge Pardo, this space wins kudos as the most colorful and comfortable bookstore in New York. Across the street, Printed Matter, 535 W. 22 St., offers cutting-edge volumes with award-winning book designs.
Just down the Avenue from the Neue Gallerie, "Adrian: American Glamour" at The Metropolitan Museum of Art, Fifth Ave. and 82 St., celebrates the work of a designer who was an inspiration to the worlds of theater, movie, and fashion. Adrian's gown for Joan Crawford in Letty Lynton (1932) was such a sensation that Macy's bragged about selling 15,000 copies. Sears featured its own version for $1.29.
And if thoughts of the moving image move you, The American Museum of the Moving Image, 35 Ave. at 36 St., Astoria, Queens, has a core exhibit: "Behind The Screen," with information on everything from animation to licensing.
Simultaneously, The Museum of Television and Radio, 25 W. 52 St., where you can watch and listen to more than 100,000 television and radio programs, is featuring "The Sound of His Music, a Tribute to Richard Rodgers." This includes a screening of Carousel (1967) with Robert Goulet and Mary Grover at the Armstrong Circle Theater.
Subscribe and receive the latest news from the industry.
Join 62,000+ members. Yes, it's completely free.
You May Also Like
Loading..