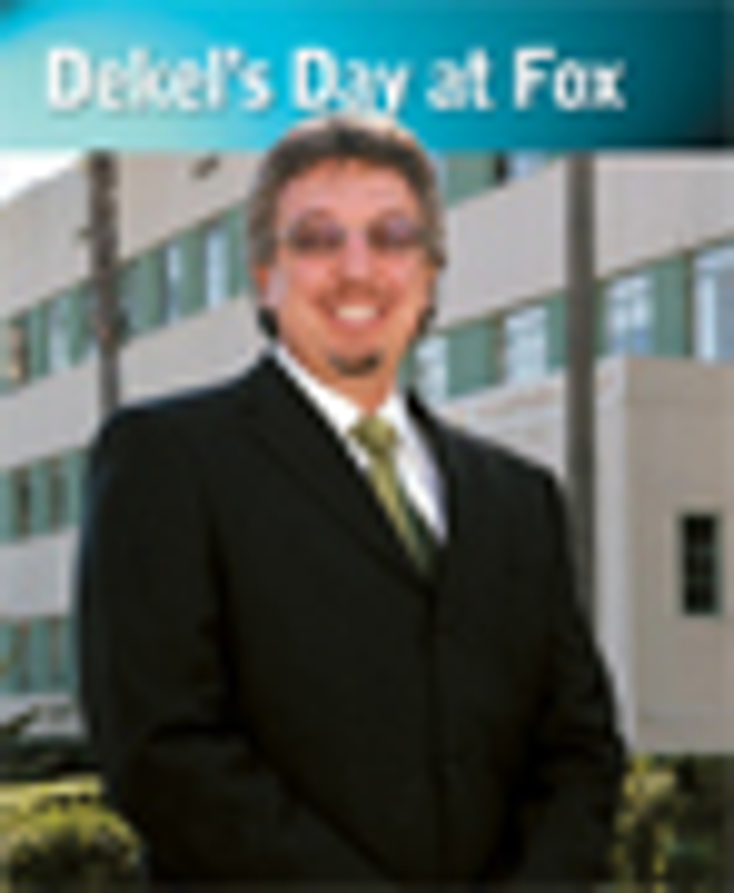 Celebrating his third anniversary as EVP of Fox Licensing & Merchandising, Elie Dekel has spearheaded growth, diversification, and an esprit de corps that has increased the studio's worldwide retail sales of licensed products and created new opportunities for the future.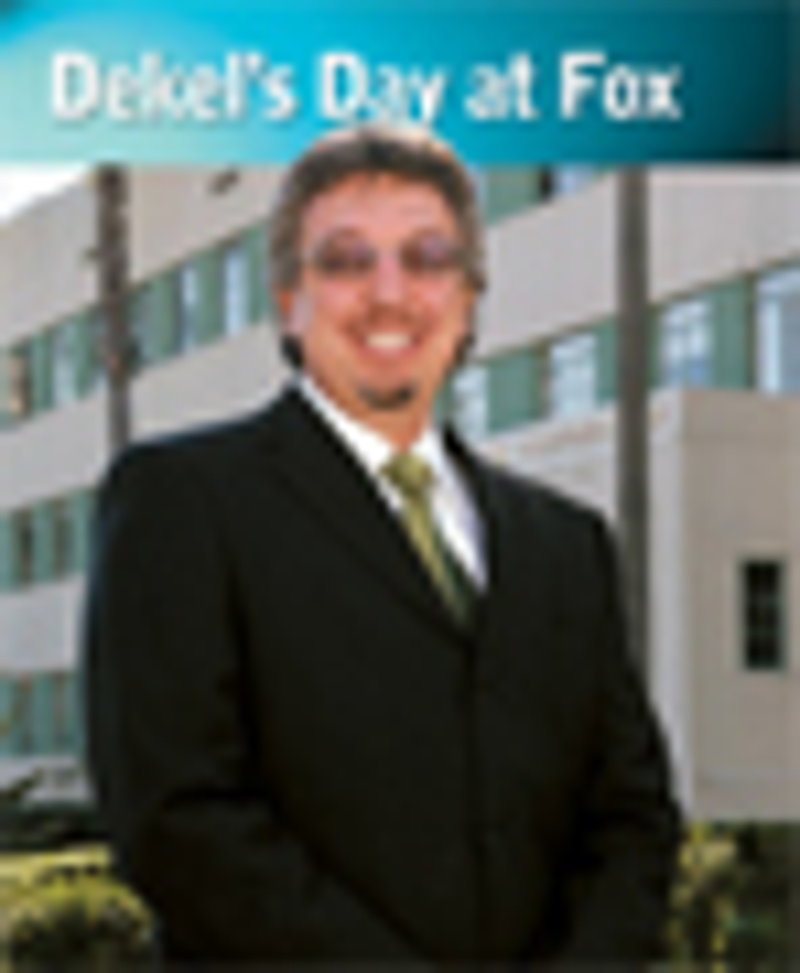 Whether he's chairing the regular business meeting with his management team, participating in a teleconference for a new theme park attraction, or jetting to Japan for a quick meeting, Elie Dekel, executive vice president, Licensing & Merchandising, Twentieth Century Fox, displays a penchant for listening, a persistence for action, and a track record for results.
Unlike the celebrity of other corporate executives like Apple's Steve Jobs, who recently made his 11th appearance on the cover of
Fortune
Magazine, or the celebs he deals with daily in the star studded business of Hollywood, Dekel remains a hands-on manager and an understated leader who prefers to travel a little under the radar than way above it.
"I have established a culture of collaboration, communication and openness between licensing and merchandising and the many divisions of the studio," Dekel tells
License! Global
Magazine. And it's been his team-centric approach and style that has enabled cooperation among the various Fox
groups, as well as the growth of the studio's licensing business.
"Dekel is an inspirational leader who engenders a collaborative environment and in Hollywood that's a rarity," says Michael Peikoff, senior vice president, Licensing & Merchandising. "He is all about leadership by example, and the Fox L&M culture is a direct reflection of his leadership style."
While Homer's life-size image, which is displayed in the board room, may dominate the Fox L&M team's staff meetings and subtly remind everyone that the Simpsons is the group's largest property worldwide, Dekel's typical agenda spends less time on the Simpsons and puts more focus on new opportunities and properties.
That was his mantra when he joined the Fox L&M team in June 2005: extend the business beyond the widely successful Simpsons brand—the series will celebrate its 20th anniversary in 2009—as well Family Guy, the group's second largest property.
"There was a general feeling that the company was on a very significant winning streak," recalls Dekel. "The diversified global media enterprise was and continues to be at the top of its game."
While Fox L&M was well established, Dekel says that there was a belief that "the group needed to take greater advantage of all the other opportunities around the company."
"Some of our competitors are outsourcing and we don't want that to happen," explains Peikoff. "So we needed to broaden our product offering to keep us viable in the marketplace."
And after observing the typical Fox L&M weekly staff meeting, it's obvious by the lengthy agenda that the portfolio has grown significantly beyond The Simpsons and Family Guy to include almost every division in the company, as well as some surprising properties. Among some of the examples of how the Fox L&M team has broadened its business portfolio and extended its flagship brands:
Theme park attraction. The new Simpsons ride, which is scheduled to debut this spring in the Universal theme parks in Orlando and Hollywood, is the largest manifestation of the brand to date, according to Dekel. And it will help enhance the Simpsons as a true evergreen brand over the next decade and beyond.

Microsoft. One of the major programs for Fox L&M has been its relationship with Microsoft and its recent appointment as licensor for Halo, giving it a major footprint in new media.

Fox Walden Media. This deal, which was inked last year, positioned Fox L&M as the exclusive licensing agent for Walden Media, further diversifying its portfolio and giving it access to such movie titles as Nim's Island and City of Ember.

Fox Sports. Another opportunity within the Fox sports family is Speed TV, which gives the L&M group an opportunity to tap into the racing audience, including NASCAR.

Fox Searchlight. Yet another example of Dekel's strategy of looking at new niche licensing opportunities is this independent film division, which most recently had the hit film Juno.

E-Commerce. While The Simpsons store launched a few years ago, the recent launch of

foxshop.com

across multiple brands has positioned Fox L&M in the direct-to-consumer business. "This enabled us to leverage certain properties that might not otherwise get acceptance at retail and to develop a program that is targeted to fans," explains Dekel. One key example is "Buffy the Vampire Slayer," which last aired in 2003, yet has significant fan base.
Dekel also believes that one of the most important factors for the continued growth of Fox L&M is retail marketing and partnerships. "We need to have an increased emphasis on developing retail relationships," he says. "The market factors are such that everyone is looking for a more efficient and effective way of reaching the consumer where it counts and that's on the store shelves."
And then there's the international licensing business, which offers Fox L&M a multitude of opportunities to expand its flagship brands in established markets and develop the new emerging markets. (See sidebar).
Based on worldwide retail sales over Dekel's three-year tenure, the strategic plan is working. Fox L&M has grown worldwide retail sales in three years by 25% to $1.75 billion in 2007, according to the exclusive Top 100 Global Licensors ranking (see April 2007) published by
License! Global.
So when Dekel recalls the first licensing summit that the Fox L&M group hosted in late 2005, the original message, dubbed "Generation Fox," still resonates loud and clear.
And as he celebrates his third anniversary with Fox L&M, the Dekel strategy is obviously working and there's no let up in site. The excitement and enthusiasm about 2009's projects are beginning to take shape.
Among the major projects that will drive future growth of Fox L&M:
Night at the Museum
sequel, Ice Age 3 in digital 3-D and
Avatar
from James Cameron.
Dekel believes that yet another new opportunity in 2009, from Fox 2000 Pictures, is
Percy Jackson and the Lightning Thief
, based on a novel by Rick Riordan. This mythological kids' adventure has all the potential ingredients for another mega-hit and licensing bonanza.
It's this type of commitment and love of licensing that Dekel instills in the Fox L&M team, along with his personal interest in each individual's goals and ambitions, that distinguishes this EVP and has fostered an entrepreneurial spirit oftentimes missing from large corporations.
"Every member of team is challenged to look for innovation and always determine how to do something better, faster, and smarter," says Dekel.
"Elie has taught me to be much more strategic and analytical in my approach to the business and the way in which we identify and select licensees, establish advances and royalty rates, and to always factor in the retailer equation in our selection process," says Peikoff.
Dekel's penchant for retail, his interest in people, and his savvy understanding of licensing will continue to differentiate Fox L&M and drive growth for the foreseeable future.
Subscribe and receive the latest news from the industry.
Join 62,000+ members. Yes, it's completely free.
You May Also Like
Loading..