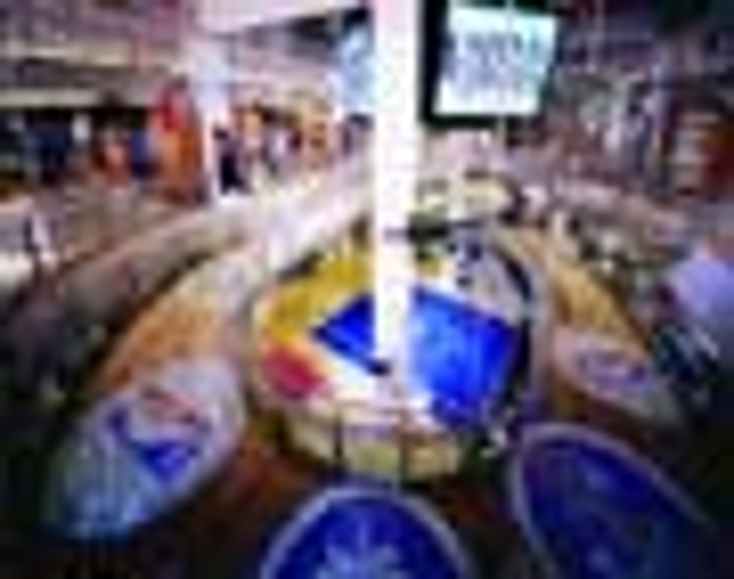 ]>Corporate, event comics help build brand recognition
Custom comic books can be a powerful, innovative and unexpected way to communicate with today's retro-infatuated consumers.
By using familiar characters and licensed properties, custom comics teach children everything from math skills to etiquette - not to mention brand loyalty. They're being handed out as promotional items at sporting events, and being used as value-added advertising tools by such brands as Big Boy, Motorola and Kellogg's."We're finding out that they're really good for educational purposes, particularly for younger readers," says Rich Young, special projects manager, Dark Horse (Portland, Ore.), which has produced custom comics for Kellogg's Apple Jacks cereal, the Disney/Pixar holiday movie Monsters Inc., and Motorola's two-way pagers and Walkabout products."When there's a sequential story and art, it's very engaging. It can drive your point home a little bit better by making it fun and interesting."Transforming an established iconComic books have built-in appeal to young adults and older fans, particularly those interested in collectibles.
"Depending
on the property and particular character attributes, custom comics can be a powerful extension of those properties," says Tom Klusaritz, VP global publishing, Hasbro Consumer Products (Pawtucket, R.I.). "A well-executed comic becomes an integral part of the entertainment wheel, providing continuity of the characters and the content."
Hasbro licenses out its G.I. Joe action figure and related characters to Devil's Due Publishing (Chicago) for the creation of a series of comic books based on its 3-3/4-in. figures, and to DreamWave (Toronto), for a series based on its Transformers toy line, expected to release this spring.
Says Joshua Blaylock, president and founder, Devil's Due Publishing, "A previous G.I. Joe series ran for 12 years, and there's a huge universe of characters to draw upon. I was interested in this property because I knew of the demand, of the interest, in it."
Meanwhile, in the arena
Ultimate Sports Entertainment (Los Angeles) will create four superhero comic book promotional events with the Cleveland Indians during the 2002 Major League baseball season. This event follows last summer's comic-book promotions with teams including the New York Yankees and Texas Rangers. Ultimate Sports based a series of comics on actual baseball players, with the players assuming superhero powers and abilities, wrapping up off-field challenges before the Star Spangled Banner was sung.
"We were looking for something different to give away to fans," says Tom Comerford, VP advertising sales, Southwest Sports Group (Arlington, Texas), which owns the Texas Rangers. The team did a series of three comic books, and supported the co-promotion with North Texas Hospital for Children at Medical City (Dallas) by sending players to the local hospital to sign copies for kids.
"It's hard to measure whether the books helped raise attendance, but we think we got a good bump," he says. "We distributed 18,000 each at three different games...and our clean-up crews didn't find too many left behind by fans."
Economical, targeted, versatile
One way custom comic books differ from the regularly produced titles is that all scripts, storylines, pencil drawings and final inkings are reviewed and approved by the client. Changes made can be small, such as moving the baseball bat from left to right for a right-handed hitter, to big, as in removing non-appropriate material, like graphic sexual content and violence.
"You always have to keep in mind the audience," says Craig Yoe, founder of Yoe! Studio (Peekskill, N.Y.), which produces the Big Boy comic magazine for the eponymous restaurant chain.
The appeal for marketers to do a custom comic, Yoe says, is that the cost of producing a comic book is "much cheaper than an expensive plastic toy" giveaway, and there's more collectability appeal.
"Kids love 'em," Yoe notes, "parents love 'em because kids are reading, and a marketer can bypass a whole number of issues, including shipping, manufacturing, and safety."
The cost of custom comics is dependent upon quantity, industry executives say. Some publishers mandate a minimum of 100,000 pieces, placing the cost per book in the $1 to $2 range. The higher the number produced, the lower the cost, with the price falling to as little as three cents to four cents if one million books are printed.
For Dark Horse's Young, a custom comic is "something that can nudge impulse purchases, or it can be a mail-away offer. It's versatile; there are all sorts of ways to use it to promote or educate the public about your product."
Subscribe and receive the latest news from the industry.
Join 62,000+ members. Yes, it's completely free.
You May Also Like
Loading..