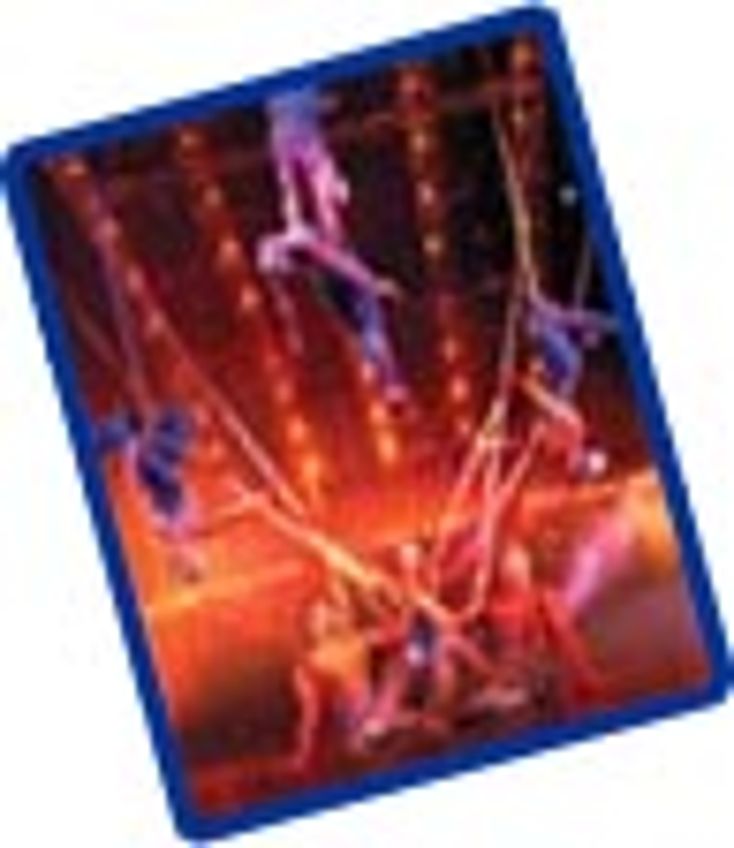 ]>Drawing inspiration from its fantastical performances, Cirque du Soleil re-energizes its licensing program.
Journey to the very heart of life, where past, present, and future merge, where emotions collide, and the deep enigma of time unfolds. (Cirque du Soleil's Mystere)The words above are not the usual description of a circus show, but then again, Cirque du Soleil is no ordinary circus. No elephants or dancing poodles or human cannonballs. Instead, Cirque du Soleil performances are storytelling pageants utilizing color, costumes, rhythm, puppetry, martial arts, and gymnastic feats to entice audiences into fantastical dreamscapes. Some 50 million spectators worldwide have enjoyed the Cirque du Soleil experience in the last 20-plus years, nearly 7 million of them this year alone. Since 1984, Cirque du Soleil has made nearly 250 stops in more than 100 cities worldwide, from Las Vegas to Guadalajara. Cirque du Soleil's original team of 73 employees has grown to a current staff of approximately
3,500 employees worldwide, including 800 performers, according to Rodney Landi, vice president of merchandising, Cirque du Soleil. Its band of artists represents more than 40 nationalities, speaks 25-plus languages, and performs on five continents. It has experienced 15-plus percent growth each year for the last five years, and now is embarking on a new licensing and merchandising initiative that Landi hopes will make Cirque du Soleil even more visible in upcoming years.
Act I: The Performances
It all began in the early '80s when Guy Laliberté, who later became founder and CEO of Cirque du Soleil, met up with a colorful group of street performers called "Les échassiers de Baie-Saint-Paul" (the Baie-Saint-Paul Stiltwalkers founded by Gilles Ste-Croix). He spent his days performing outlandish feats, while amazing and intriguing passersby. In 1982, the troupe organized La Fête foraine de Baie-Saint-Paul, a cultural arts festival where performers gathered to exchange ideas and add a dash of color to the streets. Met with initial success, La Fête foraine was organized again in 1983 and 1984. Laliberté, Ste-Croix, and a host of other talents recognized the vast appeal and envisioned a Quebec-based circus that would perform worldwide.
In 1984, while the Province of Quebec was celebrating the 450th anniversary of Canada's discovery by Jacques Cartier, the city aimed to create a show that would translate the festivities throughout the province. Laliberté proposed a traveling street performance, which he later called "Cirque du Soleil" or "circus of the sun." Laliberté decided upon the name while vacationing in Hawaii and chose the sun because it symbolizes energy and youth. "Laliberté was always looking for a new horizon and was very inquisitive," says Landi. "He's one of those people who sees something and thinks, 'How can I twist this into a pretzel and make something new out of it?'"
Officially founded in 1984 in Baie St-Paul, Quebec, Cirque du Soleil now is based in Montreal. It is dedicated to the creation, production, and performance of artistic works, and its mission is to invoke the imagination, provoke the senses, and evoke the emotions of spectators worldwide. A catalyst for new experiences, Cirque du Soleil aims to invent boldly and take risks, much like its creator.
Cirque du Soleil marries various cultures with artistic and acrobatic disciplines. It fuses traditional circus acts with symbolic visuals and thoughtful philosophy. "Each show is a particular exercise in creating something larger and deeper," explains Landi. Each is unique in its inspiration, and the creators have specific "larger world" questions in mind while inventing them. Quidam, for example, is based on the concept of isolation in a crowded world, while Alegría's concept represents the transferring of power over time from the old guard to youthful up-and comers, notably the evolution from ancient monarchies to modern democracies. Admits Landi, "We want people to view Cirque du Soleil as a general art form and come away with their own readings."
Eleven Cirque du Soleil shows currently are performed worldwide, including Saltimbanco, Mystère, Alegría Quidam, "O," La Nouba, Dralion, Varekai, Zumanity, KÀ, and Corteo. Most permanent shows are housed in Las Vegas. These include Mystère, "O," Zumanity, and KÀ. In June 2006, a show in collaboration with Apple Corp., which represents the Beatles, will debut at Mirage Las Vegas. "There's incredible musical heritage with the Beatles," says Landi, noting the show will reflect the band's unique story and acclaimed music. The collaboration was formed through a friendship between Laliberté and the late George Harrison. Another permanent show will launch in Disney Tokyo in 2008. Cirque's team also is exploring permanent shows in other international destinations.
Act II: The Licensing
With such worldwide recognition and creativity, Cirque du Soleil is an ideal platform for licensing, Landi says. However, "unlike many companies, our main objective isn't to generate revenue through licensing, but to generate creativity and originality," admits Landi.
Prior to 1999, Cirque du Soleil had an eclectic range of licensed products, which included wallpaper, jewelry, and men's ties. "It was somewhat opportunistic rather than strategic in how it developed," says Landi. "Putting the logo on a T-shirt was not really doing Cirque du Soleil much justice. It was deeper, and people's expectations were greater than that."
The first licenses were signed approximately 10 years ago, and although they represented an array of interesting products, the companies were small and lacked meaningful sales or distribution networks. "Between 1999 and 2000, we began to allow the agreements to expire and now are in the stage of reigniting the licensing program," Landi says. He notes the team spent a great deal of time deciding what a licensing program could mean, how elastic it could be, and how consumers would feel about it.
Landi reveals that many companies have approached the organization in suitable product categories, but the challenge is for licensees to meet the same stringent standards of quality and originality that apply to the shows. The organization is asking its licensees to stretch the envelope and to do, in their category, what Cirque du Soleil has done to the circus. "It's a tall order," says Landi. "We have great expectations and expect our licensees to become co-inventors. We're asking them to explore creativity and originality, and let us be the catalyst for exploration."
Cirque du Soleil DVDs from Sony Pictures Home Entertainment (U.S.), DEP (Canada), and TF1 (Europe) are available in national chain stores and independent stores. In addition, it has published three books ("20 Years Under the Sun," "Parade of Colors," and "Varekai" with Harry N. Abrams Inc.), and currently is working on a book with Random House Doubleday, which will be released in spring 2006.
The Cirque team currently is working with several licensees in fashion apparel, publishing, and children's toys and apparel. These programs are scheduled to hit retail in 2006/2007. Distribution will vary depending upon the category. "We're also exploring social expressions and home décor," notes Landi. Beyond licensing, Cirque du Soleil is exploring new ways of looking at restaurants, hotels, and spas, and aims to actively participate in making people's living environments part of Cirque du Soleil's world.
In addition to its creative studios and workshops, Cirque du Soleil also has a multimedia division, called Cirque du Soleil Images. It is dedicated to the creation of original content for TV, film, video, and DVD, and is responsible for the international distribution of its programs. The recording company, Cirque du Soleil Musique, is dedicated to the creation, production, and marketing of the music associated with its shows. Its mandate also includes the development of a new music catalog through alliances with emerging artists.
Subscribe and receive the latest news from the industry.
Join 62,000+ members. Yes, it's completely free.
You May Also Like
Loading..