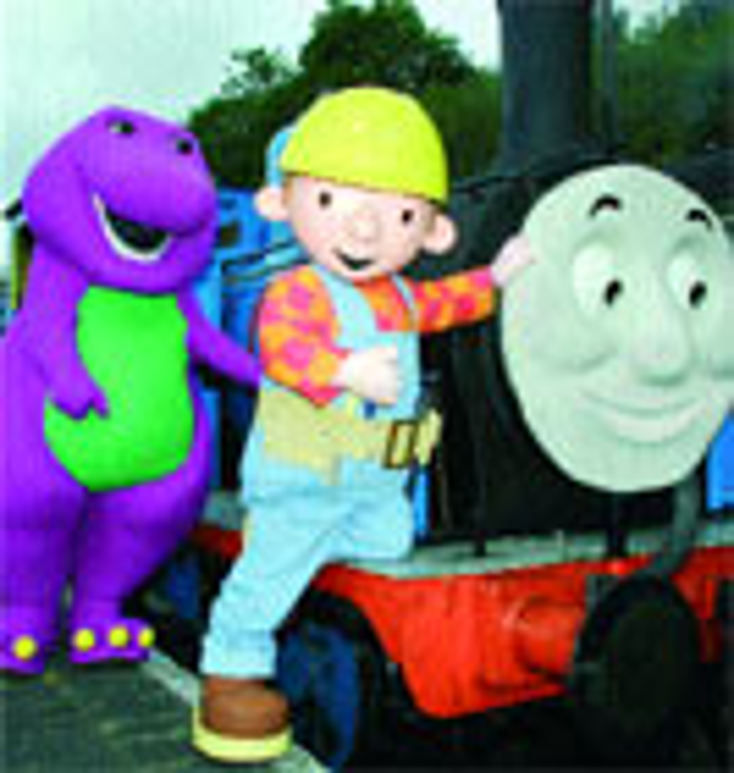 ]>Licensors are banking on technology, new concepts, and well-known brand names to garner respect and approval in the educational marketplace. When devising strategies to keep a brand top of mind and offer consumers new ways of interacting with it, licensors have gone back to school, creating unique programs for the classroom set.
The educational marketplace can provide premium exposure for a brand or property without the benefit of a new movie, video or DVD release, or TV or live show. Further, a seal of approval from the educational marketplace often ensures a license will be viewed as educationally sound and, therefore, be better accepted by other teachers, parents, and caregivers.However, it's not easy to earn that seal of approval. "The educational market has not been terribly receptive to licensed products over the years," says Jim Whitney, president of Educational Insights based in Rancho Dominguez, CA. "In fact, teachers are often suspicious of properties that are commercial and will only accept those products they can relate to and believe stand for educational quality." As a result, licensors such as Sony Pictures, Universal Studios, Sesame Workshop, and Scholastic Entertainment are relying on sophisticated technology, new concepts, and well-known brand names to garner educational respect and approval.Educational Insights recently partnered with Sony Pictures Consumer Products, Columbia TriStar Domestic Television, and the producers of Jeopardy! on a customized classroom version of the popular game show. The deal marks the first time the property and format have been licensed to an educational manufacturer. "The educational marketplace offers numerous opportunities for us and our licensees," says Michael Malone, senior vice president, marketing, Sony Pictures Consumer Products. "Teachers and parents agree that students, regardless of age, learn best when they are actively involved with the issues being taught, and Classroom Jeopardy! is a perfect example. Further, teachers can create and customize their own "classroom" game with clues based on the current curriculum."To author a Classroom Jeopardy! game, users plug a detachable keyboard (included) into the scoreboard/ base control unit. Next, they follow simple prompts on the unit's LCD display to type in appropriate categories and "answers." Once the accompanying cable is connected from the scoreboard to the television, game play can begin. Three wireless student remote controllers and one wireless remote MC controller also are included. A plug-in cartridge comes with preprogrammed sampler games. The cartridge also stores 10 to 12 customized games so teachers can swap them or save them for future classes. The basic Classroom Jeopardy! set has a purchase price of $399. Educators also can buy additional storage cartridges for $12.95 or in 10-packs for $99.95.Dino LabWhen Universal Studios wanted to extend its Jurassic Park franchise beyond the movie-going experience, the Universal City, CA-based studio along with Amblin Entertainment established the Jurassic Park Institute in 2001. The pair recently added Dino Lab, which features free interactive lesson plans, online student activities, and teaching tools geared toward children of multiple grade levels.
The
online, inquiry-based program is located on JPI's official Website, www.jpinstitute.com, and provides children, parents, and teachers with the ultimate resource for dinosaur learning and fun. Educators also have access to Dinopedia, a Web-based reference guide to hundreds of dinosaurs and billions of years of the Earth's history.
While the program is largely educationally based, Erik Thompson, institute director, indicates the company hopes to unearth a comprehensive licensing program in the not-too-distant future. The company also is in talks with sister division Vivendi Universal Publishing on extending into textbooks and supplemental learning activities. Random House already has published the "JPI Dinosaur Field Guide" and three other books. Two new titles are due this 2003 and spring 2004.
"We have the chance to do a fully integrated program across many business units that would create a long-term business and strengthen our brand," Thompson says. "It also allows us to create new products we wouldn't have necessarily done and gives new life to the brand beyond the movies."
Also key to the program is the JPI Rangers Club, which offers members access to educational online games and exclusive access to a kid-safe chat room where children can speak among themselves or with real paleontologists. The $12.95 membership fee also enables members to receive online monthly publications but requires parental consent.
Roving Reporters
Hands-on experience is the cornerstone of "Hot Off The Press," a program launched last year by Sesame Place in collaboration with New York-based Sesame Workshop. The interactive adventure starts at Sesame Place, where children in grades K to 2 become "roving reporters," taking notes and snapping pictures that later are documented in their own class newspaper. Each group receives a teacher workbook prior to the visit that includes activities to do before the visit, detailed information about the park, reproducible trip sheets, and activities that help extend the learning experience once children return home. A student template with graphics and guidelines for putting together the class newspaper also is included.
"Teachers have responded very favorably to the program," says Audrey Shapiro, director of consumer marketing at Langhorne, PA-based Sesame Place. "By focusing on specific curriculum goals, the program allows teachers to make a group visit to Sesame Place not only fun, but educational, as well." Going forward, the program possibly will be enhanced with a multicultural or science element.
Scholastic Entertainment continues to embrace the educational marketplace, creating specially designed outreach programs for many of its properties such as The Magic School Bus, Clifford the Big Red Dog, and Dear America. For nearly a decade, the company has collaborated with museums across the country on a traveling exhibit for The Magic School Bus. Last month, kids ages 5 to 10 were able to take a field trip to learn about the weather in a 2,500-square-foot traveling exhibit, "The Magic School Bus Kicks Up a Storm." They also can witness a slice of history as "Dear America" tours 15 states and 22 cities this fall with the play, "A Light in the Storm."
Educators are as passionate about Clifford the Big Red Dog as their students, and Scholastic has created several early literacy initiatives for both inside and outside the classroom. Besides educational support materials and classroom activity kits, the company just launched a classroom magazine, Scholastic News Presents Clifford, filled with social and literacy ideas teachers can read in school and then send home with kids.
Says Cheryl Gotthelf, vice president of brand marketing and TV/broadcast relations at New York-based Scholastic Entertainment, "All of our programs help tap into the passion kids have for the characters and what entertains them. We use that as a way to convey important educational ideas."
Subscribe and receive the latest news from the industry.
Join 62,000+ members. Yes, it's completely free.
You May Also Like
Loading..