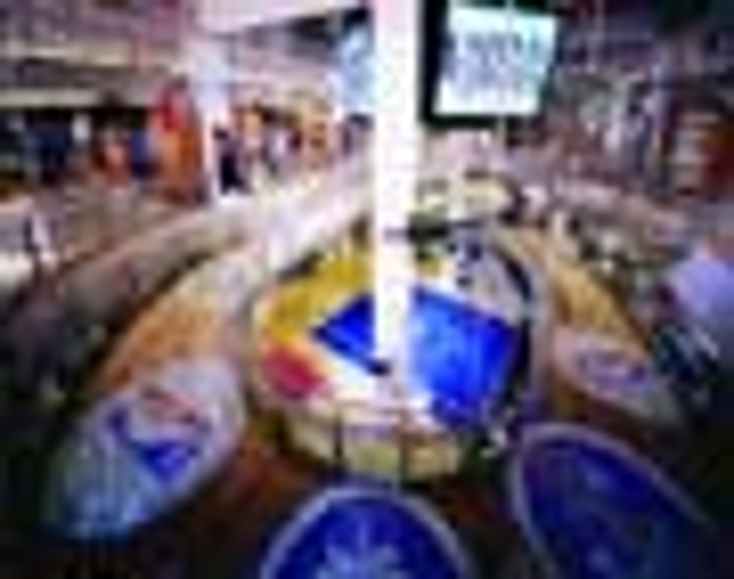 ]>New York's Whitney Museum of American Art markets to the new millennium.
Nurtured for generations by a family of remarkable Whitney women, it seems just a handful of years since the Whitney Museum of American Art was a small, elegant, and famously audacious organization run inspirationally on the verve and eye of a tiny but brilliant staff.
Then the ardor of the bleak early 1990s economy, coupled with shifting demands from a changing museum public, forced the entire not-for-profit art world to rethink its methodology-and borrow a page from the encyclopedia of commerce. Thus, with business legend Leonard Lauder (Estæapos;s eldest son) at the helm of the Whitney's board of trustees, the evolution began. Now, a new team is in place at the venerable New York City-based institution. The mission: to develop the Whitney brand and maximize the marketing potential of this classically cutting-edge home of American creativity."Our plan," says Max Anderson, director of The Whitney Museum of American Art, "is for a robust inventory of educational merchandise: catalogs published with commercial publishers to reach a larger audience, paper goods with images of our personal collection, and other products sustaining our mission and branded with the Whitney logo."Reflecting the cautious nature of the program, the Whitney logo itself was developed only after deep reflection.Crafting the 'Word Mark'"We never had a logo," explains Betsy Jacks, Whitney director of marketing. "Traditionally, we printed 'Whitney'
differently
everywhere; the look of our name changed with each publication and each exhibition. We began to work with Pentagram, the famous design firm known for its collaboration with BAM and the new Public Theater. Pentagram calls our new logo a 'word mark.'"
The new Whitney "word mark" (see sidebar below) debuted at the 2000 Biennial Show. Since then, it has been applied to increasingly diverse waves of merchandise, proving to be very versatile.
"When you come to the Whitney, you realize the entire place is completely recreated for each show," observes Jacks. "I am talking about everything from new walls to new sound systems. The Whitney is dynamic in the experience itself, not to mention the art is also very vibrant.
"When Gertrude Vanderbilt Whitney started this place, she took a real leap of faith. The Whitney has always shown what is next by being the first in exploring new frontiers: American in spirit, full of the energy, optimism, and openness this country has always represented. That is why the words we chose are: 'American,' 'pioneering,' and 'dynamic experience.'"
Licensing by the Book
With a first-ever director of publications and new media now in place at the Whitney, there exists a formal integration of many Whitney properties. "Publications, Website design, and retail are all integrated under one roof now," says Garrett White, a former book packager and the new director of publications. "The whole thing starts with design. The integration of graphics, editorial, and Website allows us to produce material simultaneously for several different purposes. This means that when we develop a book for an exhibition, we also are thinking of a calendar, gift book, umbrella, toy, or an art object."
Most of the retailing focus to date has been through the in-house store, but that is changing. Steven Buettner, director of retail and wholesale operations, debuted a Whitney Gift Catalog in 2001 featuring a Barbara Kruger "I shop therefore I Am" tote on its cover. Other highlighted products featuring slogan artist Kruger's works include the "Money can buy you love" scarf and "Your body is a battleground" glycerin soap. Except for four limited-edition multiples made exclusively for the museum by the likes of video artist Nam June Paik and printmaker Carroll Dunham, nothing is priced at more than $85.
"This is one of our ways to test the Whitney brand," notes Buettner. "Now all our products-from baseballs to umbrellas-have the Whitney word mark. Practically everything we do is designed in house; I have designed some of the scarves myself. Unlike MoMA with its $100 vases, we are going after a less expensive retailer: gift shops as opposed to a Gracious Home kind of thing."
Buettner says sales are projected at roughly $2.5 million annually to start.
A major component of the overall licensing plan is the publication program. White sees several series, with books on architecture, film, design, and what he calls artists' books. "These are books written by artists, books that are really works of art," says White. "I also am projecting a series on 'the arts in translation.' The first book in that series will be a biography of photographer Cartier-Bresson. A good biography of Cartier-Bresson with the Whitney's name on it reflects well on the Whitney, and will generate revenue for the museum." Books also can be good platforms for other licensed product lines.
Agreements with New York-based publishers include contracts with Harry N. Abraham for books; Universe, owned by Rizzolli, for calendars of the permanent collection; and teNeues Publishing for products based on the works of painter Edward Hopper.
"The licenses I have signed are with partners who can increase our distribution," notes Buettner. "ArtLand.com uses the Internet to sell prints of our permanent collection; these are made to order and custom framed. Art Media in New York markets the works in the permanent collection to advertisers, to help hone the images of their clients." Each licensee brings its own international strengths, he notes, adding that there is a strong German market for the works of Hopper, while the Japanese have enthusiastically purchased from the catalog, showing a marked interest in T-shirts and other textile products.
"The great advantage to being a museum," observes Buettner, "is you can borrow ideas from the world of business, but you aren't limited to what works in the trade."
Looking Ahead
What does the future hold for the Whitney Museum?
"Artist-object licensing is a wonderful possibility," confides White. "In fact, I am having famous architectural photographers look at the Whitney's Marcel Breuer building for images we can license for postcards and fabric. Then there is this delightful group of Art Deco building blocks by Czech )grártist Ladislav Sutnar. Now it is in the collection of the Cooper-Hewitt [Museum of Design]. I have already spoken to the Cooper-Hewitt and the estate about the possibility of licensing those blocks and creating a set of them for sale here. Sutnar is dead, but there are other, living artists I would like to work with."
Projections over the next five years are for revenues in the six figures from Buettner's side, and additional income from White's efforts, but the Whitney team seems far more ambitious than all of that combined.
"All revenues go to the operations of the museum, and we welcome ideas for any venture that will widen the horizons for the Whitney name," says Buettner. "Perhaps Flora Biddle put it best in The Whitney Women when she said, 'The museum is now a public institution with a vast, existing, and untapped audience.' Today, we want our marketing to reach all of it."
Whitney
Whitney American Museum of ArtComing up with a logo for the Whitney Museum was no easy task. The final result, says Whitney Marketing Director Betsy Jacks, reflects the museum's traditional brand identity of support for young artists, taking risks, and going where no one has ever gone.
The lettering demonstrates unabashed strength and willingness to take risks.

The squareness of the lettering mirrors the Breuer building and moves that architecture forward through time-a distinctive style of no specific era.

Design flexibility speaks to the Whitney's dynamic nature.
Subscribe and receive the latest news from the industry.
Join 62,000+ members. Yes, it's completely free.
You May Also Like
Loading..