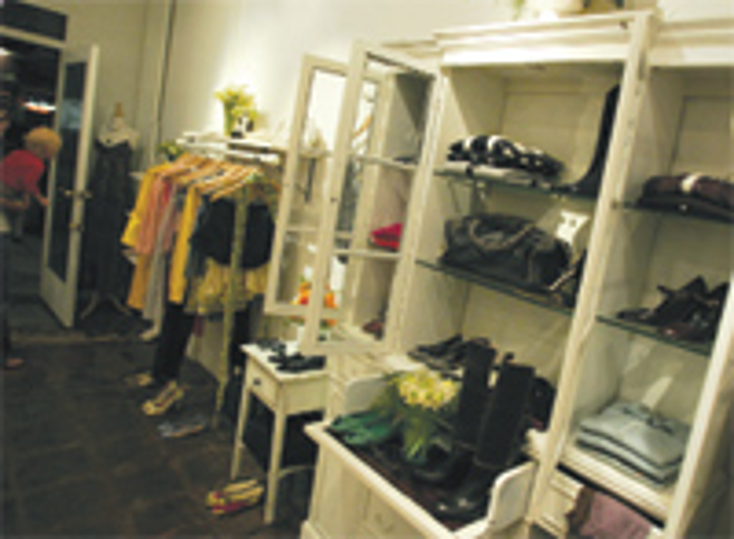 ]>Specialty boutique Satine caters to the working woman, the Hollywood glamour-puss, and the girl next door.
Chic, rebellious, and strong are a few of the words that come to mind when describing Satine founder, co-owner, creative director, and buyer Jeannie Lee. Raised in Alabama, Lee attended prep school before studying at Berkeley and abroad in Aix-en-Provence and Florence. An acceptance to Pepperdine Law School led her to Los Angeles, CA, and, after a brief stint in commercial real estate, Lee opened her own boutique, Satine, in August 2003. Shortly thereafter, she met Sophia Banks, who had spent the better part of her teens and 20s traveling the world. The duo decided to team up to launch the satineboutique.comsatineboutique.com Website and open the Satine Showroom, which has a similar aesthetic to the store but focuses on the high-end contemporary market. Their goal: to become a destination for shoppers the world over. Or, as Lee puts it, "to create a new fashion playground where there
are no rules, only some trends, and buy mainly a fierce and independent style that represents the working woman, the rock goddess, the Hollywood glamour-puss, and, of course, the girl next door."
On retail:Lee:
We wanted to provide shoe and ready-to-wear selections that represented everything from cult Balenciaga and Lanvin offerings to obscure designers around the world. In addition, we recently expanded our focus to include the e-consumer. As a result, we now are reaching out to women from different areas with different needs, and slowly have begun to add to our buying palette.
On differentiation: Lee:
We believe it is becoming increasingly chic to mix couture with less expensive, trend-driven items from stores such as H&M, Abercrombie & Fitch, Gap, Topshop (which opens in New York City in early 2006), and Wal-Mart. As for merchandising, we try to incorporate our own point of view in everything we do. This is greatly influenced by old films, style icons, music, street culture, and traveling.
On merchandising: Lee:
There are certain designers our customers specifically come to Satine to buy. For example, Tsumori Chisato from Tokyo is a collection we buy so much of, it practically fills an entire room. Building an alliance with key designers is a great way to promote both the store and the designer. We love to do trunk shows, special windows, and collaborations with our favorite designers.
On licensing:Lee:
Our plan is to expand internationally by licensing the Satine boutique to companies that have both the infrastructure and vision to execute our vision. Under our private-label brand, S & J, we are collaborating with a bag line called Not Rational and Italian shoe brand Roto. Last month, we had a meeting with one of the largest mobile handset companies in the world to do a Satine phone.
On private label:Banks:
We have our own Satine label shoes that are hugely popular, so much so we decided to wholesale the line to other stores, which we have done under the S & J label, available in stores this month. We also have our own Satine clothing label, which retails at our store. And we plan to expand the number of Satine stores in late 2006/early 2007, offering a mix of Satine product and other designer product.
Subscribe and receive the latest news from the industry.
Join 62,000+ members. Yes, it's completely free.
You May Also Like
Loading..