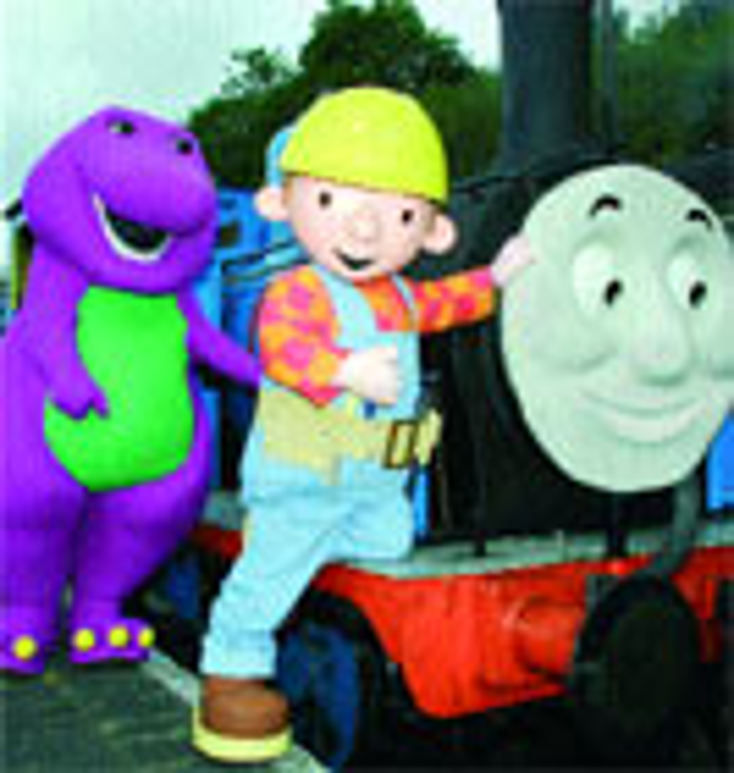 ]>By Robert Scally
Dealmaking and partnerships to dominate at NATPE The NATPE television programming conference in Las Vegas Jan. 21-24, highlights major changes in the business.
Representative of these changes are NBC leasing its Saturday morning block to Discovery for Discovery Kids for two years, and Fox aiming to lease its Saturday morning block and its weekday afternoon programming. CBS now offers Nick Jr. programming and ABC has Disney's One Saturday morning. Licensors looking for TV slots and partnerships include: Cineoupe (Montreal), which has one of the most highly anticipated shows of the year with Galidor: Defenders of the Outer Dimension, a series integrating live action with 3-D backgrounds and special effects. Galidor was created by Los Angeles-based producer, director and writer Tom Lynch. "I don't think this show would have been possible a couple of years ago," Lynch tells License!. "Now technology is both advanced enough and affordable enough to make something like this." Galidor is set to broadcast this winter on YTV in Canada and ABC Family (formerly Fox Family) in the U.S. Lego (Denmark) has global merchandising rights to Galidor, retaining master toy and software licenses for itself. It hired United Media (New York) to represent Galidor in the U.S. and Canada. Nelvana (Toronto) will introduce the animated Japanese phenomenon Beyblade for kids six and up. Beyblade toys are headed to the U.S. via Hasbro. Nelvana acquired the series from D-Rights. A U.S. broadcast partner is pending. Ragdoll (U.K.), which took back Teletubbies for the U.S. from The itsy bitsy Entertainment Co., is pitching Brum, its pre-school series that airs on the BBC. Cinar (Montreal) will highlight its new preschool series Simon in the Land of Chalk Drawings, which currently consists of 13 half-hours, will air on Teletoon in Canada in fall. Alliance Atlantis (Toronto) will present its new stop-motion animation program Henry's World. It is designed to bridge the gap between preschool and elementary school programming, says Jennifer Bennett, Alliance Atlantis director of sales, merchandising and licensing. AA also is promoting its CGI animation program Ace Lightning. Sesame Workshop (New York) will promote several shows including Dragon Tales and Sesame English. A co-production between Sesame Workshop and Sony Pictures Family Entertainment, Dragon Tales has 65 half-hours available to international buyers. Sesame English, designed in association with Berlitz International, is aimed at teaching conversational English. Tingo, a new Muppet character with a huge appetite for food, music and sports, speaks to viewers in any language. DIC Entertainment (Burbank, Calif.) is looking for domestic distribution for Super Duper Sumos, says Melissa Bomes, executive VP, worldwide consumer products, DIC. DIC also is readying Liberty's Kids, headed for PBS next fall. HIT Entertainment (U.K.), which will have a low-key presence at NATPE, recently regained all international distribution rights to Barney & Friends. HIT also produces Bob the Builder. Mattel's (El Segundo, Calif.) Fisher-Price division, Barney's master toy licensee, will launch a new range of preschool and plush toys in spring. Gullane Entertainment (U.K.), of Thomas the Tank Engine fame, is teaming with Tweenies creator Tell-Tale Productions (U.K.), to develop two new animated children's shows, Ella and Sprogs. Ella is an animated series for children two to five and Sprogs is an animated comedy for children seven and up. Mainframe Entertainment (Vancouver, Canada) will promote its Tony Hawk animated action/adventure series to air in fall 2003, says Joy Tashjian, who represents Mainframe for licensing skateboarder Hawk. Also due: a series based on the classic Betty Boop cartoon character. MTV International will promote Nick Jr.'s Dora the Explorer and the Jimmy Neutron: Boy Genius animated television show. MTV has received commitments for Jimmy Neutron from several overseas broadcasters including RTL in Germany and ITV in the U.K.
Subscribe and receive the latest news from the industry.
Join 62,000+ members. Yes, it's completely free.
You May Also Like
Loading..