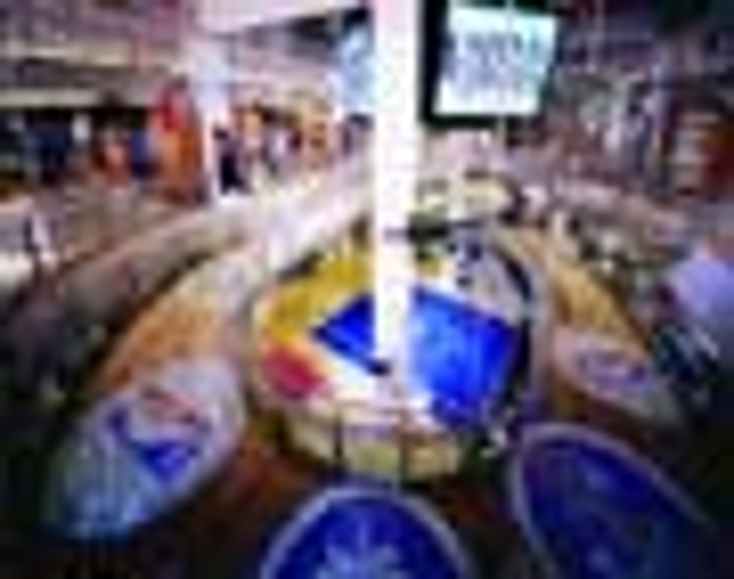 ]>A fresh take on a long-time tradition, thanks to licensed artists.
Even with today's sophisticated technology, consumers continue to find pleasure in sending and receiving greeting cards. Though some greeting card companies choose to rely on in-house artists, thus avoiding licensing and royalty relationships, many licensed artists continue to break into the market. Why? For the artist, greeting cards can be a great branding tactic; for the greeting card company, a well-recognized licensed artist can enhance sales. "A license would have to be a high profile, well-known name," says Mike Brown, vice president, licensing, American Greetings, noting that AG currently employs some 400 in-house artists, and contracts licenses mainly in the character-driven juvenile categories.
Artist Debbie Mumm recently transitioned her greeting card line from AMCAL, current licensee for Mumm's calendars, stationery, and gifts, to Leanin' Tree, a fine art greeting card company in Boulder, CO. This was a mutual agreement among the three parties. "We have a long-term partnership with Debbie Mumm, and realized that to maximize selling potential, the card line needed to be with a publisher whose full-time focus is on the greeting card industry," says AMCAL's President Gus Walbolt. The Artist Appeal"We have an in-house design studio, but licensed artists help to diversify our product line," explains April Troutman of InterArt Distribution, Sunrise Greetings, Bloomington, IN. "We are an alternative greeting card company, not a niche market. We do a lot of trend research because it is important to have the latest looks." InterArt's roster of licensed artists includes Anthony Morrow (nostalgic looks), Valorie Wenk (stylized country) and Sandra Magsamen (known for her designs on ceramics). Magsamen granted InterArt exclusive distribution of her designs for its Sunrise greeting card line. Additional licensees in the Sunrise line include Mary Engelbreit, Flavia, and Jody Winger.
"We
search the fashion world for looks as well," continues Troutman, noting that InterArt recently added designs from Fashion Art Bank, a group of fashion art illustrators, and Laura Gibson, a magazine illustrator whose resume includes fashion magazines such as Seventeen, Cosmo Girl, and Flair.
A fresh twist
Since 1984, artist Tom Browning has painted humorous images of Santa Claus at play. New for Leanin' Tree's Holiday 2002 catalog is a collection of 10 new Browning designs including Santa fishing or fixing an automobile. "[His] cards appeal to a wide audience-everyone from Santa enthusiasts to sports and outdoor fans," says Patrick Wallace, marketing director for Leanin' Tree. Packaged in sets of 10, Browning's images are available in varying card sizes, suggested retails range from $8.95 to $10.95.
Cards of Beauty
In 1996, Sheila Kalisher, president of A.L.L.'s Well & Co., Livingston, NJ, created the concept of Astrological Aromas, pairing cards with scents that correspond to astrological signs. Since then Kalisher created Astrological Tributes, a line of greeting cards featuring an illustrated character for each astrological sign. Now Kalisher wants to translate her Astrological Aromas concept into health and beauty products for women, including bubble bath, dusting powder, as well as scented stationery, cards, and gift items.
Subscribe and receive the latest news from the industry.
Join 62,000+ members. Yes, it's completely free.
You May Also Like
Loading..