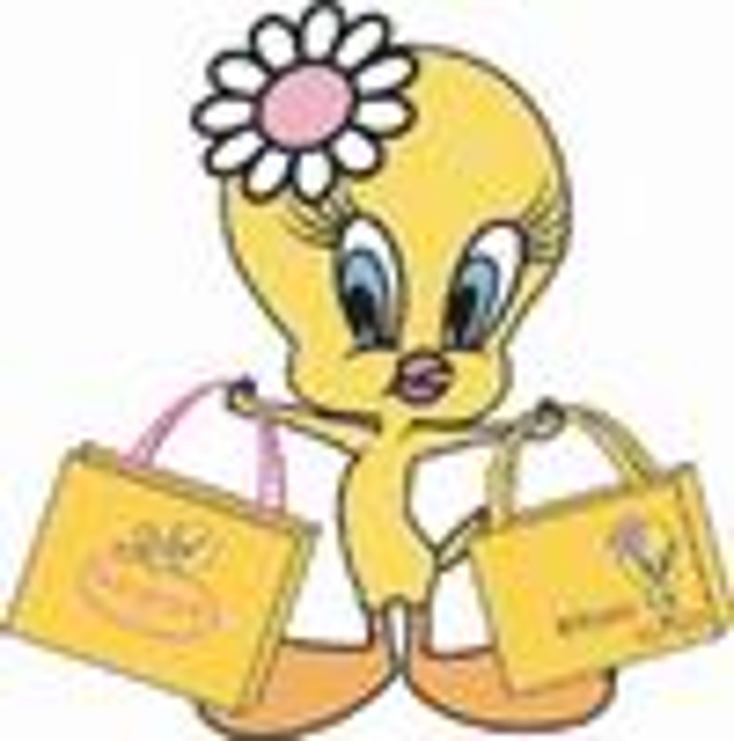 ]>I tawt I tawt... a new Tweety. You did, you did see a new Tweety!
I tawt I taw...a new Tweety. You did, you did see a new Tweety! Tweety, that bright blue-eyed, cute yet mischievous yellow canary of Looney Tunes fame, is ready to turn fashionista heads on both the East and West Coasts. Warner Bros. Consumer Products has given Tweety a new twang--lengthened eyelashes, a brightened beak, and a floral hair accessory. And, two of the hottest, trend-setting boutiques in the country--Los Angeles-based single-store Kitson, and Scoop, with locations in New York, Miami's South Beach, Las Vegas, Connecticut, and the Hamptons--will roll out exclusive, higher-end fashion merchandise, May 10 and 18, respectively. What better time to celebrate the color of yellow than summer 2005, when the hue, according to the fashion runways and consumer fashion magazines, stands as the must-have for trend-conscious females everywhere. Since Tweety is for all intensive purposes "a natural blonde," the age-old comment,
"Blondes have more fun," can easily be Tweetyized: "Tweeties have more fun." Warner Bros. Consumer Products, with its roster of higher-end licensees with merchandise ranging in retails from $30 to $595, are banking that Tweety will twinkle. Tweety TalesIrrespective of
Looney Tunes
media, the Tweety business has been sizable, robust, and has grown over the last 10 years, according to Jordan Sollitto, executive vice president of worldwide marketing, Warner Bros. Consumer Products. "Tweety is not a media-dependent property. Tweety has equity among girls ages 4 to 8 and women in their 20s and 30s. Tweety has had continuous performance at the cash register, transcending media exposure," says Sollitto, noting that classic Tweety licensed merchandise exists in channels including mass, mid-tier, and some specialty. Warner Bros. Consumer Products' research corroborated its thoughts about Tweety's equity. "When we spoke with girls and women about Tweety, they weren't as interested in talking about media or a movie around Tweety. They relate to the character as it relates to merchandise. Tweety's cuteness, according to our research, was the driving characteristic," he explains. Some of the kitschy graphic elements for the new Tweety include hearts, flowers, and fleur-de-lis (all of which will be used as accents on product in the collection). But while Tweety may be "cute," you may recall that Tweety also can be provoked. Warner Bros. Consumer Products played right into that with one of the new Tweety visuals featuring a touch of mischief, with a great eye-winking, something-up-my-sleeve attitude and feel, as well as Tweety with hand on hip.
So with an archive chock full of well-loved Warner Bros. characters, why Tweety? Beyond its already-established licensing business that is living simultaneously at mass and specialty, Sollitto says Tweety is a resilient character with velocity. "That's the upside," he comments. Not to mention, a little luck with the choice of yellow as this summer's color.
Tweety's New Take
Sollitto says the collection launching at Kitson and Scoop is a move by Warner Bros. Consumer Products toward a "more collection-driven program." "Tweety is a strong business for us in the all-important apparel and accessories category, but special programs like the one we're doing with Scoop and Kitson platform the power of the brand as a trend-setting style icon," says Maribeth Towers-Toth, vice president, apparel and accessories, Warner Bros. Consumer Products. "It's great to see the buzz building around our favorite 'Natural Blonde,' and we already are beginning to see the halo effect for the broader market."
And trend-setting the new Tweety collection will be, according to Karine Joret, senior vice president, worldwide communications and live events, Warner Bros. Consumer Products. Similar (but dissimilar) to the
Catwoman
event at Henri Bendel, a high-end fashion event around the film event, the Tweety collection and launch at both Kitson and Scoop also will serve as a PR platform. "Our approach internally was to create another platform for Tweety. With Tweety's enormous following with women and girls, a high-end product assortment at two of the top specialty retailers that feature what's new, hot, trendy, and current was an out-of-the box initiative," says Joret. "Kitson and Scoop, respectively, have a tremendous following and loyal customers. Both Fraser Ross [owner of Kitson] and Stefani Greenfield [co-owner of Scoop] have keen fashion awareness. These were the perfect venues to platform Tweety."
Not only were these two fashion retailers on board, but some of the hottest clothing manufacturers, many of which were "cherrypicked" for the collection. Come May 10 at Kitson and May 18 at all Scoop stores, Tweety's edgy fashion collection will be on display at the retailers exclusively through the end of the month. But Joret expects the collection to be in-stores through the summer. While an "ageless" property, according to Joret, the Tweety collection is aimed at Kitson and Scoop's core demo of 18- to 35-year-olds. "All of the merchandise is fashionable, wearable, and fun," boasts Joret.
What consumers will find are lightweight cashmere sweaters bejeweled with Swarovski crystals by Cake Couture (upward of $595 retail); lightweight cashmere hoodie from Warner Bros. Consumer Products' existing licensee, Raw 7; cream eyelet blazer with Tweety embroidered on the front and T-shirts from Joystick (known for its feminine touches); rhinestone-encrusted tank tops from Bejeweled; T-shirts from And Cake, Cosmosfact, and Junk Food; string bikinis featuring Tweety with hearts by Shoshanna; sandals featuring a flower petal where a big toe would rest, as well as Tweety's eyes and feet by Havaianas; charm bracelets, necklaces, and pave accessories such as evening bags and credit card holders by Madeline Beth; and luggage tags by Fluff. Cataloger LL Bean also joins the list with custom beach bags and mini-tote bags.
In addition, there will be custom surfboards and two scooters (customized by West Coast Customs) for retail display. Window treatments at both Kitson and Scoop will be Tweetyized. In-store, consumers will be able to shop the entire collection in one "mini" boutique. Further, each of the retailers will have customized Tweety shopping bags—Scoop tissue paper inside the shopping bags will read, "Tweety loves Scoop." Shopping events for members of the press on opening days at both retailers also will benefit Hollywood for Habitat for Humanity to support rebuilding efforts in the wake of the Southeast Asia Tsunami.
Looking beyond the Tweety exclusives at Kitson and Scoop, Sollitto says Warner Bros. Consumer Products plans to broaden the channels of distribution utilizing the new artwork over mid-tier and mass over the next two years. Department stores will be the initial target come spring 2006. "This will be a continuity program as it relates to design and fashion. A Tweety merchandise selection of this kind can evolve and change season after season," says Sollitto. While Tweety is the first up for this kind of "twend tweatment," Taz is up next.
Subscribe and receive the latest news from the industry.
Join 62,000+ members. Yes, it's completely free.
You May Also Like
Loading..