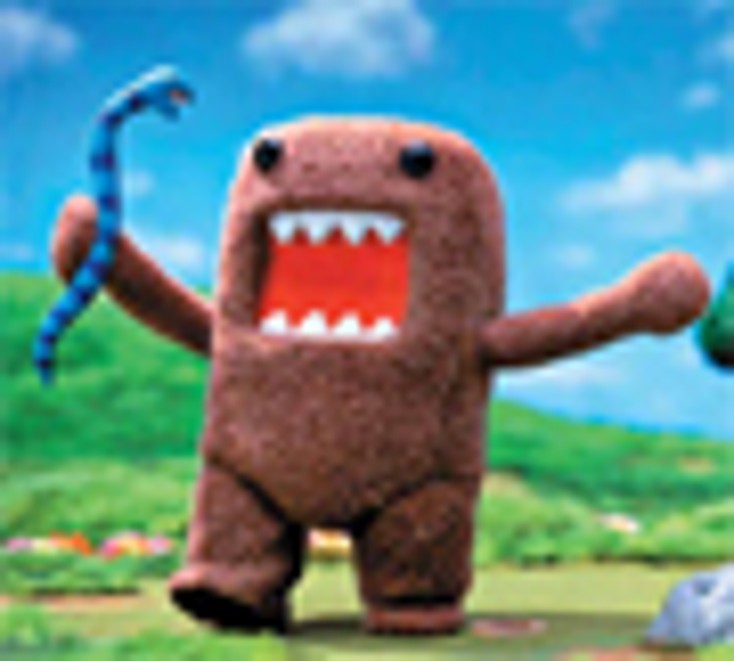 Moving beyond its success with Domo, Big Tent Entertainment is bolstering its portfolio with brands that hit on nearly all demographics.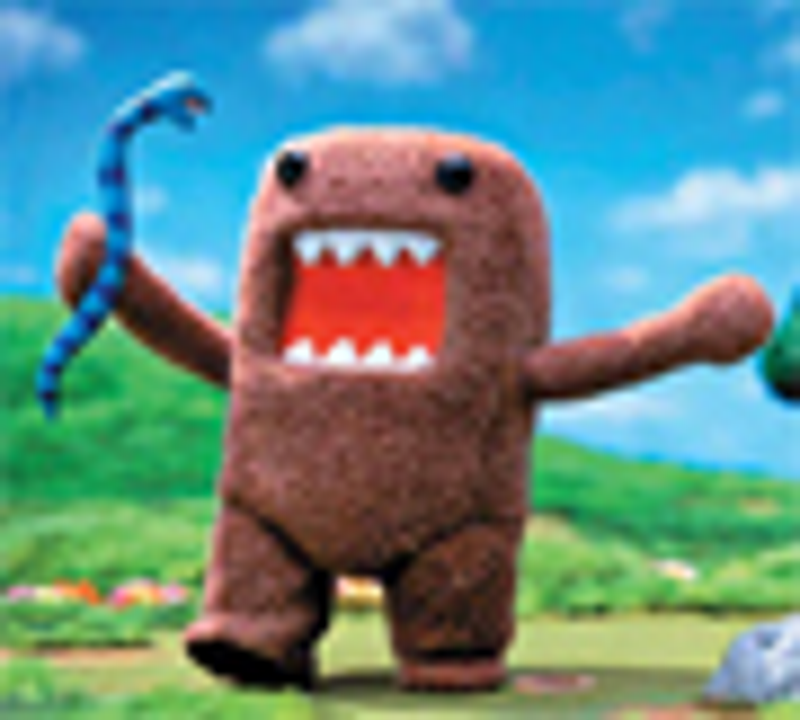 Formed in 2002 as a marketing agency specializing in the integrated management of entertainment brands, Big Tent Entertainment has continued to build a diversified portfolio that cuts across all demographic segments from preschool and tween to teen and adult, and recently signed on as The Wiggles' North American licensing agent. The New York-based integrated family entertainment company is quickly emerging as an industry leader in recognizing and creating opportunities for online and digital media entertainment content—and not just as the company that made an international phenomenon out of Domo.
Major Domo
Still, the company continues to make a name for character phenomenon Domo, which first appeared as Japanese television station NHK's mascot in 1998. His unique look catapulted the character into one of Japan's biggest sensations, sparking more than 100 promotional spots, 600 products worldwide, and a licensing campaign with merchandise generating tens of millions of dollars in Japan. Besides retail merchandising and television, Domo has found a home within the online viral community with thousands of user-generated Domo video clips created and posted to video streaming Web sites such as YouTube and Flicker.
"Big
Tent first came on board two years ago," says President and CEO Richard Collins, who explains the company was looking for a teen-targeted brand with the potential to expand into other age demographics. It seems that Big Tent got its wish, as Domo is set to make the move from viral Internet sensation to TV star with the launch of 26 two-minute stop-motion Domo television shorts on Nickelodeon's buzzed-about Nicktoons Network and worldwide on Nickelodeon International, which will expose the property to younger audiences around the globe. Set to coincide with the U.S. television debut, master toy partner Play Along will release a line of tween-and teen-geared plush, plastic figures, and playsets aimed at the specialty market.
According to Play Along's vice president of marketing, Susan Evans, the company will start with four skus, including four style clip-ons and Domo plush in three sizes, with price points for the plush ranging from $9.99 to $39.99. The fall focus, she says, "is really on the older fans who surf the Internet, but when Nickelodeon begins to launch interstitials this fall it will help us to pull in consumers from wider age ranges." By the time spring or fall 2008 arrives, confides Evans, "we may go younger with our product."
Probably, at that time, adds Collins, "you'll start to see more traditional, classic plush aimed at children. But, I think the property won't age down as quickly in North America as it will internationally, simply because Nicktoons is hitting an older demographic than Nickelodeon International."
Domo is a very different brand, notes Big Tent Partner and CMO Rich Maryyanek. "It's a design-character-Internet brand, and therefore is able to live in various segments of the market." This may also explain why licensees have been clamoring to get on board, including Briefly Stated (sleepwear and underwear); Changes (young men's Ts); Andrews McMeel (wall calendars and greeting cards); Trends International (wall posters); Basic Fun (key rings, clip-ons, cell-phone charms, and pens); Hot Properties Merchandising (magnets, buttons, stickers, antenna toppers, poker chips, pint and shot glasses, bottle openers, and lanyards); and Uclick Mobile (wallpaper, static and animated screensavers, and ringers), as well as two particularly interesting partnerships: Kid Robot is rolling out a soft, vinyl mega monster, which retails for $200; and Mimoco currently offers USB flash drives at high-end museums such as the Museum of Modern Art and the Louvre, which range anywhere from $200 to $300.
"We're going to use our time at Licensing Show to look for video and interactive game partners, as well as collectibles, publishing, stationery, accessories, and room decor," says Maryyanek, who adds, "on the retail side, we want to keep the specialty vibe going, but also add partners who can take property across mass."
Newbies But Goodies
"Every child goes through a Wiggles phase," says Maryyanek, explaining the appeal of the Australian band for children. "Our goal is to continue the brand's equity in the marketplace, beginning by bringing on board a new master toy partner who really understands the brand and can position it well for the future."
Big Tent also is looking to extend The Wiggles' reach into consumer packaged goods, particularly on the food and beverage side. "Food has always factored into The Wiggles music," says Collins, "so nutritious food offerings are a very natural extension of the brand."
The company also recently signed on as the exclusive U.S. licensing agent for Discovery Kids, a Discovery Communications Inc. brand. In addition to representing the brand itself, the agency also will be licensing products for animated properties "Growing Up Creepie," "Kenny the Shark," and "Tutensttein"; live-action series "endurance," "Flight 29 Down," and "Trading Spaces: Boys vs. Girls"; and the preschool block, Ready Set Learn!, as well as select properties within the block including "Paz," "Wilbur," and the "Save-Ums."
"Our goal," explains Maryyanek, "is to focus on the Discovery Kids brand first and bring it back into the marketplace—following a quiet period at retail—then we'll focus on licensing programs for the individual shows."
While Discovery Kids products currently are sold exclusively through its own stores, Vice President of Marketing Laura Sullivan explains, "we're working with Big Tent to create product that is similar to what we offer in our stores, but tailored to outside distribution tiers." Toys, she adds, are first on the list. "With 17 Emmy nods last year alone, Discovery Kids is truly the No. 1 entertainment brand for kids and will demand a premium at retail," says Collins.
From Preschool to Grad School
A pattern can be seen with Big Tent's portfolio-there's very little overlap among its brands. That said, extreme sports lifestyle brand Crusty Demons skews much older, going after motocross fans and sports enthusiasts ages 18 to 35. In existence since 1994, Crusty Demons was created by Jon Freeman, Dana Nicholson, and Cami Freeman, who teamed up to form Fleshwound Films and produced their first ground-breaking extreme sports video,
Crusty Demons of Dirt
. The well-received video set the stage for Crusty Demons competitions worldwide and a collection of numerous videos shot in locations such as Peru, Africa, Brazil, Japan, New Zealand, and Australia.
Nearly every major motocross rider has been affiliated with the Crusty Demons stunt team, adds Collins, and this year will likely see the launch of a new reality TV series, "Crusty's Dirt Demons," on the Fuse network. The Crusty Demons stunt team, Collins says, "is like the Harley crowd, but younger, so the brand is all about attitude and will be predominantly mass focused." Having signed on VDI for video and Versign for mobile, Big Tent is now making a major push on the apparel side.
On the opposite end of the spectrum is classic book series "Miffy and Friends" from Dutch artist Dick Bruna. Currently airing on Nickelodeon's preschool network, Noggin, "Miffy and Friends" recently got a new friend of its own in the form of master toy licensee Play Along. "While Miffy has gained a following among tweens in the UK, Australia, and across Europe, who now associate her more with fashion than with her classic picture books, the North American market has always been difficult on some level," says Maryyanek. "But with a partner of this magnitude, we're gearing up to launch a new plush line that features Miffy's signature contemporary design, but with a new pink and purple color palette specifically targeted to tweens. In 2008, we'll expand the program to reach the toddler/preschool fan base with the distinctive and traditional colors that Bruna made popular through this books." On a broader level, reveals Maryyanek, Big Tent is also looking closely at apparel and accessories based on Miffy.
Everything In Between
Targeting kids ages 6 to 10, male-minded British import "Those Scurvy Rascals" and female-friendly "Saddle Club" appeal primarily to pre-and early-tween audiences. However, in the case of "Those Scurvy Rascals," "we like to say it's for boys 6 to 10 and juvenile men of all ages," jokes Collins, who adds, "it's very similar to Domo in that it has the potential to appeal to a huge demographic. The show follows the adventures of three pant-obsessed pirates-Sissy Le Poop, Smelly Pete, and Shark Bait-who embark on crazy pirate adventures in search of, what else, underpants."
Maryyanek and Collins are hopeful that college males will tune in when the show (which currently airs in the UK) makes its U.S. debut on Nickelodeon this fall. On the licensing end, Big Tent looks to target boys ages 6 to 12, along with men of all ages. Their comprehensive program will focus on developing partnerships within categories such as apparel (boxer shorts are a natural), accessories, publishing, online and mobile entertainment, and toys.
On the "Saddle Club" side, the television series had one of the most successful launches for a children's series on American public television in the U.S. last fall and continues to be the longest-running and most popular series on Discovery Kids. The book series of 110 titles and two spin-off series from author Bonnie Bryant have sold more than 16 million copies and were relaunched by Random House early last January. The "New Adventures of The Saddle Club," an Australian-Canadian co-production, will be filmed in North America this year, bringing the number of available episodes to 72. In January, Big Tent named Breyer Animal Creations master toy licensee, with an array of model horses, playsets, arts and craft kits, and plush horses inspired by the characters and storylines from both the book and TV series set to hit retail in the fall. And, reveals Collins, "we just recently signed Allumination Films as our video partner. Up next, we're looking very closely at the apparel and accessories categories and, to a lesser extent, arts and crafts and video games."
In the Groove
Rounding out Big Tent's kid's portfolio is all-female music group Planet Groove, featuring The Star Girls, which, as its name suggests, goes after girls ages 6 to 12. "The partnership came about once we realized there were no bands that appealed to that age range," explains Collins. "Once kids outgrow The Wiggles, they are left to turn to pop singers like Britney Spears, which is fine, but it might not be what we, as parents, want our child listening to. We realized we needed to find a group who had wholesome lyrics and a positive pro-social image, but also had great pop music-otherwise, kids won't listen."
Big Tent first stumbled onto The Star Girls in their native Australia, where they topped the music charts for 16 straight weeks with their song, "Girls Like Me," from their album, "The Star Girls From Planet Groove." The only problem, says Collins, "is that the members were in their 20s, and we were looking to target children and tweens, so we convinced the members that introducing them through animation was best."
Later this year, he continues, "Nicktoons Network will debut Planet Groove as a series of 13 x 2 animated music videos based on all the original music from The Star Girls group. We're also now looking to find appropriate second and third bands that would fit into this idea of a great PG pop/rock group." Big Tent is also planning to build an extensive merchandising program around the property with apparel, home furnishings, stationery, and accessories leading the way. As of press time, a record label deal was in the works and, according to Collins, a partner should be announced by mid-June.
Subscribe and receive the latest news from the industry.
Join 62,000+ members. Yes, it's completely free.
You May Also Like
Loading..