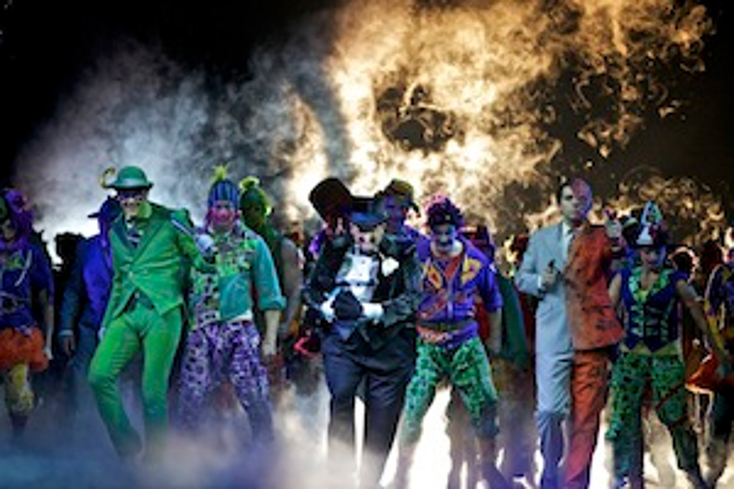 "Batman Live," a live arena show, will debut in North America Sept. 5 at the
Honda Center in Anaheim, Calif.
The show, which is created and produced by Warner Bros. Consumer Products, DC Entertainment and Nick Grace of Water Lane Productions, will head to the U.S. following a tour throughout the U.K., Europe and Latin America.
Other stops on the North American tour include St. Paul, Minn.; San Jose, Calif.; Los Angeles, Calif.; Las Vegas, Nev.; Oklahoma City, Oak.; Rio Rancho, New Mex.; Colorado Springs, Col.; and Loveland, Col. Additional cities in North America will be announced.
"Batman is more than a comic book character, he's a cultural phenomenon. We are excited to bring him and his world to the stage, live, for the very first time with this incredible arena show," says Brad Globe, president, WBCP. "In fewer than four years, the show has gone from concept on paper to successfully touring through Europe and Latin America. It is now our very special privilege to bring this show to the
United States and North America–home to Batman and Robin."
"Batman Live" is adapted from the DC Comics Batman franchise of characters and stories and focuses on Robin's (Dick Grayson) quest for justice, which leads him to follow in the footsteps of Batman, much to the dismay of Batman's alter ego Bruce Wayne.
"There's no place on earth that doesn't know who Batman is–he's not just one of the most iconic super heroes ever created, he is one of the most iconic characters in history, and has had more stories told about him than just about any other character, period," says Geoff Johns, chief creative officer, DC Entertainment. "What's cool to me about 'Batman Live' is that when you first come into the arena you see the three-dimensional cityscape and you hear the sounds of the city–you're really entering Gotham in a way you can't experience anywhere else. You are an active participant in the story and a real part of Batman's world."
Subscribe and receive the latest news from the industry.
Join 62,000+ members. Yes, it's completely free.
You May Also Like
Loading..