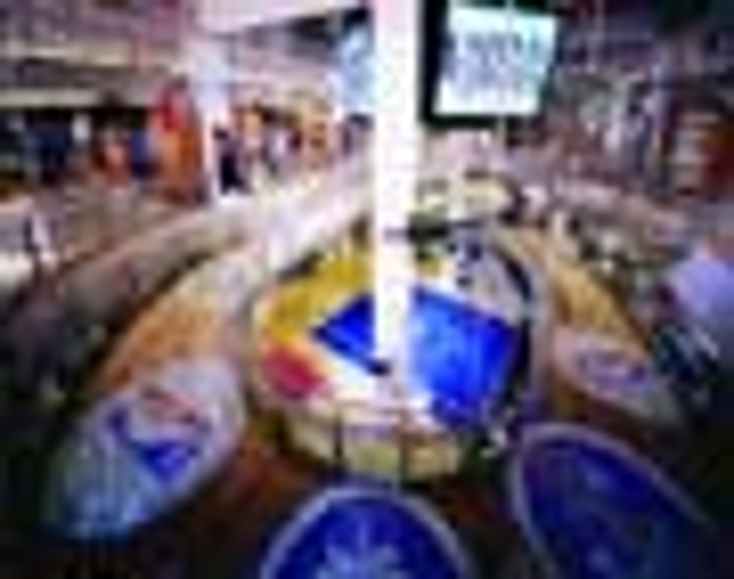 ]>Patriotic themes abound in the post 9/11 world
We all deal with pain and loss in different ways. The artist community, at least the creative types tied to licensing, have overwhelmingly responded to the 9/11 tragedies with positive, restorative images and product ideas meant to help people heal.
Although some parties eschewed the commercialization of patriotic ventures, for various reasons, most involved have pledged donations to charitable causes. Flags were the products of choice for a mourning nation. About 14 million domestically manufactured flags rang through registers in 2001 (flags flown in front of homes, not the hand-held or "stick" variety) up from about 8 million units, estimates Tibor Egervary, director of sales and marketing for flag maker and licensee Valley Forge Flag Co. (Womelsdorf, Pa.). Another 3 million to 5 million offshore-made flags flooded the country after the tragedies, he says.But flags flew well beyond house fronts and car antennas.A buyer from Federated Department Stores says flag-theme men's neckwear has sold through briskly in the 4Q. Joe Ettore, chairman and CEO, Ames (Rocky Hill, Ct.), the discount chain struggling under bankruptcy protection, says "all patriotic theme merchandise is flying out of our stores - such as flags and banners on fleece, T-shirts, and [items decorated with] red, white and blue."Flags and patriotic images were used in plenty of designs before Sept. 11, but paled in comparison to their application now. Home products under license from artist Warren Kimble (handled by Courtney Davis, Menlo Park, Calif.) were on shelf; in fashion departments, some American designers had returned to their flag logo roots. Now, the symbols leave no category untouched: books, home products, greeting cards, fashion accessories and tattoos are just a few.How long the flag frenzy will last is uncertain, but retailers and manufacturers are pounding artists' doors for patriotic and nostalgia-inspired images. Licensors and licensees unfurl new designsPainter Cindy Shamp (handled by Arts Uniq', Cookeville, Tenn.) is responding to merchants' calls for Americana with her latest image entitled God Family Country to debut at the Atlanta Gift and Home Furnishings Market in January. Park Imports (Goldsboro, N.C.), one of about 12 of her licensees, has taken on the image for textile tabletop items. Married to a military man, Shamp's designs have long carried a folk and flag feel.
Says
Carol White, Arts Uniq' director of licensing, "Retailers want Americana scenes, home scenes, red, white and blue, and retro imagery."
The home décor sector, in particular, is demanding nostalgic design, she says. Earthbound Licensing (New York) is pursuing this avenue with the Norman Rockwell Design Studio program. Lead licensee Springs Industries (a Fort Mill, S.C.-based bedding resource for the mass market) and tabletop supplier Town & Country (New York) have created Rockwell-inspired soft goods reminiscent of what you might find in great-grandma's country house.
White's sentiments were echoed by retailer Ettore at the start of the holiday season last year: "In uncertain times, people turn to what's familiar, and what's more familiar than home?"
White also notes there is a demand for angels and religious imagery, but more of the inspirational and symbolic nature as opposed to realistic images.
That's been a tack taken by Ruth and Bill Morehead of Morehead Inc. (handled by AMI, St. Pete Beach, Fla.) who just launched their latest, somewhat cherubic, post 9/11 images called the Blessed Are Ye Kids (BAYKIDS) Collection. Licensees include Air Waves (Lewis Center, Ohio) for T-shirt transfers; Houston Harvest (Franklin Park, Ill.) for popcorn tins; Bradford Exchange (Niles, Ill.) for collectible porcelain ornaments; and Strategic Partners (Pacoima, Calif.) for medical uniforms. AMI seeks to expand BAYKIDS into a variety of hard and soft goods.
Flavia, an inspirational artist and writer, has teamed up with calendar/journal/gift book publisher Cedco (San Rafael, Calif.), to produce a gift book entitled God Bless America, Holding on to Hope. The book is slated to show flags, landscapes, purple mountains, lighthouses and the like.
"It's a natural extension for us," says Lisa Mansfield, president, The Flavia Company (Santa Barbara, Calif.), "because the core of Flavia is providing hope to the human spirit." There are also healing books in the works for the teen/tween girl consumer, with slight variations on the same theme. For example, due out this spring is Holdin' On, A Brave Girl's Guide to Surviving Change, a workbook that Cedco is producing for the Flavia Girl division.
Cedco is attaching stickers to products like these, and on its generic patriotic calendars and journals, telling consumers of its pledge to send $1 of each sale to the Uniformed Firefighter Association Fund.
Littlearth (Pittsburgh), a novelty accessories licensee that works largely with recycled materials, also will donate to crisis care organizations.
The design team at Littlearth created the United We Stand license plate (colored red, white and blue) with a sticker noting that it is giving $2 of each sale to the American Red Cross. As of early November, Littlearth shipped more than 40,000 of the patriotic plates. Due to retailer demand, Littlearth is making red, white, and blue CD cases and purses.
Illustrators and designers like Jody Winger, Mary Engelbreit and others delved into creating greeting/sympathy/coping cards shortly after 9/11, waiving their fees and teaming up with card producer Sunrise Greetings (Bloomington, Ind.), which is kicking in a portion of cards sales to the American Red Cross.
Tabletop licensee Gibson Overseas (Commerce, Calif.) got moving with flag-theme dinnerware and was one of the early participants in the Families of Freedom Scholarship Fund, a charity meant to support undergraduate education for the victims' families.
"With many of us raising families of our own, we felt our greatest contribution would be to support the educational needs of the children and spouses left behind," says Sal Gabbay, Gibson executive VP sales and marketing.
On the lighter side, even some designers at entertainment licensees have added the flag touch. All-U Activewear (Albany, N.Y.) has lent patriotic flavor to its The Three Stooges (handled by Global Icons) T-shirts, featuring screens with Larry, Moe and Curly in fatigues, and the Stooges logos striped in red, white and blue.
Tattoos, especially gemstone tattoos, got a good sell through with flag designs, says Chris Lipper, principal, Chris Co. (Morristown, N.J.) an inventor and marketer of hangtags, tattoos and trading cards. Chris Co.'s flag-shaped gemstone tattoos (featuring 209 surface-adhering stones) sold well into Walgreen's and Acme stores for $1.99, but the slowdown in sales has begun. His firm has pledged donations to the American Red Cross.
Other sticky products that have gone patriotic include Magnetic Poetry, (Minneapolis), the magnetic word game found on many people's refrigerator doors. Words like purple, mountain, entrepreneur and immigrant are included in the 400-word sku. "Of course, magnetic poetry can be used to create silly, even bawdy prose," says Dave Kapell, game founder and inventor, "but the real beauty of Magnetic Poetry is its ability to elicit feelings, thoughts, emotions and often times act as a coping mechanism." Dubbed America Kit, subtitled Exercise Your Freedom of Expression, the new sku was requested by a buyer from the Borders book store chain, says a MP spokesman.
Wildlife artist Rick Kelley (handled by Minneapolis-based U.S. Licensing Group) is one of the few artists creating images that don't scream with flag symbolism - but it's in there.
In the painting On Freedom's Wing, (the first in his Freedom Collection), he has camouflaged Old Glory into the side of a snow-topped mountain. Kelley's pair of soaring eagles may catch the eye at first, but a second glance reveals the flag. Bradford Exchange (Niles, Ill.) has signed on for a collectible plate, says Chip Walters, president, U.S. Licensing, and other interested parties include a T-shirt manufacturer, a national retailer and the U.S. Military. Ten percent of the program's proceeds will be donated to the American Red Cross.
Creative charity building
Taking charity donations closer to home, Gifford Bowne II of Indigo Gate (Colt's Neck, N.J.), the agent and husband of artist Michal Sparks, is setting up a charitable trust, funded by the proceeds of Sparks' Americana designs. Bowne, a former Wall Street trader, looks to grow these proceeds through investment opportunities in American companies. The initial proceeds and any and all gains will then be donated to various charities and families. Three licensees - decorative flag maker Toland Enterprises (Mandeville, La.), dinnerware resource The Zrike Company (Oakland, N.J.) and apparel firm Tradewinds Studio (Baltimore, Md.) - generated about $500,000 at retail (before the holiday season), using Sparks' Americana designs, says Bowne.
In other painting circles, Greg and Tim Hildebrandt, a pair of 62-year-old twins best known for their art gracing the first Star Wars movie poster and J.R.R. Tolkien's The Lord of the Rings calendars, have created a few special charity programs with their agent Spiderwebart Gallery (Hopatcong, N.J., www.spiderwebart.com).
Last year, publisher Watson Guptil (New York) released The Tolkien Years Artbook (SRP $40), chronicling the twins' creations from the 70s. The text was written by Greg Hildebrant's son (Greg Jr.), who posed as The Hobbits while his dad and uncle painted. After a few successful printings, the publishers went back to produce a limited edition, 1,000-count, numbered and signed series ($200) with a special Lord of the Rings sketch enclosed.
Post 9/11, however, Spiderwebart bought the remaining unsold limited edition books (about 620) and is adding another new sketch to the endpapers - a tribute to the fallen firefighters and the EMS workers in New York. The price of the book remains the same, but the firm is donating $50 of each book sale to the New York Firefighters 9-11 Disaster Relief Fund.
On a separate note, the Hildebrandts created three new post-9/11 paintings, which are available as prints ($35 each) via licensee Scorpio Prints (Brooklyn, N.Y.) The prints are entitled The Day the Angels Cried; The Last Full Measure of Devotion; and New York's finest. Scorpio and the Hildebrandts together are donating to The United Fire Fighter Association, Widows and Children's Fund.
Walking the line
Licensees of folk artist Warren Kimble, the Vermont painter known for Americana farm scenes and flag images, turned to Kimble's agent Courtney Davis when retail demand for patriotic product got heavy, starting in mid-to-late September. Davis president Linda Balogh was forced to tiptoe down a fine line between green-lighting product that could provide comfort for consumers, and exploiting a business situation involving a nation in mourning. Knowing that her licensees were donating proceeds of the sales to the American Red Cross and The United Way helped ease the awkwardness, but she wasn't alone in her discomfort.
Sam Katz, president of giftware manufacturer/importer/licensee Keller Charles (Philadelphia) is unsettled with his decision to take on a licensed, patriotic image. Declining to name the artist, Katz says, "I regret that I've committed to this. It's hideous already. A lot of people mean well, but three-quarters of the people are strictly doing it for the money."
Regardless of motive, the patriotic, post-9/11 product is ready for public consumption.
Subscribe and receive the latest news from the industry.
Join 62,000+ members. Yes, it's completely free.
You May Also Like
Loading..