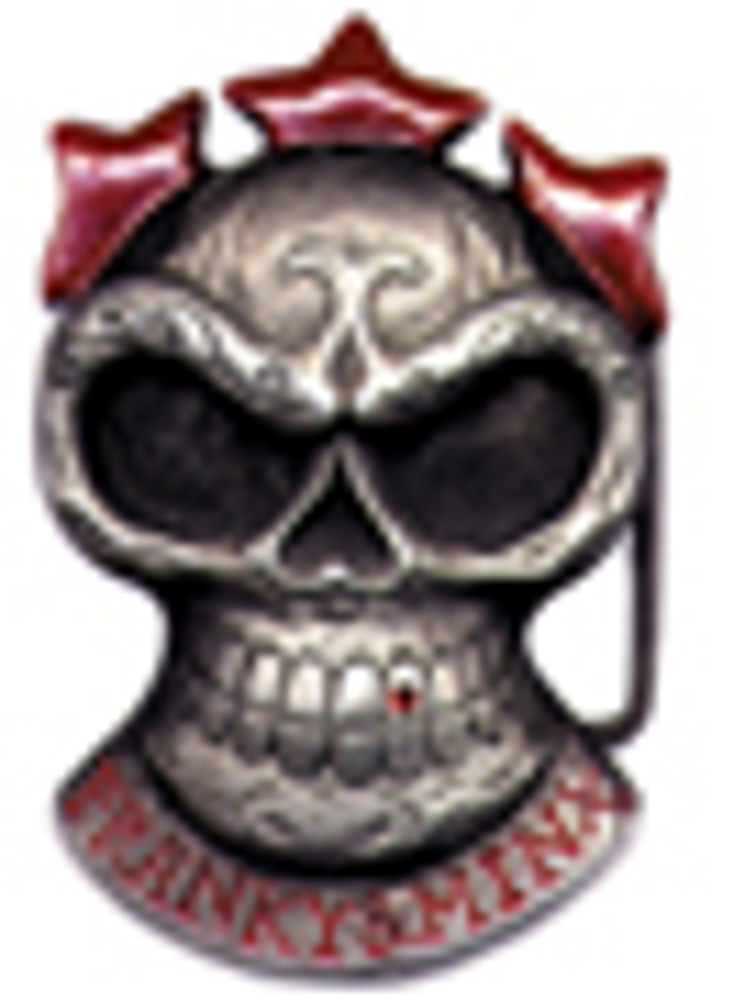 A new wave of art inspired by tattoo designs and graffiti edges its way into the mainstream marketplace.
The licensing industry is daring to take on a new genre of art that vastly contrasts the conventional art themes seen on the shelves of traditional retailers worldwide. Flaunting an edgier look inspired by tattoos and graffiti, this new range of art is surely gaining ground. Consider the fact that Heidi Minx, president of Franky & Minx, recently launched a tattoo-inspired line at select Spencer's stores in the U.S., while tattoo artist Kat Von D is readying her signature black-and-white tattoo portraits for licensing.
"For years, I've seen young artists tricking out shoes, or boutiques selling limited-edition pieces," says Minx. "I must note that the tricked-out bikes, the skaters, and the 'graf' artists aren't doing anything new. They're doing what they've always done. It's just that the importance of the youth, street, or 'alt' culture finally has proven to be successful, and the discretionary income of the audience has been realized."
Until now, many tattoo and graffiti artists have faced
challenges while aiming to develop licensing programs for their distinctive brands, although they have experienced some success with limited-edition custom projects. Their artwork brings an edgy aesthetic to album covers, apparel and accessory collections, and even guitars—evidence that there's an audience out there willing to pay top dollar for this street-inspired style. But is the mainstream retail marketplace finally ready for these alternative designs? Minx seems to think so. "Today's retailers seem to be responding to the trends much more quickly," she says.
Alternative Options
"Is Ugly the New Cool?" Minx recalls a recent news headline that sparked her interest. She has always relished things she's defined as "so tacky, they're cool," but now Minx wonders if the rest of the world finally is catching on. Whether it's vintage plaids, bright clashing colors, DIY, punk stylings, the '40s femme look, or military practicality, Minx has an eye for alternative style.
She personally makes a statement with her multiple body piercings and tattoos that cover nearly 70 percent of her body. "When I first started to license my brand, I would be remiss if I didn't say my appearance turned a head or two," says Minx. But today's consumer is immersed in the tattoo trend, thanks to popular television shows such as TLC's
Miami Ink,
which stars artist Chris Garver, the owner of True Tattoo, a tattoo parlor located in Los Angeles.
Select Spencer's doors currently carry the tattoo-inspired Franky & Minx line, which is represented by CopCorp Licensing. The product, which spotlights skull icons amidst a dark palette of black and red, isn't too alternative that it's limited in its appeal. In fact, it aims to resonate with "anyone with a little rock and roll in their veins," Minx notes.
Leather, skull icons, tassels, and grommets deck out Franky & Minx' assortment of women's tops, purses, totes, backpacks, hats, belts and belt buckles, wrist cuffs, and costume jewelry. The collection also includes posters, lighting, barware, and flasks, as well as a DIY kit that contains hardware, patches, and pins that enable experimental types to "trick out" their own stuff. Suggested retails are less than $29.99.
"I have a passion for textures, especially unexpected combinations," says Minx, who was born in Baltimore, MD, but moved around a lot. "I love living in different cities and countries," she says. "I think it's one of the best educations a person can have." Before moving to England to study art history at the University of Brighton, Minx studied fine art at the Milwaukee Institute of Art and Design. "After graduating, I turned toward marketing and advertising, and worked both in-house and freelance for agencies," says Minx. It was this experience that drew her to licensing.
Minx tends to have a very hands-on approach to her line, as well as its marketing direction. "I personally style my own photo shoots," she says, "and work closely with my photographer for consistency and a highly stylized look." Over the years, Minx has used her art skills to develop ads, banners, stickers, hangtags, and DVD reels. She also works with her partner to design their Website, and has personally made folders for her press kits.
How did Spencer's handle the promotion of the Franky & Minx line? Minx' voice is featured in the in-store promotions, and is played on the phone's hold system. In addition, customized play lists were incorporated into Spencer's larger music programming blocks. Posters, easel posters, and shelf talkers create more in-store hype.
Prior to the launch, Spencer's sent e-mail blasts inviting customers to visit the "Get Minxed" section of the Website. This destination represents a fusion of elements from Minx' rock-inspired world. Content includes band interviews, blogs, and contests, as well tips and tricks for DIY. "A lot of the interviews focus on learning something about the interviewee or the music, and the music business in general," reveals Minx.
The brand currently has 10 licensees signed on, but Minx is eyeing other categories. "I want to move upstairs and start with accessories for department stores, combining my love of personally creating 'one-of' customized pieces with the affordability of the Franky & Minx line." She also looks to the home industry, explaining, "Our designs make beautiful textile patterns, but also stand alone to deliver a more rock and roll program."
Although the Franky & Minx line is limited to domestic distribution currently, Minx is watching the international scene. "Given my love for fashion—especially Japanese street stylings—I would like to move into Japan," says Minx, who has strong ties with the "alt" community there.
Inking Deals
From the streets of New York City to the allure of exotic destinations such as Moscow, artist and hip-hop pioneer Erni Vales emerges from the arts community ready to engage consumers with his graffiti-inspired style. The paint from the early murals he once created at local nightclubs has long dried, and Vales continues to build upon his role as an artist and, more recently, a designer.
Vales saunters into the luxury market with the launch of the eLuxe Collection by Erni Vales, a collection of graffiti-inspired letter pendants fashioned in gold and embellished with diamonds. The result of a recent partnership with jewelry company Lyons Worldwide, the collection fuses the edginess of graffiti with the decadence of diamonds, and targets the high-end art community.
The collection, which is launching in spring/summer '07 via Lyons Worldwide's Website, also will be promoted online and will target Vales' already established fan base before slowly venturing into select high-end retailers. Suggested retail prices will range from $3,000 to $4,000 per piece, and customization will be available upon request. "It's like wearing a piece of art," says Lyons Worldwide CEO Avi Lyons. "Each piece is sculpted in gold and finished in the front and back."
With a resume of jobs as unique as the original 3-D art aesthetic he once invented, Vales' career blossomed from what began as a teenage hobby. His talent has earned him several jobs with photographer David LaChapelle, who captured the distinctive personalities and beauty of Gisele and Mariah Carey, among others. Both have posed in front of one of Vales' custom-designed backdrops.
The artist's resume now includes the design of a few nightclubs and restaurants, which has Vales jetting off to Moscow several times a year. A fan of his work recently spent $2,550 to purchase a painting he created at an auction to benefit Working Playground—a not-for-profit organization that aims to transform underserved schools into communities where learning is celebrated by enlivening educational experiences with the in-depth study of an art form. The auction event was the result of a recent partnership between Chanel and
New York Magazine.
Vales is no stranger to licensing. Previously employed by a licensing agency, which owned the rights to Dick Tracy, Animal Crackers, and L'il Abner, Vales once created art that embellished upscale apparel. A more recent job included the design of limited-edition handbags for Aleya NY. "The applications for an artist like me are limitless," says Vales, who envisions his work on flatware and bedding and would like an opportunity to do children's toys. "I love my custom stuff," he says, "but licensing allows me to make it bigger."
With brands such as Chanel and
New York
and photographers such as LaChapelle supporting Vales' talent, apparently the time may be right for graffiti to go mainstream. "This is the first time graffiti has been looked at by the art community," says Vales, who is represented by his own company, Ernidesigns.
[Editor's note:
In fact, graffiti is being taught in schools in Switzerland, and while I was visiting there this summer, I noticed a display of rather artistic graffiti spreading across the tunnels lining the train station.]
"If consumers knew there was a place where they could buy this type of merchandise," Vales adds, "I believe they would."
Art of Shopping
On another nontraditional art front, this past holiday season marked the grand opening of gallery hanahou, an art space founded by creative agency CWC International, which specializes in licensing illustrations. The sleek space located in New York City's Soho area opened its doors to the public in November '06, and invited art lovers and one-of-a-kind gift seekers to purchase original artwork and limited-edition gifts created by CWC's pool of artists and their friends.
According to Koko Nakano, executive creative agent, CWC International, the agency's artists have a wealth of talent, but their work doesn't always fit into the commercial art business. "A space where commercial artists can think freely enables them to create innovative art that goes beyond the restrictions of a commercial assignment," Nakano says. Via the gallery setup, CWC also can work with independent artists. The gallery idea went from concept to reality when Nakano noticed a surge of interest from art appreciators who worked beyond the parameters of the marketing, commercial, and advertising industries.
"It's interesting to see the artists work in different media," says Nakano, who reveals that opening night at the gallery received an enthusiastic response, thanks to the press, blogs, and interest generated by CWC artists who used their Websites to spread the word. "We knew people would be interested in the products," says Nakano. She reports that lower-priced items flew off the shelves, and following the show, e-mails and inquiries poured in for the originals.
Eclectic products ranged from a stuffed lion to lamps, wallets, and paper dishes embellished with whimsical fashion illustrations by Jeffrey Fulvimari. Kirsten Ulve's original artwork entitled "Coffin Nails" came with custom-made wrapping paper. One art enthusiast spent $1,200 for an elaborate headdress by Mamechiyo. The other items mainly ranged from $10 to $100 (with the exception of prints and original paintings, which ranged from $300 to $600), and were available at the gallery and via the gallery Website.
The holiday debut was followed by Fulvimari's "a piece of fulvimari" show, which opened January 11. More shows are in the works, and a plush show may be up next. "There's definitely less opportunity for plush artists to work on commercial projects," says Nakano. "We hope to have more shows that focus on these kinds of artists." Currently in the experimental stage, the team at CWC has yet to determine a standard length for the shows, their frequency, or other logistics, but one thing is for sure: gallery hanahou is here to stay.
Subscribe and receive the latest news from the industry.
Join 62,000+ members. Yes, it's completely free.
You May Also Like
Loading..