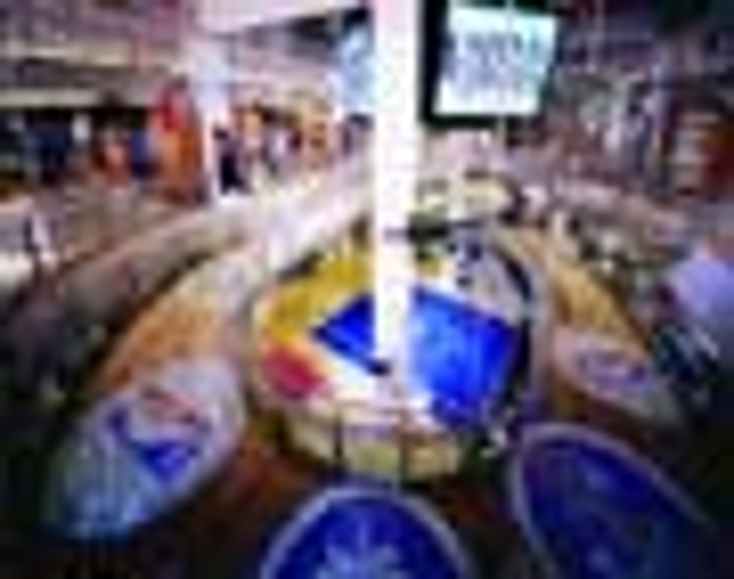 ]>How production know-how gives some artists a profitable edge.
Translating flat art to three-dimensional product always takes some sweet finessing. In the last six months or so, retailers have been piping up about the success they've had with artists whose backgrounds are rooted in 3-D design, whether sculptors, potters, carvers, or furniture makers.
In the gift tier especially, the likes of Karen Rossi, a sculptor by training and through the family welding business, and Sandra Magsamen, an artist and art therapist who discovered pottery via her criminally insane patients, are two of the most embraced 3-D artists making their mark. Sculptor and painter Nina Mortellito, who has been licensing for about two decades, is taking on some new categories, like bedding, that she has never broached before. And, high-end doll and furniture maker Pamela Silin-Palmer is preparing for her second wind in the ways of merchandising. The artists' skills at creating and understanding 3-D product design, coupled with the knack for producing clutter-cutting concepts, are some of the reasons why their licensees and retailers are singing their praises. KAREN ROSSI TAKES FLIGHT"It's very reasonably priced and it's a heck of a lot of fun," says Jeffrey Schulman, president of Platypus, a six-store home furnishings and gift chain, based in North Brunswick, NJ, speaking about Karen Rossi's Fanciful Flights giftware from Silvestri. Silvestri calls the product "messengers of good will" or "whimsical, 3-D greeting cards." A gift retailer in Tulsa calls them "angels." A few non-believers term them "far-out." But for many, the miniature metallic hanging sculptures with dangling charms are a crowd-pleasing gift item because of the story they tell. Each themed character, such as a golfer, teacher, or mermaid, usually carries something witty on its outstretched arms, is packaged in a faux Chinese take-out box, and includes a four-line rhyming poem. The Flights generally retail between $20 to $30, and an optional decorative stand retails for about $20.
Platypus'
5,000-square-foot stores devote about 100 square feet to Rossi's mini-steel sculptures. The chain has been carrying the product for about two years. "Customers can stand in front of the display for hours, and say things like 'this is perfect for my wife,' or 'Uncle Tim is going to love this.' They end up at the register with five or six of them. We're astounded by the amount of traffic our Website (www.platypusonline.com) gets from people who search on her name and end up at our site."
"We suggest people use them as fan pulls," says Sheri Renfrow, owner of Tapestry of Faith, a 2,100-square-foot gift store in Tulsa, OK, that sells everything from Nunzilla, an under-$5 dollar wind-up toy nun that spits fire, to aromatherapy lamps from Lampe Berger that start at $50.
The dimensionality-particularly what hangs off the arms of the Fanciful Flights characters-is what makes the product so interesting, Renfrow says. "Her angels," as Renfrow calls the Fanciful Flights line, "strike a chord, make a smile, and just make you feel good. It's a fun piece of art."
Renfrow particularly likes how Rossi is open to suggestion. Last year, Renfrow passed on to Rossi a "realtor angel" suggestion and it was honored. "We just faxed her a request for a nun," Renfrow says with a contained giggle in her voice.
Rossi, a CT-based painter who loves to draw, clandestinely took welding lessons in the '80s from a retired welder. "I showed my father my first work, a trout, and I had to convince him I made it," Rossi recalls. Once she did, dad gave her a corner cart by the compressor (a loud piece of machinery), and outfitted her with all the materials she needed.
She dabbled in other materials like ceramics, taught classes at a local folk art gallery, and began to be commissioned for large-scale public art, like a 30-foot tall grouping of contemporary angels that stands in New Haven, CT, today. She befriended artist Paul Brent, an active art licensor, at the Art Expo in New York, who suggested she involve herself in licensing.
Now, sitting atop of a Silvestri partnership that is retailing at about $50 million annually, Rossi explains the pros and cons of being a 3-D design expert.
"Knowing about metal and the actual construction process has helped me design better product for Silvestri," says Rossi, who notes that her knowledge is key to having Fanciful Flights look exactly like what she made for larger scale spaces. "It also helps that I can send a model of product overseas for production, instead of relying on someone to translate English directions.
"But my challenge, and the irony here, is that for the last few years I've been trying to convince people that I can paint and draw. I've been looking for a greeting card partner forever. I'm thrilled that Toland, without trepidation, embraced the opportunity to partner with me for fabric." Toland is one of Rossi's new licensees making embroidered flags embellished with metallic threads, appliqués and die cuts, all to achieve Rossi's signature 3-D look. Toland is advertising the line as Flights of Funky.
SANDRA MAGSAMEN'S SIMPLE TRUTHS
Another 3-D artist getting a lot of attention and creating stand out product is Sandra Magsamen, an artist/art therapist-turned-potter.
"The world of words often failed me as a child," says Maryland-based Magsamen, an irony of ironies since the words or "simple truths" that she includes in her creations tend to touch people most.
Magsamen discovered her affinity for pottery when, as an art therapist, she worked in a psych ward for the criminally insane. "They showed me how to use clay in an interesting way," she recalls, since traditional sculpting knives and tools were not permissible on the premises.
She began to use some of the "simple truths" she had been collecting on a ceramic tea set she crafted for her daughter. "Writing and creating illustrations on clay was a whole new art for me," she says. She bought a kiln, made a lot of gifts for friends, and soon was trying to command a thriving wholesale business with 3,000 accounts.
A few years ago, Magsamen hired agency Mixed Media (New York) and was soon partnered with publishers like Stewart, Toboori & Chang, and later Rizzoli, for what some call the first tactile, interactive 3-D books targeted to adults. In October, Scholastic will release an interactive gift book written for girls coming of age but targeted to celebrators of womanhood of all ages.
"The book, 'When I Grow Up I Want to Be Me,' is multi-dimensional in that it is interactive and has movable parts, but also in that it touches on multi-levels of human emotions, stages of life, and growth," says Liza Baker, senior editor, Scholastic. There is a passage about looking at life from all points of view, and pinned to that page is a cut-out of a girl who literally spins upside down.
"The girl turns somersaults, a playful and yet profound way of encouraging the exploration of new perspectives...Sandra's mission in life is to touch people's hearts by combining inspirational words and images, and this is how she reaches out," Baker adds.
Silvestri, one of Magsamen's biggest licensees today, reproduces her ceramic giftware for gift tier distribution. The retailer Platypus recently replaced its 2-D gift card selection with Magsamen's $19.95 plaques from Silvestri. "Her whimsy makes the customer smile, and there's always a sentiment that strikes somebody. There's a lot of perceived value in the 3-D product," says Schulman. He's also pretty primed for new Magsamen vases embellished with beads and bangles, to retail for $49.95, but he thinks they look like they are worth $200.
New licensee InterArt/Sunrise Greetings just debuted cards and gift bags in May that boast die-cuts and other 3-D like embellishments. "When I saw her pottery at a gallery, I thought, now these are greeting cards waiting to happen," says Mary McCarty, creative strategies director for InterArt/Sunrise.
NINA MORTELLITO'S ORCHID GARDEN
Nina Mortellito, a fine artist and stone carver, is about to step into some new places via licensing. For the last decade or two, Mortellito's vast product endeavors include the self-manufacturing or marketing of needlepoint kits, umbrellas, pet carriers, and greeting cards.
Today, handled by editor-turned-agent Liane McAllister (New York), Mortellito has found new partnerships with several formidable partners, including Present Tense for ceramic dinnerware for the gift tier. Present Tense is also creating product for another 3-D design expert, rug maker Susan Sargent.
"The dinnerware is moving," says Ernestine McCreary, a sales assistant at Schiffman's high-end jewelry and china store in Greensboro, NC, in reference to Mortellito's collection dubbed Orchid Garden, which the store has been carrying for two months. "We just had a woman come in and buy everything but the vase."
Sferra Bros., the licensee for bedding for fashion brand Tommy Bahama, is on board with Mortellito for hand-embroidered table linens. Katha Diddel is making needlepoint pillows and rugs. Victorian Heart is making throws and quilts. International China is on for a private-label dinnerware program for the mass market.
SILIN-PALMER FINDS GOLD IN RAINBOWS
Another painter and esteemed 3-D product designer is Pamela Silin-Palmer, a furniture maker who in the licensing world is better known for greeting cards via InterArt/Sunrise, featuring Rabbits of the Rainbow, her highly illustrative, intricate, and witty designs of bunnies in Renaissance costume.
Now with her new agent Patrick Palmer (her husband), Silin-Palmer hopes to reinvigorate her merchandising prowess. She is working on a third book with Random House, she just signed with new greeting card partner Leanin' Tree, and existing licensee House of Hatten just expanded Silin-Palmer into dinnerware.
"She can do both flat and 3-D,"says Elaine Yancey of high-end gift and decorative accessories resource House of Hatten, "and she knows how her designs will translate. Not everyone has that ability. We love it."
Subscribe and receive the latest news from the industry.
Join 62,000+ members. Yes, it's completely free.
You May Also Like
Loading..