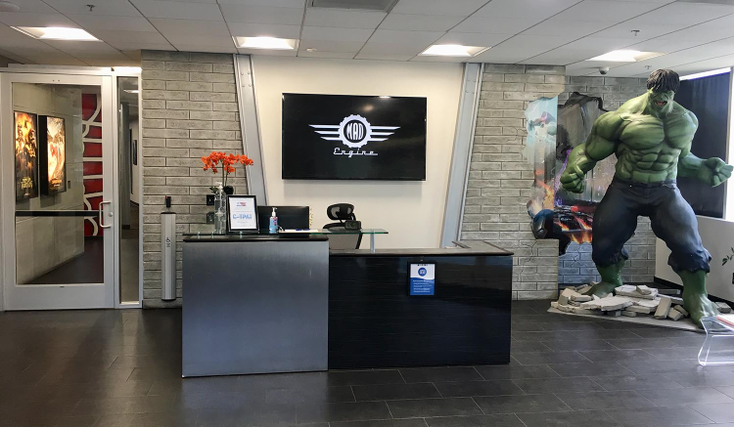 Boasting a full production setup, a young staff with its finger on the pulse of pop culture and a realistic approach to the contemporary retail landscape, Mad Engine is redefining what it means to be a modern licensee.
Mad Engine was founded in 1987 as a small California-based manufacturing business. Built around making t-shirts, the last 30 years have seen the company grow to now include multiple operations facilities in the U.S. and Mexico, while bringing nearly every step of the manufacturing process under one roof.
The company boasts an impressive list of partners including Nickelodeon, Marvel, Disney and many more. This year alone, the company produced best-selling goods featuring JoJo Siwa and the record-breaking Avengers: Infinity War. Mad Engine products are distributed domestically and internationally with a continued presence at retailers such as Target, Party City, Universal, Urban Outfitters, Saks Fifth Avenue and more.
Mad Engine made a bold move in 2014 when it acquired Xtreme
Worldwide, a Toronto, Canada-based sourcing firm that supplied licensed apparel to department stores and mass merchants. Initially slated to continue as an independent entity, Mad Engine ultimately retooled the company into its international business division.
Since acquiring Xtreme Worldwide, Mad Engine has expanded its North American operations and improved its marketability to customers outside of the U.S. in part through maintaining Xtreme's employees, a group with an intimate knowledge of the Canadian marketplace. Chief executive officer Danish Gajiani describes the new approach as "boots on the ground" and one that he plans to replicate as the company set its sights on new opportunities overseas.
"We see our competitors working in Canada without having an office or infrastructure there; we used to do that and we weren't as successful as we have been working with people in the country," observes Gajiani. "You have to mastermind how to do business in every country, and there's nothing like being part of the culture and understanding the needs of the consumer."
Shortly after the Xtreme conversion to Mad Engine, the company acquired Lifted Research Group, a California-based urban streetwear brand that marked Mad Engine's first foray into the proprietary branding and laid the foundation for the absorption of other established brands.
Next, Mad Engine acquired Neff Headwear, a youth-focused headwear, accessory and apparel brand that offered the company a devoted fan based rooted in action sports and nostalgia.
Finally, Mad Engine obtained Mighty Fine, a wholesaler in the specialty and department store segment.
Each of these deals reshaped the business, transforming it into three distinct operations. While ultimately beneficial for Mad Engine, the strategy of buying multiple companies was risky at a time when increased competition and the need for quick turnaround forced the hands of many of the company's competitors.
"I think it's time for consolidation," says Gajiani. "We wanted to be consolidators and that's why we started buying certain companies. We didn't have much expertise in the brand space and that's why we wanted to buy Neff and LRG, to understand that space. It's done well for us as both the brands are beginning to see growth again, we're bringing direction to them."
Most recently, Neff collaborated with Kellogg's, while LRG outfitted rising musicians.
Focused on continued expansion and seemingly unshaken by the shuttering storefronts and massive closures including Toys 'R' Us, one of Mad Engine's clients, Gajiani believes that in addition to consolidation, changes at retail are long overdue.
"I think people still want to go out, to touch things, try things on, especially apparel and even toys," says Gajiani. "Retailers need to change to make things more experiential. Toys 'R' Us had a big offering, but there was no experience when you walked in—the store became obsolete for those reasons. It doesn't matter if you're big or small, if you aren't willing to pivot and look at a new way of doing business, you will become obsolete."
To sustain its reputation as a trend-setting, forward-thinking operation, Mad Engine employs a young staff who live for pop culture. Employees come from diverse backgrounds as wide-ranging as the arts and law, which impacts the business from individual products to entire backend operations.
"Everything is about culture, and we have a young team including myself and my partners," says Gajiani. "We are all in our mid-thirties, we grew up on pop-culture; living and breathing it is what keeps us on track and upon the next thing. I think pop culture is the most important thing in people's lives today."
Mad Engine's savvy is best displayed through its social media. The company has more than 4,700 followers across all platforms. Using colloquialisms, trending hashtags, product shots and influencers of varying levels, the team has created a unique voice that is palatable to suppliers, potential partners and fashion aficionados alike.
"We're on all of the major platforms–it's all handled internally, each [division] has its own operation and we use the channels to stay relevant," says Gajiani. "It works to promote more products and to figure out what the cool thing is that we need."
But, Mad Engine doesn't operate from behind computer screens. Company staff attend events like Coachella and Comic-Con and are avid consumers of television, film and music. As soon as they notice a trend or key into a property with potential, its brought back to the office for further research.
Beyond its cool factor, Mad Engine attributes its success to its vertical capabilities. The company owns nearly every part of the manufacturing process including knitting, dyeing, cutting, sewing and printing. With those capabilities, it produces a range of apparel across boys, men's, juniors and adult categories including t-shirts, novelty loungewear, puffers and underwear. Perhaps most impressively, Mad Engine can turn around a full set of inventories in about three weeks, an ability that gives the company a competitive edge.
"We are taking a product from the beginning to the end because we are fully vertical," says Gajiani. "We have our own knitting and dyeing facilities and own the yarn all the way up. We can beat a lot of our competitors with turnaround because we are coming from a manufacturing background and doing everything. We can replenish more quickly than our competition."
Mad Engine has its sights set on further international expansion and consolidation, with full ownership of its manufacturing process as its goal. With an exciting year behind it and a future paved with technological innovations, Mad Engine is revving up for its future.
Subscribe and receive the latest news from the industry.
Join 62,000+ members. Yes, it's completely free.
You May Also Like
Loading..