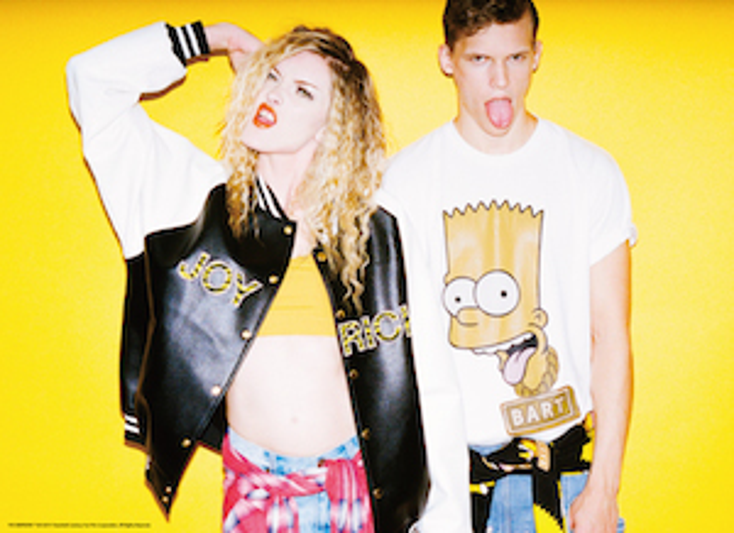 From the Simpsons to Sons of Anarchy, Twentieth Century Fox Consumer Products has proven it has the savvy instincts needed to develop a broad array of licensed apparel programs.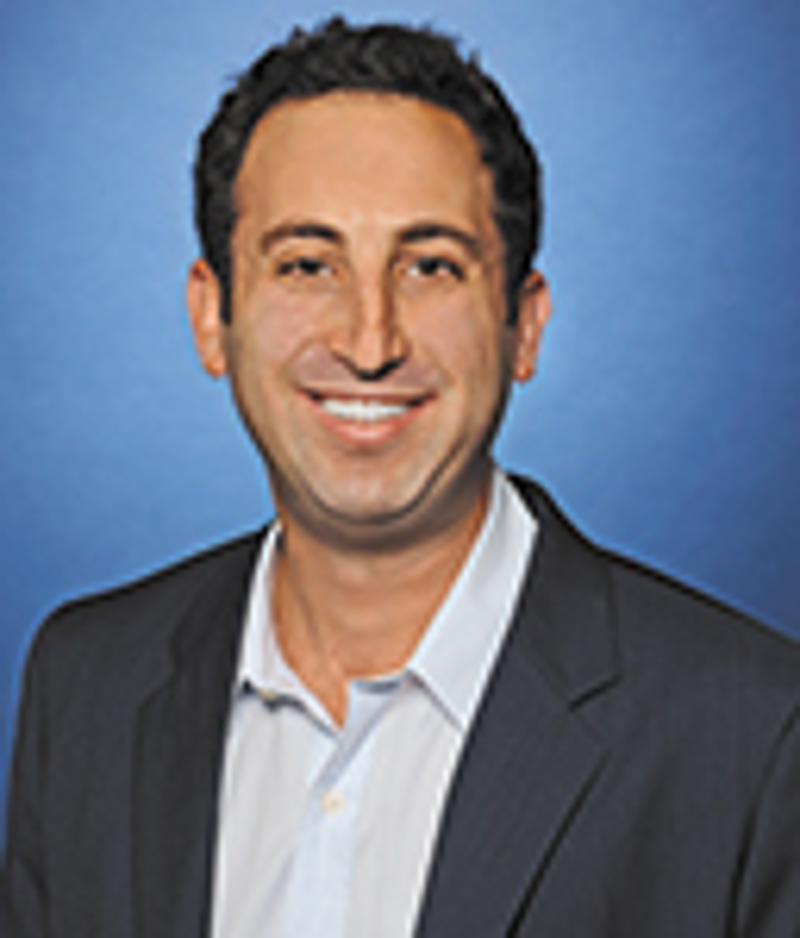 Peter Leeb, vice president, global brand strategy, TV, FCP
It takes a deep understanding of fashion to develop apparel programs for a classic animation property like "The Simpsons" and a teen-targeted film like
The Fault in our Stars
at the same time. In doing just that, Fox Consumer Products has demonstrated that it has what it takes.
FCP's success with such diverse properties as the Simpsons, Sons of Anarchy and The Fault in Our Stars, as well as its plans for the upcoming sci-fi series "The Strain," are proof positive of the company's ability to be both nimble and innovative in creating programs that hit home with fans and retailers.
"We look at it property-by-property. Overall from a story perspective every brand is so unique," says Peter Leeb, vice president, global brand strategy, TV, FCP. "We have the longest-running television show ever in 'The Simpsons', to a show
like 'Sons of Anarchy' that is very lifestyle driven, and then we have a brand-new show in 'The Strain,' which comes with a very insider audience based on the trilogy books."
FCP consistently resists falling back on a formula, choosing instead to develop tailored programs inspired by the DNA of each of its brands. Central to this strategy is a close relationship with the producers and distributors of the content it works with.
"We look at our product business as an extension of the marketing of the show," says Leeb. "We're in lock step with all of our network groups and our partner networks looking at everything we can do to build these brands for the long-term."
If the Simpsons is any indicator, that strategy is working.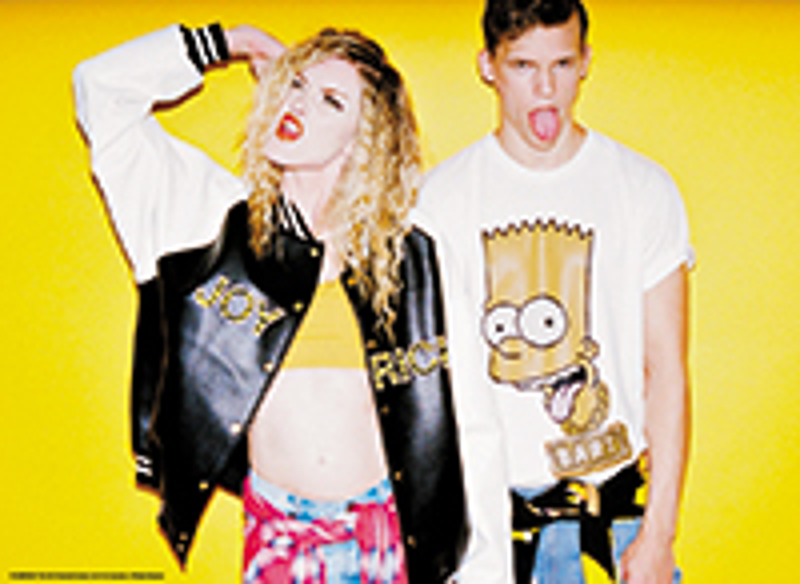 Apparel has played a huge role in FCP's far-reaching merchandising initiative for the brand's 25th anniversary this year, a program that kicked off almost two years before the milestone.
The first designer to take on the iconic property was Jeremy Scott, who showed a high-end line of Simpsons-inspired apparel at Mercedes-Benz Fashion Week in 2012.
"To elevate the Simpsons brand and characters, we really wanted to get into the fashion world, and that started with Jeremy who brought Bart into the limelight in a very different way," says Leeb. "From there we started having this trickle down effect. Many companies noticed a different interpretation after 25 years of these characters and wanted to put their own brand elements on it at the same time."
Since the Scott collaboration, fashion labels including Eleven Paris, Uniqlo, Joyrich, Johnny Cupcakes, A Bathing Ape, Topshop, H&M and, most recently, Colette, have all showcased their own take on the iconic brand.
"We looked for companies that know their audience, know how to interpret our brands and how to bring a new look to our characters," explains Leeb. "That could be someone like Joyrich, which is very a elevated, high price point brand, or A Bathing Ape, which is a very different audience than Joyrich, or a specialized program like what we did in London with Drop Dead that only focused on Itchy and Scratchy. We're not out there doing fashion collaborations with everybody, and we're not looking to have our brand and our characters placed at every single turn walking down the street. Finding a creative balance is our main focus."
Joyrich, which gave the brand a hip-hop twist, debuted its first line in one store a year-and-a-half ago. That was quickly expanded worldwide, and the retailer will debut a second wave of street-inspired apparel this summer.
Japanese clothing brand A Bathing Ape had 300 people waiting outside its pop-up in Tokyo this spring when it launched its official Simpsons line, which included everything from varsity jackets to beer glasses to baby bibs.
"This is the first time that we've ever had this type of presence across Asia, where the brand is only known through both pirated content and pirated merchandise," says Leeb of the A Bathing Ape line. "To be able to go into three stores in Shanghai, Hong Kong and Tokyo and have lines around the block signified a new day and a new type of approach for us."
FCP's most recent high-fashion collaboration for the Simpsons at Colette in Paris launched the week of July 14. The brand was featured in the front window and at the boutique's famous wet bar and restaurant. The exclusive Colette product line will trickle down to higher-end department stores in the next couple of months.
Part of the Simpsons' strength is its versatility, as evidenced by the varied apparel activations that have been launched in the last two years.
"With the Simpsons, any partner of ours can target any type of audience," says Leeb. "We've got characters and positioning around males and young men, or we can go to the complete opposite end of the spectrum and target infant and toddler markets with Maggie Simpson. The brand really crosses generations and constantly brings in a new audience."
And that appeal will continue long after the 25th anniversary of the brand ends.
"I don't consider The Simpsons a television show. The Simpsons is a global brand and a global phenomenon," says Leeb. "I wish the 25th anniversary was five years long. We've now gotten so much momentum and so much interest that you are going to see more of these partnerships for the next couple of years. We won't over do it though. That's one thing that we haven't done in 25 years, and we're not going to start today."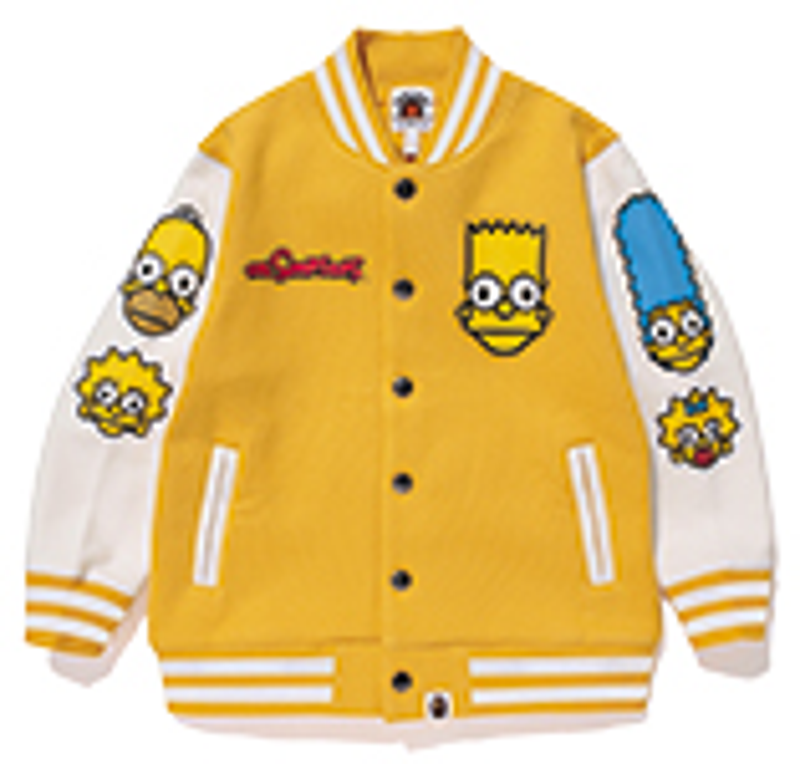 Another long-running FCP television property, "Sons of Anarchy," will end its run this year after its seventh season, but Leeb says the brand has so established itself in the lifestyle space, it will be able to continue after it's off the airwaves.
The Americana brand has been a slow burn, gradually building over the last seven years.
"It's very rare that you have a brand that, year-in and year-out, brings in a new audience. Every year since it started seven years ago we've had consistent ratings growth," says Leeb.
The same goes for the brand's licensing program, which started with a roster of select partners that have steadily grown.
"The slow, methodical rollout has gotten us to a point where, in year seven, it's something that can continue. Rarely do you see, in a very different way than the Simpsons, a lifestyle brand coming from a television show. Sons of Anarchy is a brand regardless of if you know it's on FX or not," says Leeb. "Over the last two years we've doubled our licensees. We now have over 65 licensees for everything ranging from traditional apparel to a junior's business to leather jackets to lifestyle products such as high-end cigars."
Ten new product programs are in place for the show's final season, which will premiere on FX this fall, including a new line of apparel from Metal Mulisha. Among the retail partners are Spencer's Gifts, which will feature Sons of Anarchy product in its front window in late summer.
"It's a very well-rounded brand that brings the idea of hey, 'I'm a rider. I ride my bike on the weekend. I'm not hard-core Harley, but I'm buying into this lifestyle,'" explains Leeb. "Everything we've done with Sons of Anarchy filters into that lifestyle play. I think we're going to have a successful brand past December when the show goes off the air."
FCP is already at work making that happen with a marketing campaign for the brand itself being developed and plans for a number of content initiatives in publishing and gaming that will keep the property alive beyond the TV series.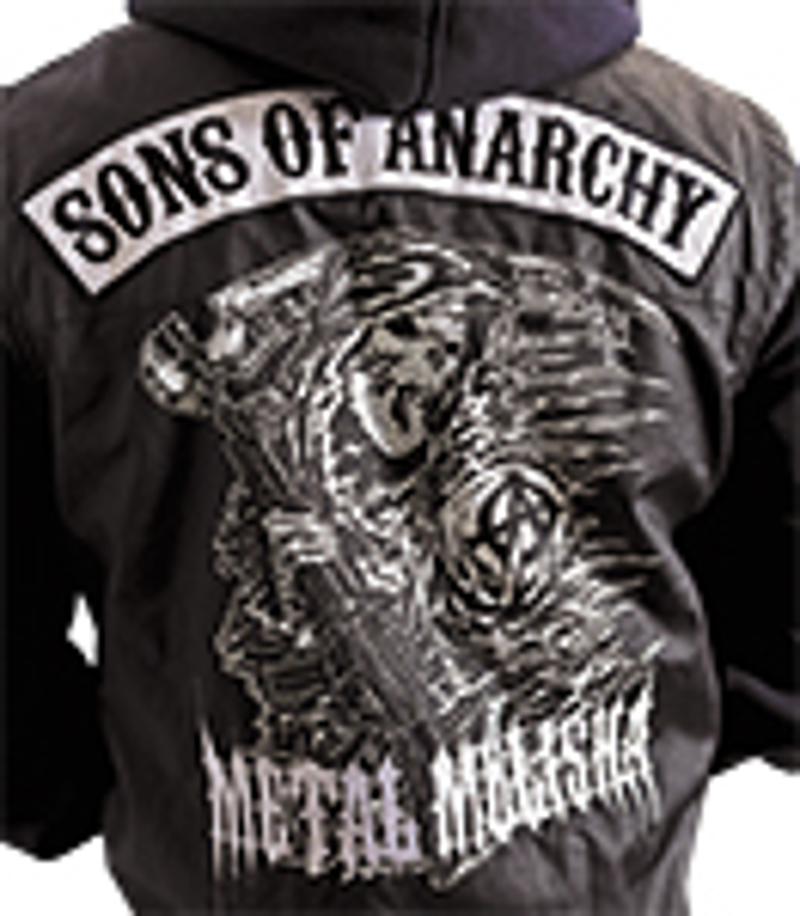 "The look of the Reaper, the skull interpretations, that's just fashionable, and that's not going away. You're going to see more of a campaign from us to promote it as a standalone brand. I think you might see strategic partnerships with this brand and not just a licensed property," hints Leeb.
Another recent success for the company has been the low-budget feature film,
The Fault in Our Stars
. The film, which cost only $12 million to make, has taken the summer box office by storm, bringing in $121 million domestically as of July 21, according to Box Office Mojo.
The film has also been a huge success for retailer Hot Topic, which worked closely with FCP and licensee Changes to quickly get a line of apparel and accessories on shelf when the upswell of fan enthusiasm became evident.
"It was sleeper success story, and one our best licenses of 2014," says Cindy Levitt, senior vice president, merchandise and marketing, Hot Topic, of the line of tees, tanks and jewelry that launched at the retailer a couple of months before the film opened June 6.
"It was a tight, small program, but what made this program unique was we all had to do it very quickly," says Levitt. "It blew up overnight, so we had to have a strong licensor like Fox who was willing to run hurtles to get us product and a great licensee like Changes. It started off fairly small, and we chased into because it just gained such momentum so quickly."
The apparel line used verbiage to create a sketch art aesthetic, drawing on key phrases from the film.
"The assets were not the typical assets you get with a movie," explains Levitt. "It was all based on these things that just made girls' knees buckle. The merchandise stood alone. If you didn't know the film, you could still love this merchandise."
Based on a book, the film already had a built-in fan base, but the intensity of the reaction to the film was a surprise to all. Girls around the world began posting videos of themselves crying while watching the trailer, tagged with #BringOnTheFeels. In response, Hot Topic and Fox added tissue packets featuring the hashtag as a gift-with-purchase (the tissues were only available online due to the quick turnaround).
Whether it's deftly responding to overnight hits like
The Fault in Our Stars
, building long-term lifestyle brands for TV series like "Sons of Anarchy" or re-inventing and celebrating heritage brands like The Simpsons, FCP has proven its prowess at taking hit properties and turning them into hit product lines.
Now the company is taking those skills and honing them into a finely tuned program for its upcoming series, "The Strain."
The series, which debuted on FX July 13, is a sci-fi drama based on the best-selling vampire trilogy of the same name from Guillermo del Toro (who is also producing the series) and author Chuck Hogan.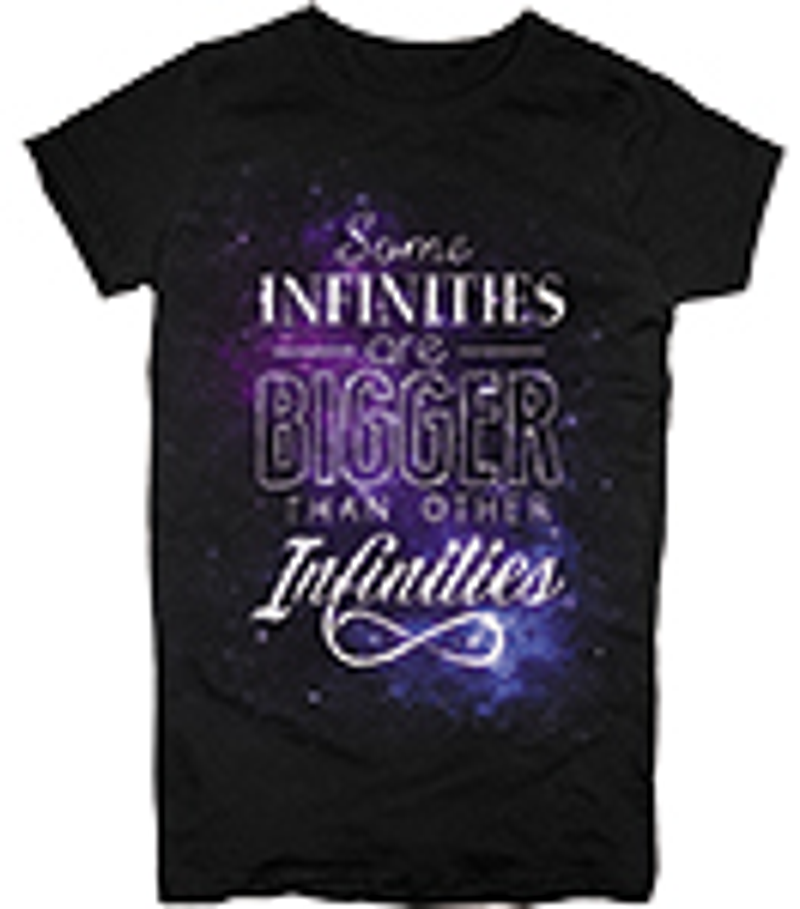 "We as a company have a lot behind 'The Strain' right now," says Leeb. "It's a show with a very high production value. I think over time and over several seasons people will see scale in it that they're not accustomed to."
Product from a range of licensees was already on shelf in advance of the series premiere, including apparel from Fifth Sun.
"It's one of the first times where we're not waiting to see the success of the show," says Leeb. "I know how it's going to perform. I know this type of audience, and we want the opportunity for fans to be a part of it at the onset. I haven't seen very many TV shows, if any, with this type of support before the pilot airs."
Just like with other Fox properties such as Sons of Anarchy and The Fault in Our Stars, product won't be exclusively for existing fans either. By creating apparel and other merchandise that has its own inherent aesthetic and appeal, Leeb believes even consumers who aren't familiar with the brand yet will be drawn to The Strain line.
"You don't necessarily have to know about the show from the onset with a lot of our designs," says Leeb. "It's very fashion driven, so that somebody who sees it on a rack will gravitate toward it."
Read more about:
Subscribe and receive the latest news from the industry.
Join 62,000+ members. Yes, it's completely free.
You May Also Like
Loading..