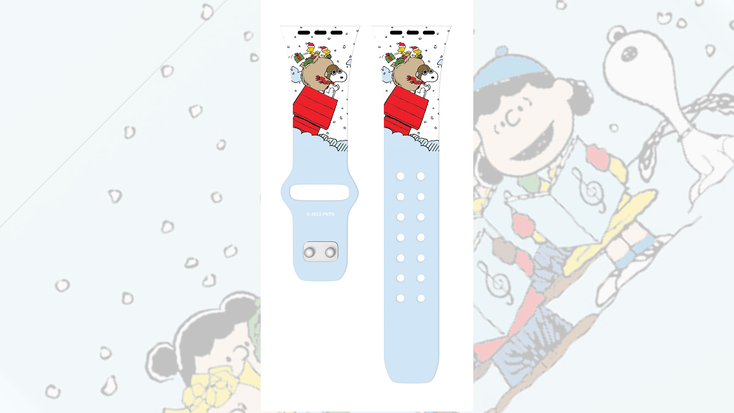 "Peanuts" Apple Watch band.
Affinity Bands
Ever since the inception of the pocket watch in the 17th century, watches have been considered a status symbol. Only the wealthiest of society could afford even a modest timepiece at the time.
Nowadays, watches are commonplace, mass-produced and affordable but can still hold elements of mystique and personality. Of course, many watches now do far more than tell time. Watch faces and straps can all be easily customized to suit taste and style, and watches are perhaps not as threatened as you might expect from other time-keeping devices, such as smartphones.
Statista reported that the watch industry was worth around $66 billion in 2022, and stats from McKinsey & Company suggests it is well and truly on the rebound from the COVID-19 pandemic. By 2025, the industry is expected to grow 1-3% and, perhaps surprisingly, demand is set to increase from younger consumers.
"It's an exciting time to be in this industry, creating accessories for people who want to show off their affinities and favorite
things," says David Schowalter, chief executive officer, founder,
. "Accessories are similar to the jewelry industry, where we started decades ago – wearable, portable art that tells a story about who someone is and what they love. The future of our industry puts the power back in the hands of the consumer. We are envisioning more customization options in the future than ever before, including on our licensed collections."
Statista reports Apple has about 15% of the watch market, with roughly 100 million people worldwide wearing an Apple Watch. According to McKinsey & Company, the biggest regional market is China, with sales expected to grow further over the next five years.
Whereas in the past, it may have required multiple pieces for different occasions, not to mention the financial clout, the customizable nature of today's watches means you can radically change the look of your watch to match it up to your chosen outfit. The ability to swap out a leather strap for a fabric one or a metal bracelet provides a quick and cost-effective way to have three different looks for one watch.
Swatch has a section on its website encouraging customers to "unleash your creativity" when selecting a watch and/or strap. In December, Timex entered Web3 with its first collection of single-edition watches and corresponding digital twin NFTs, which were exclusively available to members of the Bored Ape and Mutant Ape community. In the past, Timex has launched collaborations with "
", "
,"
and the Breast Cancer Research Foundation.
"Customization is something consumers are hungry for," continues Schowalter. "We are in the process of expanding our licensed collections and adding new partners regularly who represent some of the most-loved, most-followed fan communities in the world. Everyone will be empowered to make accessories uniquely theirs."
Brand licensing is a big part of fashion, but fashion extends beyond essential apparel. For some, accessories add to their wardrobe and can complete a look they want to achieve.
For the licensing industry, it's a good look. According to
License Global's Top Global Licensors Report
, most licensors said that brand collaboration at retail was paramount to their growth strategy for 2023, including accessories.
Accessories are also a big part of a licensee's world. In
November's Leading Licenees report
, about a third of licensees on the list created licensed accessories in 2022.
Read more about:
Subscribe and receive the latest news from the industry.
Join 62,000+ members. Yes, it's completely free.
You May Also Like
Loading..